Fox Reissues Six Classic Musicals
Fox has once again reissued its classic Rodgers and Hammerstein musicals in "anniversary" collections, and for the most part they're fine DVD's well worth your time if you're a fan of this genre. Three of the new, six movie set are straightforward reissues of their earlier anniversary editions, but three (South Pacific, Carousel and King and I) are newly packaged.
Each are two disc sets with supposedly digitally remastered material as well as plenty of extras. And you get a nice booklet in the boxed set that gives some interseting background information about the various films. Not only that, but you can also take advantage of "songs only" features that let you cut to the hits (and the rest of the songs, too!).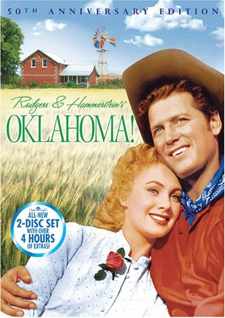 The movie we were the most pleased to see was Oklahoma! This had been available before, but not in true anamorphic widescreen until this anniversary edition came out in 2005, so owners of 16x9 TV's had to zoom the letterboxed picture out to fill the screen, with a resultant loss of resolution that was a damn shame.
All is better now, though we'd like to see an even better restoration before what is probably an inevitable new reissue. But this version not only comes in true anamorphic, you get two separate versions: the original Todd AO presentation (aspect ratio of 2.20:1) and the Cinemascope on (2.35:1).
They're different, and not only in screen size. The travelling Todd AO road show version has different opening titles, a full overture, and more. Alas, while we hoped to prefer the "original" version (both were shot separately, apparently, but at the same time - according to a featurette on the disc) we thought the picture quality was superior on the Cinemascope disc.
Now, neither version is unwatchable and in fact they're both big improvements over the non-anamorphic one Fox released earlier.
Plus you get all kinds of extras, from the aforementioned Todd AO retrospective to audio commentaries, singalong karaoke subtitles and a buch of other stuff.
We love Oklahoma! and are pleased as punch to see it given a better treatment on DVD than it had received originally.
Carousel isn't nearly up to the quality of Oklahoma! (or, we'd argue, the rest of the musicals either), but it's nice to see Jones and MacRae back together again.
Unfortunately, this time Jones is a bit of a bimbo and MacRae is a bit of an oaf. Billy (MacRae) is sent down from what we think may be heaven for a one-day attempt to try making up for the mistakes he made in life. We don't get to see many of the mistakes, but we are treated to a couple of lulus. Billy once worked at the carnival as the barker at the carousel, a kind of folk hero figure, apparently. This is where he met Julie (a very sexy Jones). But his boss doesn't cotton to his carrying on with Jule, and fires him.
Silly with love as young people often are, he and Julie get married, but he's not much of a husband. In fact, he's a loser - his dreams don't go much beyond being a carnival barker. He has trouble finding a job (and in fact turns down a least one good opportunity) and they have to live with Julie's cousin. Then Julie gets pregnant, at which time Billy he feels he needs to find a way to support his family, finally, but his dull brain decides that the only option open to him is falling into a life of crime with his old pal Jigger (Cameron Mitchell).
It's pretty depressing, though there are some more uplifting moments and some nice songs - especially "If I Loved You," "June is Bustin' Out All Over" and, especially, the great "You'll Never Walk Alone."
The movie really deserves a good restoration, but that isn't what we get here. Colors are smeary and the picture is dark and has too much grain and the audio isn't up to the standard of, for example "South Pacific."
But there are plenty of extras. Disc one features a commentary track, the musical score isolated, the abovementioned "songs only" option and a karaoke feature.
Disc two includes the bonus film "Liliom" on which the musical was based, a featurette, excerpt from a vintage stage production with original Broadway stars Jan Clayton and John Raitt, and lots more.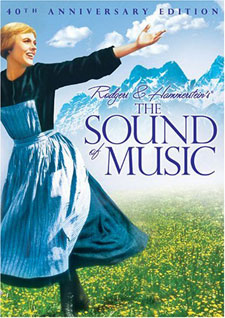 The Sound of Music is a wonderful movie, a five Oscar-winner (including "Best Picture") that has also been given a new, Todd AO aspect ratio release on DVD.
Also available as part of 20th Century Fox's "Five Star Classic" series, this new 40th anniversary edition is a two disc extravaganza that not only includes a good anamorphic widescreen version of the film, but enough extras to keep "Music" lovers happy.
The film itself is well known. Directed by Robert Wise and starring Julie Andrews and Christopher Plummer, it tells the song-filled tale of would-be nun Maria (Andrews) who's sent to be governess for Captain von Trapp's (Plummer) seven children.
Like Mary Poppins, Maria's just the latest in a long line of governesses for the kids, but (like Mary Poppins) it turns out she's just what the doctor ordered. Her sunny disposition, love of music, and strength of character quickly breaks down the barriers between herself and the kids - and the barriers between the unhappy Captain von Trapp and life in general.
The Captain falls in love with Maria and they marry, only to have their new family life threatened by the rise of Nazi Germany and its takeover of von Trapp's beloved Austria.
Speaking of "beloved Austria," this movie's exteriors were filmed on location, and that was a wonderful decision by the producers. Austria is gorgeous and the locations enhance the beauty of the overall film, as well as lending a feeling of authenticity.
The Rodgers and Hammerstein musical is a movie masterpiece, with wonderful songs performed wonderfully. Andrews' singing is effortless and she plays the part of Maria with guts, vulnerability, and bravado (perhaps a strange combination, but she pulls it off). Plummer is also good as the crusty Captain, a shattered man who, thanks to Maria, finds reason to sing and to love again.
The widescreen picture is very good, as is the Dolby Digital 5.0 audio - with one exception. We'd have liked to seen some of the dialogue remixed to the center front channel, because sometimes some onscreen characters' voices were coming from the left or right speaker, which made it sound like their voices were disembodied. But on the whole that's a pretty minor criticism for a marvelous video adaptation that undoubtedly chose to remain true to the original audio soundtrack. Just remember to move your left and right speakers to beside your TV before you play the DVD!
Disc one also includes a full length running commentary from director Robert Wise as well as a second one with the wonderful Julie Andrews and Christopher Plummer.
Disc two features a series of documentaries, including a 1965 look at the film and at Salzburg and some all new presentations including "My Favorite Things: Julie Andrews Remembers." We have a lot of time for Julie Andrews, and recommend pretty well anything she's in. Well, Star isn't a great film, but even there, she far outshines the material.
It's a complete package that for the first time does "video justice" to this timeless classic.
The King and I features an Oscar-winning performance by Yul Brynner as the King of Siam, a petulant and immature ruler who nonetheless wants to do best by his country and that includes learning modern scientific ways. He hires Mrs. Anna Leonowens (Deborah Kerr) to teach his children and his wives and from Anna's and her son, Louis', arrival in Bangkok it's culture shock after culture shock for both protagonists.
Anna threatens to leave when she discovers that the house she had been promised hasn't been provided, but stays on anyway because she has fallen quickly in love with the children. There's also an attraction between her and the king, though Anna has no intention of becoming just another body in his harem.
The authors manage to get quite a bit of social commentary into the musical, including some anti-slavery points helped along by the presence of a new slave to the king's court, a gift from another kingdom. She uses Anna's copy of "Uncle Tom's Cabin" to create a nifty Siamese ballet expressing her unhappiness at being with the King, and presented at a dinner where he is trying to impress some highfalutin British visitors.
This presentation, and the dinner, and the unhappy slave's escape, brings all the conflict and emotions between Anna and the king to a head and, fed up and devastated, she's ready to leave Siam until she hears that the equally-shattered King is about to die (apparently of unhappiness), and returns to help his son rule his people in a more modern and sophisticated way than his father ever could.
Songs include "Whistle a Happy Tune," "Getting to Know You" and "Shall We Dance," and the ballet itself is a joy to behold.
Alas, this is another DVD that could benefit from a better restoration. As with Carousel, the picture and the audio are substandard compared with Oklahoma!, South Pacific and The Sound of Music. But as with Carousel (and the others), you get plenty of extras to help ease the home theater pain. Disc one features an audio commentary, the isolated musical score, songs only and karoake options.
Disc two includes the pilot episode of the old "Anna and the King" TV series starring (and with commentary by) Samantha Eggar, a bunch of featurettes, vintage stage excerpts and a lot more.
State Fair is the weakest of the musicals (but it didn't begin life as a musical anyway), but even it has received special treatment here. This 60th Anniversary edition features not one, but two versions of the musical: the 1945 Walter Lang production starring Jeanne Crain and Dana Andrews and the 1962 Jose Ferrer-helmed one starring Pat Boone, Bobby Darin and Ann-Margret.
Disc one is the "oldie," released in its original 1.33:1 full frame aspect ratio with Dolby Digital stereo audio. It also features an audio commentary by film historian Richard Barrios and author Tom Briggs. There's also a featurette "From Page to Screen to Stage", a singalong Karaoke feature, the trailer and a series of stills.
Disc two is the "modern" version, presented in anamorphic widescreen (16x9 TV compatible) with Dolby Digital 4.0 surround. It's accompanied by a commentary courtesy of much-maligned star Pat Boone, a vintage stage excerpt from a 1954 TV tribute, a rare "State Fair" TV pilot, and the trailer.
South Pacific is a wonderful production, though a mixed bag. As with Oklahoma!, you get two versions of the musical, with disc two featuring the extended "Road Show" edition. Alas, while it's longer than the original, not all of the footage has been reclaimed and/or restored, so there are sequences that look almost as if they were colorized from black and white footage and, considering the spectacular video quality of the rest of the film, it sticks out like a sore thumb. Of course if you don't like it, you can watch the other version, which looks great.
The story revolves around the romance between Nellie Forbush, a nurse from small town USA, and Emile de Becque, a mature French planter with a secret past and an even more secret family. Subplots involve Luther Billis (Ray Walston) an entreprenerial Seabee, and Lt. Cable, a Marine sent to their south sea island on a secret mission.
South Pacific is full of great songs, including "Bali Ha'i", "There is Nothin' Like A Dame", "I'm Gonna Wash That Man Right Outa My Hair", "A Cockeyed Optimist", and the fabulous "Some Enchanted Evening" and "Younger Than Springtime".
This musical also raises some serious issues about prejudice and tolerance, though it doesn't beat you over the head with it.
The production is first rate, though director Joshua Logan for some reason chose to use bizarre color filters during many of the fanciful scenes, probably as a setter of mood, but like the unrestored footage on the road show version, it sticks out like a sore thumb. And it's too bad, because overall the picture is also first rate, with a sharp and very colorful image. Audio is also very good.
And of course there are plenty of extras, from a running commentary and songs only options on disc one, to a commentary on the "Road Show" version, making of featurette, and plenty more.