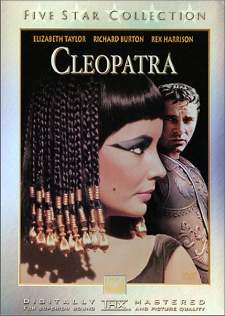 "Cleopatra" on DVD
Five Star DVD
One of the biggest, most hyped, and controversial movies of its time, Cleopatra has been given the loving DVD treatment that befits such an epic film.
Elizabeth Taylor was the first actress to earn a million simoleons for a performance and she's very good in the title role as the Egyptian queen who gets involved with Julius Caesar (Rex Harrison) and Marc Antony (Richard Burton). Her fling with Caesar is meant to help her strengthen her power and, after he's killed she turns to Antony for support.
There's a lot more to it than that, of course, otherwise it would really, really have to stretch to fill four hours.
Yes, the movie is very long, as such epics are wont to be, and it drags in more than a couple of places, but overall it's a much better film than one would believe thanks to the hype over Taylor's famous affair with Burton and how that overshadowed everything else. The film won five Oscars (cinematography, special effects, set decoration, art direction, costume design), and Harrison was nominated as well so, while it isn't in the league of Ben-Hur or Lawrence of Arabia, Cleopatra is definitely no slouch.
As a DVD, Fox deserves credit for pulling out all the stops on this release. It's a three disc set in which the film has been digitally remastered from a new HD transfer, and the anamorphic widescreen picture (16x9 TV compatible) looks really good. They've also redone the sound to Dolby Digital 5.1, and it sounds very nice as well.
Fox has lately been making a habit of doing a good job on their DVD's - after a spotty start with such non-anamorphic transfers on films like "True Lies," "The Abyss" and others, so our hats are off to them: keep up the good work.
That's the important stuff. The extras, which aren't as important but which are always welcome, include a full length (just a few seconds shy of two hours) documentary "Cleopatra - the Film that Changed Hollywood" that not only gives good background into the film, but into 20th Century Fox of the day as well, including its money problems. This release could be its own DVD, so it's quite the bonus!
And of course that isn't all. There's a feature length commentary track with director Joseph L. Mankiewicz sons, Tom and Chris, as well as actors Hume Cronyn and Martin Landau and "Cleopatra expert" Jack Brodsky. There's also a shorter featurette from 1964 on the making of the film, and some Fox Movietone News stuff of the film's New York and Hollywood premieres. There's also a gallery of behind-the-scenes photos, costume sketches, concept art and more.
It's one heck of a package!
Cleopatra, from 20th Century Fox Home Video
246 min. widescreen (2.35:1) 16x9 compatible, Dolby Digital 5.1
Starring Elizabeth Taylor, Richard Burton, Rex Harrison, and many, many more
Produced by Walter Wagner
Directed by Joseph L. Mankiewicz.