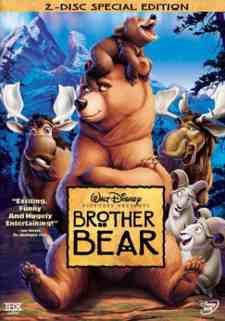 Brother Bear on DVD
Disney's Brother Bear seems to aspire to the level of The Lion King, a true masterpiece in the studio's best tradition. It falls far short, unfortunately, and this 2 disc special edition shows that even Disney DVD's can have an off day.
Oh, it isn't as if Brother Bear is lousy. It isn't; overall, it's quite good. But the Disney bar is so high when it comes to its animated classics (and DVD quality) that it's inevitable that some titles will fall short.
Brother Bear is the story of Kenai (pronounced "Keen Eye"), a native north American Indian boy who is forced to walk in the footsteps of another – in this case another species. He's hunting down the bear responsible for the death of his brother when he's magically transformed into a bear – and hunted by his other brother.
Interesting concept and there's a lot to like about the movie, even if it is a tad politically correct. It's a grand story, well told for the most part, and features some gorgeous imaginary landscapes. And we get to see our heroes learn and grow, which is always good in a drama.
And there are your typically Disney supporting characters along for the ride, in this case two Moose voiced in a McKenzie Brothers-like way by the great Rick Moranis and Dave Thomas – though we get beaten over the head with it and these Moose are inferior to the McKenzie Brothers. And they're about all the comedy relief we get.
More important is the relationship between Kenai and an orphaned bear cub named Koda he befriends, and who ends up affecting his ultimate future.
Phil Collins' songs are okay, but they remind us too much of his work in Tarzan, though they aren't as good, and the overall impression you get is that the studio is trying to cash in on Tarzan and The Lion King at once.
The animation is good, the colors are rich and vibrant, but the transfer to the DVD, despite being THX-certified, isn't up to the standards we've grown to love from the Disney studio.
The DVD contains two widescreen versions of the movie. Disc One comes with a "family friendly" 1.66:1 widescreen transfer, while Disc Two features the original theatrical version at 2.35:1. And we never thought we'd say it but we preferred the "family friendly" one. The reason is that the beginning of the 2.35:1 version is shrunk into a black-rimmed window until Kenai wakes up as a bear some 25 minutes into the story. At that point, the picture expands to fill the 16x9 screen (except for the usual black bars caused by the wide 2.35:1 aspect ratio).
It's a gimmick and it doesn't work. There are so many beautiful shots of wonderfully imagined landscapes that just cry out to be seen in all their widescreen glory, but most of them occur when the picture is a shrunken ghost of its later self.
It reminds us, kind of, of Douglas Trumbull's Brainstorm, which was flat during the "reality" sequences and switched into glorious widescreen when they plugged in the memory recording device.
In this case, your eyes are drawn to the black envelope surrounding the little widescreen picture rather than the picture itself. And we watched it on a 57 inch screen; on something smaller we daresay the picture would appear worse.
This is why we actually preferred the 1.66:1 version, which of course has its outer edges sliced off to allow the picture to completely fill the screen. We didn't notice that you lost a lot from the edges in this case, and the fact that the image filled the 16x9 screen especially during the "gimmicky" first section) was very welcome.
Colors are good, but the image isn't a sharp as we expect from Disney and while it's more than acceptable it almost looks kind of smeary compared with Disney's best.
The audio is fine, though. Disc One is presented in Dolby Digital 5.1 surround, While Disc two also adds the welcome choice of a dts track.
And of course you get an abundance of extras, including:
Exclusive Fully Animated Outtakes
Commentary by the moose brothers Rutt & Tuke (audio only or visual commentary)
Deleted Scenes - Including A New Character
Paths Of Discovery: The Making Of "Brother Bear"
2 Games: Find Your Totem & Bone Puzzle
All-New Song By Phil Collins, "Fishing Song"
" Look Through My Eyes" Music Video Featuring Phil Collins
2 Sing Along Songs
Making Noise: The Art of Foley
Bear Legends featurette (3 mins.)
Art Review (10 mins.)
trailers.
So while Brother Bear is no Lion King, it's still a worthwhile effort. It just could have been better, as a movie and as a DVD.