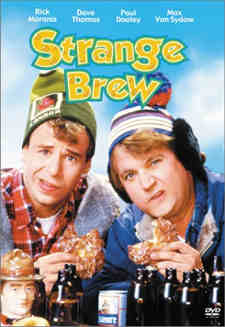 Strange Brew on DVD
The McKenzie Brothers brought an extra fifteen minutes of fame to their talented creators, Rick Moranis and Dave Thomas.
Originally thought up as parody Canadian content filler for their SCTV series, which wasn't deemed Canuck enough by the Canadian Broadcasting Corporation on which it originally aired, it featured the two brothers Bob and Doug as a couple of dimwitted, beer-addled hosers who were the stereotype of practically everything Canadian other than the intellectual class who pride themselves on NOT being like the McKenzies; the class of people who demanded such Canadian filler in the first place.
The skit became so popular it was spun off into this movie. And while they should really have made an SCTV movie instead of a McKenzie Brothers one, there are enough laughs here to make beer come out of your nose.
So here we have "Strange Brew," in which the toque-wearing, beer-swigging "Great White North" hosers' attempt to scam a free case of beer from Elsinore brewery turns into an adventure in which they have to save the world (or at least Southern Ontario) from a mad scientist/Brewmeister (Max von Sydow) who dreams of world domination.
The plot is inspired by Hamlet, hence "Elsinore beer" though there isn't much of the Bard left in the final screenplay. Bob and Doug bumble their way through their misadventure, aided by the daughter of Elsinore's murdered boss and an ex hockey player, causing havoc in their way much in the same way that Cheech and Chong or, much earlier, Abbott and Costello did in their movies.
Subtle it ain't, but that's okay. The McKenzie brothers' charm is their innocent (some might say brain dead) mien and their pursuit of things Canadian like hockey and, more important, beer. Oh, yeah, there are doughnuts, too.
It's always tough to extend a short TV comedy skit into a full length movie, especially here since the McKenzie Brothers are basically a one joke bit, but writer/director/stars Moranis and Thomas have pulled it off. The movie never drags and though you'll never be intellectually challenged, you may laugh a time or two.
Moranis has had a pretty good career in other movies, usually as a nerdy character (unfortunately, because SCTV fans know he has an excellent range), but Thomas never really got his due. He was one of the best things about SCTV and is the only person this reviewer has ever seen do an impression of Bob Hope - and he did it beautifully.
The DVD's pretty good, arguably better than this minor comedy actually deserves. Presented in anamorphic widescreen, 16x9 TV compatible, the picture is grainy in places but overall is more than acceptable. Colors, sorry, colours, are bright and clean - possibly a tribute to the film's original "hoserama" technology presentation.
Audio is Dolby Digital stereo and it's unremarkable, though inoffensive.
You even get extras! First, there's the SCTV skit that inspired the movie - and does it in about 2.5 minutes, plus there's a trailer for the "all new" animated adventures of Bob and Doug McKenzie. This appears to be introducing a new TV series that, if it's of the quality of the trailer, will probably last for an episode or two.
You also get cast/crew highlights and the theatrical trailer.
Strange Brew, from Warner Home Video
90 min. anamorphic widescreen (1.85:1), 16x9 TV compatible, Dolby Digital stereo
Starring Rick Moranis, Dave Thomas, Paul Dooley, Max Von Sydow
Produced by Louis M. Silverstein
Written by Rick Moranis, Dave Thomas & Steve De Jarnatt, Directed by Dave Thomas and Rick Moranis