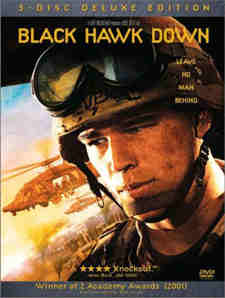 Black Hawk Down, the Deluxe Edition, on DVD
Though we don't condone studios releasing numerous versions of movies on DVD (especially a mere year apart), we can't deny that this is one of the most extensive sets ever produced.
Spread over three discs, there are more extras here than you can shake a stick at.
Ridley Scott's followup to his multi-Oscar winning Gladiator is a timely tribute to America's men in uniform. And this is pleasantly surprising, coming as it does from liberal Hollywood.
Based on a true event while the US was participating in UN-sanctioned actions in Somalia during the early 1990's, it's the tale of a group of soldiers on duty in Mogadishu whose supposed half hour mission to capture some high ranking aides to warlord Muhammed Farrah Aidid goes hopelessly wrong after two of their Blackhawk helicopters are shot down.
The soldiers are stranded in the hostile streets, forced to fend for themselves against Aidid supporters armed with a pretty good selection of deadly ordnance - and who are fighting to the death for a cause in which they (rightly or wrongly, and the filmmakers take no sides) believe.
The film is based on author Mark Bowden's book, and director Scott's riveting film features a sharp ensemble cast performing in some very authentic battle sequences that, if it weren't for their obvious production values and Hollywood stars, almost feels like a documentary. This isn't surprising; Scott's movies are generally very rich and textured visually and aurally, and Black Hawk Down puts us right into the action and makes us want to duck for cover along with the US servicemen.
The ordeal stretches through the night, with relief finally coming early the next day - but not before some twenty soldiers were lost in the action. Historically, this event went a long way toward helping the gutless liberal mainstream media pressure the weakling president Bill Clinton into pulling out of Somalia.
Fortunately, Black Hawk Down makes no overt political statements and instead is a first rate action/war movie that, rather than extensively rewriting history or moralizing (unlike us, eh?), keeps the audience on the edge of its seat while showing the kind of heroism professional soldiers generally display when duty calls them into harm's way.
In the end, we have an extremely well-crafted, state-of-the-art movie that's truly frightening to behold. Events unfold so quickly it's hard to keep track at times, which is undoubtedly just how it felt to those in action.
Josh Hartnett leads a journeyman cast that also includes Ewan McGregor, Eric Bana, Tom Sizemore, William Fichtner and Sam Shepard. And, contrary to Hollywood's usual attempt to graft an unnecessary love interest onto the story to ensure that women show up in the theater, Black Hawk Down (except for one very short scene) eschews "the fairer sex" and concentrates, more accurately, on the men involved and the camaraderie they share that helps them get through the coming ordeal. A very welcome and unexpected touch.
The DVD does the movie justice, too, with a razor sharp and richly colored picture that's presented in digitally mastered (in HD) anamorphic widescreen (16x9 TV compatible). The picture just about leaps right off of the home theater screen, which is exactly as it should be.
Likewise the audio is terrific. Though it's only offered in Dolby Digital 5.1 surround (no dts option is available), the audio quality is first rate. The helicopters surround you as they swoop across the skies of Somalia, and the various pieces ordnance not only zip around the room (making you want to keep your head down) but thump in your chest depending on the caliber of the rounds being fired - and the subwoofer being used. Not only that but while some of the dialogue is hard to hear thanks to all the background noise emanating from the urban mayhem, it's generally very crisp and clean.
Accompanying the feature on disc one is three audio commentaries. The first is by director Ridley Scott and producer Jerry Bruckheimer. Scott is always smart and witty, giving plenty of information and telling anecdotes of the shoot. Bruckheimer always comes across as a typical Hollywood producer, but this time he seems to actually care about the subject matter (when he decides to speak). Between the two, they provide an entertaining and informative commentary.
The second track is by author Mark Bowden and screenwriter Ken Nolan. Bowden talks about his approach to writing the book, and about how he traveled to Somalia himself for the ultimate bit of research. It's just as informative as the director/producer track, but lacks the wit of Ridley Scott.
The third track is by Task Force Ranger Veterans Msgt. Matt Eversmann, Col. Tom Matthews (Ret.), Col. Danny McKnight (Ret.) and Col. Lee Van Arsdale (Ret.). They discuss the real Black Hawk Down incident, military tactics, and the similarities between the movie and the actual event. All three tracks are very informative, so if you have the time to listen to them, it will be well worth it.
The main extra on disc two is a 150-minute making-of documentary called "The Essence of Combat." The doc is broken into six segments, and covers everything from Bowden writing the novel to the post-production. It's chock full of interviews with Scott, Bruckheimer, Bowden, Nolan, all the main cast members, and actual military personnel involved in the real event. It's very in depth, featuring more information than most people would even think.
Considering it's longer than the movie itself, it's mainly for hard core fans, or people who enjoy such documentaries. Also on disc two are some deleted and alternate scenes with optional commentary (but the movie is already two and a half hours long, so it's understandable that they were cut), a "designing Mogadishu" featurette, a production design archive, storyboards and Ridleygrams with optional commentary, Jerry Bruckheimer's BHD photo album, title design explorations with optional commentary, and some photo galleries.
Disc three is equally feature-loaded, beginning with The History Channel's documentary "The True Story of Black Hawk Down." It runs roughly 100 minutes and tells a lot more background about the incident (basically elaborating on the subtitled background at the beginning of the film), and features interviews with author Mark Bowden and several of the personnel involved in the 1993 event. It's just as entertaining as the making-of documentary, but is also (gasp!) educational.
If you're interested in the true story and want to learn about it, you probably can't do any better.
There is also another hour-long documentary, PBS's "Frontline: Ambush in Mogadishu." It's not as informative or extensive as the other documentaries, but it is entertaining enough and tells you a little bit more. Other features include a multi-angle sequence with optional commentary, a few question & answer forums, a music video, and the trailers and TV spots.
Since the transfers are exactly the same, this set is really only for die-hard fans of the film. If you don't care about the extras, you'll save yourself some money to buy the original version. However, this is one of the best DVD presentations we've yet come across, rivaling last year's Pearl Harbor Director's Cut.
Black Hawk Down, from Columbia Tristar Home Video
144 min. anamorphic widescreen (2.35:1), 16x9 TV compatible, Dolby Digital 5.1 surround
Starring Josh Hartnett, Ewan McGregor, Eric Bana, Tom Sizemore, William Fichtner and Sam Shepard
Produced by Jerry Bruckheimer
Written by Ken Nolan, Directed by Ridley Scott