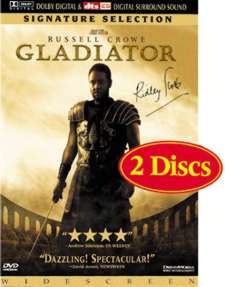 "Gladiator" on DVD
Roman Adventure
One of the big summer hits of 2000, Dreamworks' Gladiator is an epic tale of honor, loyalty, bravery, lust, and treachery during the Roman Empire.
As a DVD, it's a specacular package that includes an entire second disc of goodies for the movie collector.
Directed by Ridley Scott, who has made a career out of creating believable movie worlds, Gladiator stars Russell Crowe as Maximus Decimus Meridius, a Roman general honored and loved by - and completely loyal to - his Caesar, Marcus Aurelius (Richard Harris). After a great victory in Germania, Caesar is murdered by his conniving and weakling son Commodus (Joaquin Phoenix) who, in order to remove the threat posed by Maximus, has his family killed and Maximus dragged off into slavery.
You can't keep a good man down, however, and Maximus becomes a top gladiator owned by and working for a man called Proximo (Oliver Reed). His life as a gladiator brings him back in contact with the new Caesar as he appears at the Colosseum, and Caesar's life begins to literally flash before his eyes.
Maximus, aided by Commodus' sister (Connie Nelson) - who has always loved Maximus - hatch a scheme by which to wreak vengeance on Commodus while restoring the Roman Empire to that envisioned by the earlier Caesar. Things go horribly wrong, however, as Maximus is betrayed and finds himself face to face with the Emperor in the arena in a fight to the death.
While arguably not as grand as Spartacus, Gladiator is a terrific film nonetheless, with a truly heroic lead and a story that keeps you hanging on through the movie's two and a half hours. It never drags, and it's a gorgeous spectacle in the vein of "cast of thousands" epics of old, including Spartacus.
Ridley Scott, as usual, has made a visually beautiful film and it works well on many levels.
The "Signature Selection" DVD is presented in anamorphic widescreen and the picture quality is superb. The audio is offered in both Dolby Digital 5.1 and DTS ES 6.1 surround, which includes an extra channel for a center-rear speaker (yep, time for a new audio system again!).
The sound quality is wonderful, though we (like most mortals) didn't have a chance to experience the 6.1 channels.
Extras include something like four hours of bonus material, including a running commentary from director Scott and some deleted scenes with a director's play-by-play. There's also a feature called "Treasure Chest," which is a montage of extra footage from the film put to the film's musical score, and an interview with the composer, Hans Zimmer.
That's only the beginning. There's also a pair of behind the scenes featurettes (HBO First Look" Making Of" and The Learning Channel's "The Bloodsport of a Gladiator"), a production diary written by actor Spencer Treat Clark, a slide show of concept art and storyboards, and a behind the scenes photo gallery.
There more, too: trailers and TV commercials and production notes/cast/filmmaker bios - and a liner essay inside the box.
It's a very complete collection that suits what will undoubtedly go down in movie history as another Ridley Scott classic.
Gladiator, from Dreamworks Home Video
155 minutes, Widescreen (2.35:1), Dolby Digital, DTS-ES
Starring Russell Crowe, Joaquin Phoenix, Connie Nielsen, Oliver Reed, Richard Harris, Derek Jacobi, Djimon Hounsou
Produced by David H. Franzoni
Written by David H. Franzoni and John Logan and William Nicholson, Directed by Ridley Scott