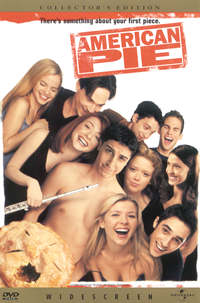 Teen Spirit for the '80's and '90's
Though on the surface, "American Pie" may seem to be nothing more than a teen sex romp (and, to be fair, it really tries to be one), in the final analysis it's much more than that.
The story revolves around four high school seniors who - hormones at full blaze - want desperately to lose their virginity. Only one of them has a steady girl, however, and since it generally takes at least two to tango, they're on the horns of a dilemma at how to accomplish their task by the all important prom night.
What follows is a sexually charged, but good natured and good humored exploration of the teenage psyche as the boys attempt to latch onto and bed the woman of their all-too-wet dreams.
In the end they learn to their credit that life isn't about sex after all, and that romance and love are more important in the grand scheme of things.
Despite these epiphanies, there's lots of room for laughs and plenty of bathroom humor manages to make its way onscreen in what's an amusing and loving look at teen life of the nineties. As "Fast Times at Ridgemont High" was to the '80's, "American Pie" is to its generation.
The cast is likable and all turn in credible performances as, variously, the jock, the nerd, the "band geek," the sexpot, the foreign student, etc. etc. The best adult role (in fact, only one of two adult roles with any meat to it) is fleshed out by SCTV veteran Eugene Levy, who does a great job of being the sensitive new age dad.
The dual layer widescreen "Collector's Edition" DVD is Dolby 5.1 surround and audio/video quality are excellent. As with other Collector's Editions we've seen, you get enough extra stuff to choke a horse, though you're also saddled with that damn "PC Friendly" software we find such an annoyance.
Extras include a "Spotlight on Location" short feature on the making of the film, a feature commentary in which they managed to pack director, producer, screenwriter, and cast members into a screening room to reminisce about their gig, as well as some pretty funny outtakes from the production. There's also a presentation on the film's soundtrack, including selections from the songs, production notes, cast/crew info, a decent liner notes essay, and production notes via DVD ROM. Naturally, you also get chapters and trailers.
In all it's a complete package for a film that may not go down in history as the masterpiece of its age, but which will undoubtedly be remembered as a worthy entry in the genre of teen coming of age flicks.
American Pie, from Universal Home Video
96 minutes, Widescreen (1.85:1), Dolby Digital
Starring Jason Biggs, Chris Klein, Natasha Lyonne, Thomas Ian Nicholas, Tara Reid, Mena Suvari, and Eugene Levy
Produced by Warren Zide, Craig Perry, Chris Moore, Chris Weitz, Written by Adam Herz
Directed by Paul Weitz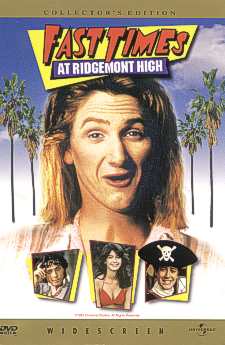 Universal home video's "Fast Times at Ridgemont High" is a mixed DVD bag. On one hand, it's a good re-release of the 1982 teen movie classic in many ways: the widescreen picture quality is fine, and there's the variety of extra materials one has come to expect from these "Collectors Edition" DVD releases.
On the downside, however, the audio quality is atrocious and that's simply unacceptable in a medium that regularly sees old movies remixed and remastered to take advantage of the digital disc format. This is especially a shame because the movie has a great selection of 1982-vintage rock 'n' roll songs on the soundtrack.
One has only to look at such DVD reincarnations as "Easy Rider" and "Heavy Metal" to see what magic can be wrought by technicians in this day and age.
Anyway…
"Fast Times" was based on a book by Cameron Crowe, who also wrote the screenplay for the movie. Crowe has gone on to bigger and better things since then, including the terrific Tom Cruise vehicle "Jerry Maguire," but "Fast Times" is the project that brought him to his deserved prominenc.
The storyline follows a group of Ridgemont High students through the bulk of their senior year as they cope with school, life, love, and sex. There's Stacy, the good girl who wants to be bad, and Linda, her supposedly worldly friend who eggs her on at each opportunity. Then there's Brad, a hard working stiff who can't seem to get a break, the nerdy Rat and his "mentor," and Spicoli, the stoner who marches to his own hard rock drummer.
"Fast Times" was a star making vehicle for such actors as Sean Penn (whose Spicoli steals the show), Jennifer Jason Leigh, Phoebe Cates, and Judge Reinhold. They're joined by Ray Walston and Vincent Schiavelli as Ridgemont teachers.
The film itself is very good. Director Amy Heckerling handles the situations and characters deftly, working with the talented cast to craft an ensemble that illustrates the times very well. They aren't all particularly smart, or likeable, nor are they all dumb and distasteful, either - but they're real people you can believe.
As mentioned, the widescreen video quality is very good,but the audio quality leaves a lot to be desired.
Extras include a decent liner essay inside the box, a documentary "Reliving our Fast Times at Ridgemont High" that features interviews with director Heckerling, the producer and casting director, as well as many cast members. There are also production notes, cast/crew info, a video map of the school, music highlights, and the usual chapter stops/trailer.
In all, "Fast Time" doesn't work as well now as it did when it was contemporary, but it's a far-above-average teen angst flick.
If only they'd have done a proper audio remix on it…
Fast Times at Ridgemont High, from Universal Home Video
99 minutes, Widescreen (1.85:1), Dolby Digital mono
Starring Sean Penn, Jennifer Jason Leigh, Judge Reinhold, Phoebe Cates, Brian Backer, Robert Romanus and Ray Walston
Produced by ARt Linson and Irving Azoff, Written by Cameron Crowe
Directed by Amy Heckerling