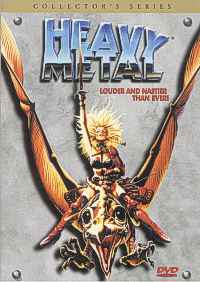 "Heavy Metal" on DVD
"Louder and Nastier Than Ever"
Columbia's "Collector's Series" DVD release of this cult favorite has received deluxe treatment that makes it look and sound great.
Heavy Metal was based on the "pulp" magazine of the same name, which in turn was based on a French "pulp" magazine "Metal Hurlant." The concept was similar to the old "Creepy" magazines: short, lurid science fiction and fantasy comics that were as big on sexual content as they were on classic sci fi/fantasy themes.
And all this is translated fairly well to the motion picture medium.
Despite its low budget (the film was animated for the most part in small Canadian studios), there's some nice animation in Heavy Metal, and some of the scenes and settings are beautiful. The short stories range from epic fantasy to high tech space opera and each has its own look and feel - from "smudgy watercolor" to "razor sharp computer animation-like."
The film opens well, with a stylized space shuttle dropping a 1950's-vintage Corvette from a set of bomb bay-like doors. The 'Vette does a spectacular re-entry and a much softer landing that a real one would - and then we're whisked into the "Grimaldi" story that's a loose linking device for all the other yarns.
The stories run the gamut from mildly interesting to highly amusing - and everything in between, including the impossible to follow and the "visual non sequitur." Voice talent includes such Canadian talent as the late John Candy, Harold Ramis, Don Francks, Eugene Levy, and many more. It's quite a hoot picking up on these people's voices, since many of them went on to become major international stars.
Despite the film being aimed at the college and/or drug culture, it's still amazing how much sex animated characters can have in a 90 minute movie. Fortunately, there's a lot more to "Heavy Metal" than sex, drugs and rock n' roll, though that does seem to be its primary raison d'etre.
The restoration team has done a beautiful job on the audio soundtrack, and the remix into Dolby Digital 5.1 is extremely well done. As the tagline suggests, the audio is "louder than ever" and on the whole the soundtrack sounds terrific. Despite the heavyweight list of heavy metal bands along for the ride, the rock music is mostly relegated to the background (which is fortunate) and Elmer Bernstein's symphonic score - which is much more appropriate and successful - takes center stage.
Once you get through the movie itself, your "journey of discovery" is only beginning because Columbia Tristar has packed a bunch of extra stuff onto the dual layered disc.
There's a play by play commentary, kind of, on a separate audio track as author Carl Macek reads his book "Heavy Metal: the Movie" as the visuals unfold. They should have hired an actor to read it, however, since Macek's delivery is fairly pedantic (as Bones McCoy might have said "Dammit Jim, I'm an author not an announcer!"). It's a very interesting perspective on the film, however.
There are also a couple of deleted scenes, including an alternate "framing story" that's offered with and without an accompanying commentary. There's also a good documentary "Imagining Heavy Metal" that details the film's genesis, and a rough cut of the film with optional commentary.
And there's more, like a gallery of cover art from Heavy Metal magazine, a generous selection of artwork from the film - from conceptual art through cell portfolios - and production photos and notes. There's even a decent set of liner notes in the box. Strangely, there's no theatrical trailer, but that isn't a big deal.
Heavy Metal isn't a heavyweight in Hollywood history, but it's an interesting niche that helped propel the careers of many of its participants. It has stood the test of time pretty well, too - and we must admit we enjoyed it more in its DVD incarnation than upon its initial release.
Heavy Metal, Collector's Edition, from Columbia Tristar Home Video
approx. 90 minutes, Widescreen (1.85:1), Dolby Digital
Produced by Ivan Reitman, Written by Dan Goldberg & Len Blum
Directed by Gerald Petterton