By Jim Bray
If you're interested in a full size SUV or pickup truck that corners like a small one, GM has your answer.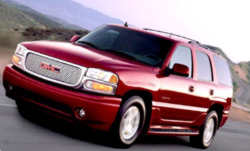 I got to try two of the General's "Quadrasteer" four wheel steering option-equipped vehicles, the Yukon Denali XL SLT 2500 and Sierra LT1500HD Crew 4WD, and thanks to the rear wheels helping out with the steering chores, they turn if not on a dime then at least on a fifty cent piece.
It's quite a spectacular difference in such long wheelbase vehicles, and lets you (for example) make right turns directly into the curb lane without the vehicle's nose sticking out into the farther lane. In fact, GMC says Quadrasteer lets the big SUV turn as tightly as a Honda Accord. I didn't measure the two vehicles' turning circles, but I would tend to believe the claim. It really is quite remarkable.
There's also a trailering setting for the four wheel steering, as well as a conventional two wheel steering setting. I didn't try the trailer setting (no trailer) but I found that during my test - other than experimenting for review purposes - I preferred leaving it in four wheel steering mode all the time; it made both of the vehicles much more pleasant to drive and not only helped with turning corners but with all around handling as well, including passing on the highway.
Is four wheel steering worth the extra money? Probably. The ¾ Ton Yukon XL 2500 series SLT four wheel drive (aka Denali) starts at just over $50,000 US ($58,000-ish Canadian) and the Quadrasteer adds $4500 ($7500 Cdn.) to that. For that extra coin, you also get auto ride control, the heavy duty trailering package and a limited slip rear differential.
My fully loaded tester tipped the financial scale at just over $56,000 ($70,600 and change Cdn.), which is quite substantial. For that price, however, you get a highly competent and wonderfully appointed SUV that, albeit huge, is pleasant to drive and even includes a rear seat DVD entertainment system.
GM includes some really nice little touches, too. For instance, my tester came with power adjustable pedals that move the gas and brake nearer to or farther from you, depending on whether you're tall or short. Using this in combination with the luxurious, power leather seats (with bun and back warmers) I could not only easily find a perfect driving position, but was given the illusion that my feet would actually reach the ground when I got out.
Talk about living in a fantasy world!
There's also a really nifty double set of sun visors, with a smaller visor behind the main one. This is great! You can swing the main visor over to the side window and leave the secondary one covering the windshield, which comes in particularly handy on twisty roads where you're constantly changing directions in relation to the sun.
But more about the creature comforts later.
This particular Yukon is powered by GM's big Vortec 6000 V8 engine featuring sequential port fuel injection and boasting 320 horsepower @ 5600 rpm and 365 lb. ft. of torque @ 4000, running through a four speed automatic transmission with overdrive. The result is as much get up and go as you'd need, despite the vehicle's "super size" and 2649 kg (5839 lb.) curb weight; I didn't have an opportunity to try out its towing capability, but GM says this version of the Yukon can drag up to 3629 kg. (8000 lb.) behind it.
And for all you greens out there, the SUV also qualifies as a Low Emissions Vehicle (LEV), though of course its gas mileage isn't spectacular.
The Yukon's suspension is independent up front, with torsion bar, heavy-duty stabilizer bar and coil springs, while the rear features semi-elliptical, 5-link, 2 stage multi-leaf springs with automatic real time damping. It all combines to give you a very smooth and comfortable ride that, though obviously fairly trucklike, is quite comfortable. Thanks to the vehicle's size and shape it lets you really feel cross winds but, undoubtedly also thanks to its size and shape, it plows through them quite well.
Yukon also offers you a variety of drive modes, from regular rear wheel drive to "automatic" (which sends torque from the rears to the fronts, making it four wheel drive, when required) as well as low and high range four wheel drive. I kept it in two wheel drive for most city and highway driving, but on a road trip along a snow and ice-covered parkway in Banff national park the four wheel drive high range mode came in really handy and made the Yukon feel secure and serene even though the road conditions were quite crummy.
Stopping the SUV are power assisted four wheel disc brakes with ABS; StabiliTrak traction control also helps keep you safe when the going gets slippery. The SUV runs on P265/70 R17 cross-terrain tires mounted on polished aluminum rims.
The whole shebang works very well and, when coupled with the terrific four wheel steering, gives you a big SUV that, despite the ample elbow room inside, doesn't feel like the Really Big SUV it is.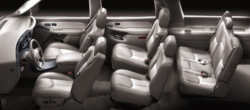 The middle row of buckets is also very comfortable - and they even recline! This is really nice on a longer trip and on the way home from our day in Banff I stretched out in back and put on a favorite DVD.
Which brings me to the rear seat entertainment center. The Panasonic DVD player works well and outputs to a ceiling-mounted 16x9 aspect ratio liquid crystal screen of about six inches diagonal. That may seem small, but it's actually a terrific size for this particular application. I watched some of "Star Wars Episode II" on it and even its widescreen presentation looked really good. And the ceiling mount (it swings up and tucks away when you're not using it) helps prevent the sun from washing out the picture. Usually.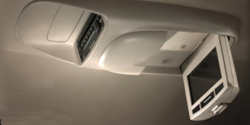 The player also has audio/video input jacks you can use to hook in another source such as a video game - just the ticket to keep those ankle-biters away from each other's throats on long trips.
The DVD player doesn't play home made CD's, unfortunately, but in the grand scheme of things that isn't a big deal since the main stereo up front does.
The DVD player even comes with a remote control and a pair of wireless headphones that offer very good sound.
On the rear of the center console separating the front bucket seats there's also a set of heater and radio controls and a pair of headphone jacks, as well as a couple of cupholders. In all, it's a pretty nice place to spend some time.
Up front, there's a Driver Information Center which has over 30 customizable functions (you can even set things like the keyless entry system's parameters). The Bose stereo includes AM/FM stereo with six-disc CD changer and such stuff as GM's terrific automatic volume control. It works well, is easy to figure out and, best of all, sounds very good.
The driver also gets power everything (windows, mirrors, you name it) and there are two memory settings that keep track of a pair of drivers' preferred seat position etc. Each front passenger can control his own HVAC settings, and GM has also thrown in its great automatic headlight feature.
The rear hatch opens up very high, but fortunately there's a strap you can grab to close it again without having to resort to a ladder. The rear window wiper does a good job of covering its territory, and folds away right off the window when not in use.
The Yukon is a solid and pleasant vehicle to drive, with three rows of seating (the rear is a fold down bench). While it reminds me in some ways of the Hummer H2 when you're inside, it eschews the H2's brawny image in favor of a much more "civilized" demeanor.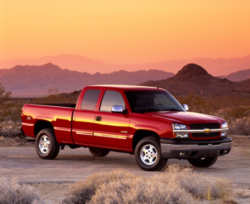 The Silverado LT 1500HD crew cab pickup with Quadrasteer, my test unit of which featured a standard length bed, is a little smaller, but otherwise it's quite similar to the Yukon except that you carry your cargo outdoors and it definitely feels like a pickup truck so far as driving feel is concerned. This means that, rather than the smooth and comparatively gentle ride of the Yukon, you get an experience in which you'll want to ensure your bladder isn't full when you start hitting frost heaves on the local highways and byways.
Well gee, of course trucks ride like trucks. They're trucks!
So let's forget about the drive quality, my comments on which are undoubtedly fueled by the fact that I'm not really a truck guy, so please forgive any prejudice or ignorance I may display here.
The 2003 Silverado LT 1500 HD Crew Cab 4WD is a hefty hauler, and this year it sports an aggressive new look reminiscent of other Chevys such as the Avalanche - at least where the front end is concerned. Chevy says the new Silverado has some 40 new and/or enhanced features which include dual stage air bags, automatic air bag suppression, modified instrument panel with the same type of drivers' information center as the Yukon (and others), steering wheel controls for the stereo and DIC, a big new center console and dual zone climate control.
All of which combines to make the Silverado as nicely civilized inside as the Yukon. You can even get the rear seat DVD entertainment center, though in this case you're sitting closer to it than in the Yukon, which means the LCD screen looks a little bigger.
The Silverado offers just about everything else I liked about the Yukon, except perhaps for the lack of secondary sun visors - and that's a pretty small omission.
The four door truck is roomy and comfortable, though the rear doors don't open as wide as my potato-shaped body would like and the seats aren't as roomy as those in the admittedly longer, Yukon.
The Silverado is available with a choice of six engines, including a diesel; my test unit came with the same big V8 Vortec 6000 as the Yukon, though this time it's rated at 300 horsepower @ 4400 rpm and 360 lb. -ft. of torque @ 4000 rpm. The difference seems negligible, however, when you're behind the wheel, undoubtedly due to the Silverado's "trimmer" weight.
Silverado can be had in 2 or 4 wheel drive. I had the 4 wheel drive and it works as well as the Yukon's - which is to say very well. I was fortunate to have the Silverado during a particularly cold and snowy period and really liked the four wheel high range setting when things got dicey. While no amount of traction, traction control, or ABS is going to bail you out on glare ice, the combination is wonderful on anything less than Zamboni-compatible conditions.
The cold weather performance is also very good, especially from an inside comfort point of view. The seat heaters in both the Yukon and Silverado are very efficient indeed: not only do they qualify as good bun warmers, you could probably toast buns on them if you left them on the highest setting too long.
The interior warms up very quickly, too, and the defrost/defog system clears the windows quicker'n you can say "Jack Frost." This is good, because the front windshield is so high and broad that I couldn't reach its middle with a scraper no matter how hard I tried, short of bringing in a block and tackle to hang from.
The rear seats fold down flat to form a nice platform, one that's capable of carrying a variety of stuff you might not want to put on the leather seats.
The Quadrasteer works very well on the Silverado, though strangely enough it doesn't "feel" as if it's having as great an effect as on the Yukon. Still, it takes what could be a bus-like turning circle and makes it much more manageable and this comes in handy not only when turning in traffic (and when parking), but even on the highway, where it helps stabilize the truck in curves.
The Quadrasteer option also gives you electronic adjustable ride control, the heavy duty trailering package, a limited slip rear differential and flared pickup box fenders. It's an expensive option, but a good one.
My Silverado wore LT245/75R tires on 16 inch aluminum wheels, each of which also had a disc brake with ABS.
Okay, since I'm not really a truck guy, I'm probably not the best one to opine about the esoterics of such a vehicle, but I will tell you that a couple of my friends have recent vintage Silverado crew cabs (though sans Quadrasteer), and they both love them. One of them uses it as a family vehicle, hauling mountain bikes, a dog house, and other lifestyle stuff in the bed all the time, while the other drags a boat. So the truck is obviously up to its assigned duties.
And isn't that what it's all about?