Toyota Solara SE – a Comfy Sports Car-compatible
By Jim Bray
The Toyota Solara looks kind of like a poor man's Lexus SC430, but it's actually quite a nice drive as long as you aren't expecting real sports car performance.
Basically an offshoot of the Camry, which is nothing to sneer at, Solara is a two door coupe that in its most basic form offers a decently fun ride in a beautifully rendered and comfortable package, with reasonable economy.
There's also a higher end model that sports a V6, but 'twas not to be for this review. My plain Jane tester was the bottom of the line Solara and that meant it was more "sporty" than sporty, but I must reluctantly admit that not everyone is concerned with carving up curves and screaming away from stoplights. For those who fit that description, yet who still want something a little more, well, interesting than a garden variety Camry, the Solara is undoubtedly an excellent fit.
The garden variety Solara comes with a 2.4 liter, 16 valve 4 cylinder ULEV engine rated at 157 horsepower @ 5700 rpm and 163 lb .ft. of torque @ 4000 rpm. This is okay. You won't scream away from traffic lights, but once she gets going the Solara does just fine. It passes okay, though you'll need to plan your passes more than you would with the V6, and it hits and maintains freeway speeds well.
If you do decide you want the kind of oomph that's more appropriate to a sporty coupe, you can opt for Toyota's 3.3 liter, 24 valve V6, which is also ULEV rated and cranks out a much more healthy 225 horses @ 5600 and 240 pounding feet of torque @ 3600 rpm. Okay, maybe not pounding, I imagine, but certainly welcome.
There's isn't a lot about the Solara that's not to like, especially its comfortable, well laid out and well executed interior. But more about that later.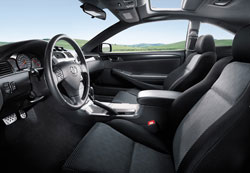 My 2006 model year tester also "featured" a five speed automatic transmission with a pretend manual mode that works best as a way to engage engine braking on hills. It doesn't shift quickly, and sometimes it seems to ignore your own shifting and does it as it so deigns anyway. And when you use it in automatic mode, it doesn't appear to like downshifting, which contributes to the more leisurely passing experience than nervous drivers may like. Still, it's undoubtedly better than last year's four speed.
While the Solara may be the Superman of Camrys, its overall ride seems to be more of the Clark Kent variety. Oh, it'll be more than adequate for any everyday driving experience you can think of, and it will give you some fun to drive factor if spurred but despite that, Solara's mission seems to be to more of putting smiles on people's faces for reasons other than unabashed driving adventure. Unabashed comfort and dependability, perhaps.
Solara features an independent front suspension with Macpherson gas struts, front strut tower bar, coil springs and a stabilizer bar. The rear suspension uses dual link independent construction with coil springs and stabilizer bar. Steering is progressive, power rack and pinion and it offers good feel.
The 16 inch alloy wheels are really attractive, though the rubber they wear could certainly be more sports-oriented.

The curvy exterior is swoopy and round and brings to mind the Lexus SC, kind of, at least from the rear. I like it, even if the bum is a little tubby (my wife said it reminds her of mine….). It's definitely sportier-looking than the previous generation Solara, which was kind of bland.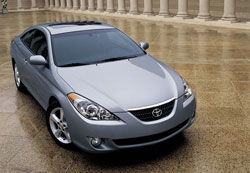 The interior is by far the highlight of the Solara, and that's where you'll spend most of your time. And it's a lovely place to be, comfortable and efficient. Toyota has used a tasteful amount of brushed metal trim, eschewing the urge to use too much as was in the case of the new Avalon. The dashboard is sleek and clean and gives easy access to the HVAC and audio system.
The audio system won't please audiophiles. As is so often the case, the in-dash AM/FM 6 CD changer offers good ergonomics but fairly weak sound. Sellers of aftermarket car audio will rejoice. You do get steering wheel-mounted audio controls, which is a feature I really miss when a car doesn't offer it.
The analog instruments are handsome and straightforward, which is as it should be. The steering wheel offers both manual tilt and telescope adjustments, so it's easy to find a comfortable driving position. The seats are comfortable and supportive and there are plenty of places to store stuff.
The back seat is surprisingly roomy, especially its legroom. Getting in and out of the rear is the typical two door challenge, but once you're there it's quite pleasant.
Safety equipment includes dual-stage front airbags, side airbags, ABS, and side-impact beams.
Driving the Solara is pleasant, though not particularly stirring, and I enjoyed my week with the coupe. I did find on a couple of occasions, however, that when I'd tromp on the gas the car would hesitate for an instant before (almost reluctantly, it seemed) taking off. I have no idea what caused this, and it only happened a couple of times, but I noticed that someone on an Internet board had also mentioned a similar problem so I bring it up in passing for your information.
While I'd have preferred trying the V6 model, the four cylinder will be more economical to live with and I must grudgingly admit that, while the car's performance seems a little more "vanilla" than the "butterscotch" I like, overall it offers quite a pleasant driving experience.
Add Toyota's reputation for reliability and quality, and you undoubtedly have a car that will last and prove quite rewarding.
The Solara SE with automatic transmission starts at about $27,545 Cdn/$20,210 US. The top-of-the-line SLE V6 convertible ups the ante to a starting price of about $35,950 Cdn/ $29,810 US.