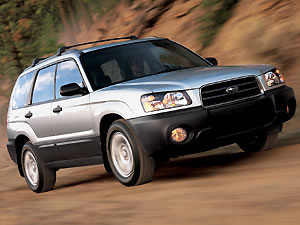 Forester, simply "Treemendous"
Subaru SUV a Nice Ride
by Jim Bray
If a tree falls on a Forester and no one's around to see it, does it still leave a dent?
Undoubtedly - and I apologize for the lengths to which I'll go to make a bad joke.
Fortunately, Subaru's Forester SUV is no joke; rather, it's a very nice vehicle to drive and is nimble enough that it may be able to avoid said tree, as well as other road hazards such as snow and the like.
In fact, the Forester is my favorite Subaru to date. I've driven a few other models all, unfortunately - including this Forester - shackled with automatic transmissions, and despite my leanings toward sporty offerings the Forester left me really impressed.
As with all other Subarus, the Forester is equipped with full time all wheel drive. This gives it a leg up over competitiors that only send torque to one pair of wheels (whether front or rear) when their little onboard droids notice the wheels are about to slip. It probably isn't a big deal a lot of the time, but when push comes to shove via crummy road conditions, or even in some highly spirited driving, it's a nice feature to have.
Now in its second generation, the 2003 Subaru is a darn nice ride. The base model 2.5X that I drove wasn't bristling with creature comforts, but it had everything you really need - yet it isn't so Spartan you think you're driving a fifteen year old economy car. And if you want more toys, you can opt for the higher end model XS (see photo below), as well as various option packages.
I might quibble about the Forester's claim to be an honest to goodness Sport Utility Vehicle in the manner of the Toyota Rav4, Honda CRV and the like; it feels more like a wagon than an SUV, but that actually works in its favor as far as I'm concerned.
And you still ride taller in the saddle than in a conventional small car. In fact, when I went back to my wife's economy sedan after my time with the Forester it seemed incredibly low in comparison.
Anyway, Subaru says the 2003 Forester is all new compared with its predecessor, with a stronger chassis, and tweaked suspension and brakes. It now comes with front passenger side air bags, too. And even my base model 2.5X had air conditioning, power locks and windows, heated outside mirrors, cruise control, keyless entry and a pretty decent stereo that includes AM/FM/weather band and a single disc CD player.
The stereo is easy to use, with clearly labeled and well-placed controls, and it sounds pretty good. It's no high end thunderer, but it's more than adequate for the task at hand. I did miss having audio controls on the steering wheel, but at least the stereo's head unit is well placed enough that I didn't have to stretch excessively to reach it.
The new Forester's styling, at least in my opinion, has been improved over the past model. While the earlier incarnation was by no means ugly, it does look decidedly boxy compared with the new version.
The greenhouse is also very good, with excellent visibility all around, and the handsome new rear hatch features a nice, big glass window fitted with a handy intermittent wiper/washer (though I would have liked to see more settings to the intermittent feature). This wiper/washer was a godsend on my test unit, which wasn't equipped with mud flaps and therefore attracted dirt and other crud onto the back window like it was going out of style.
The engine is Subaru's 2.5 liter single overhead cam horizontally opposed four cylinder "boxer" engine rated at 165 horses @ 5600 rpm and 166 lb-ft of torque @ 4000 rpm. While this is the same unit and, I believe, the same four speed automatic transmission that propels other Subaru models I've driven, on the relatively light Forester (which weighs some 400 pounds less than the Baja reviewed elsewhere) it seems like a better match and in fact the Forester car/SUV felt quite spry
Incidentally, since the Forester is marketed as an SUV you might like to know when the anti-SUV crowd comes pounding on your door, brandishing protest signs and torches, that the Forester meets Low Emission Vehicle (LEV) standards and its EPA gas mileage rating, according to the company, is 21/27 miles per gallon (city/highway), in either manual or automatic incarnations. That translates into 11.2/8.0 (manual) and 11.0/8.2 (automatic) litres per 100 kilmetres in Canada. I have no idea why the discrepancy between the transmissions in the Canadian rating; perhaps it has something to do with the Canadian "dollar"….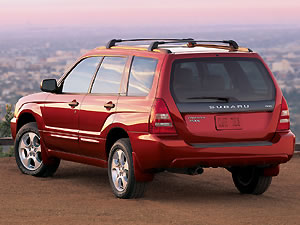 Inside, the Forester is well laid out, simple without being stark, and the faux carbon fibre trim adds a nice high tech look. The fabric seats are comfortable for all day driving, nicely bolstered on the sides for when you hit those inevitable twisty bits on road or off. The driver's seat on my 2.5X didn't offer power adjustments, but was adjustable through a wide range of positions, including seat height, so it was easy to find the best driving position. There's also a good "dead pedal" foot rest that comes in handy when cornering.
The instrument panel is well laid out and easy to read and, as with other Subarus, includes a thoughtful reminder of which side the fuel filler door is on. This may sound like a little thing, and it is, but it comes in handy when pulling into a gas station to fuel up.
The rear seat is comfortable for two, not quite as comfortable for three (as with most vehicles in this size category), and it splits 60/40 and folds down. There are three point belts for all three rear seat positions.
Naturally, there's more storage when the rear seat is folded down, but even when it's up you have decent room for most everyday use. It's no Suburban, of course, but it doesn't pretend to be.
You also get 12 volt power outlets in the front console and the rear cargo area.
Subaru has also included some nice safety/convenience features such as auto off headlights and fog lamps, variable intermittent front windshield wipers, roof rails and a full size spare tire. There are power assisted disc brakes all around, with four channel, four sensor ABS. Steering is speed sensitive power assisted rack and pinion; the Forester handles very nicely, with good steering feel through the wheel.
Other safety features include dual front airbags, side impact door beams, front/rear crumple zones and active safety head rests up front.
As mentioned, driving the Forester is a pleasant experience. During my time with it, I had the chance for normal city driving as well as a trip to the mountains on roads that ranged from bare and dry to snow-covered and mixed ice and snow. The four wheel drive came in really handy on the latter two types of road, helping keep the Forester stable and serene - including one nearly panic stop we made to avoid, and then rubberneck at, a gigantic elk that had wandered across the road in front of us.
What else can I say, except to mention that the Forester so impressed my wife that she has now put it near the top of her wish list for when the time comes for us to start shopping for our next vehicle. Except that any Forester that might take up residence in our garage will definitely sport the manual transmission.
And I have to admit that, while my personal tastes tend toward sportiness and horsepower, the Forester is a vehicle with which I could easily live.
Incidentally, the Subaru Forester 2.5X as tested starts at about $20,845US / $28,000 Canadian. The top line 2.5SX Premium starts at about $24,000 US / $35,500 Canadian.