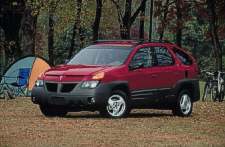 Aztek: Pontiac's Combination Shot
An "SUV-nivan?"
By Jim Bray
Pontiac has built what may be the ultimate vehicle for homeless yuppies.
Its 2001 Aztek is a kind of hybrid, but not the gas/electric type of hybrid Honda and Toyota are pushing. Rather, it's a hybrid minivan/SUV, taking highlights from both types of vehicle and creating something truly unique.
It's truly ugly, too, but you don't see that from behind the steering wheel and that makes it a lot easier to take – until you get out again.
I spent about a week with the Aztek GT and, while it isn't the type of vehicle I would buy, it seems safe to say that those of the "young at heart and outdoorsy" persuasion may find it a nice blend that fits well into their lifestyles.
After all, where else besides the Volkswagen "bus" (sorry, "EuroVan") can you find a vehicle in which you can camp?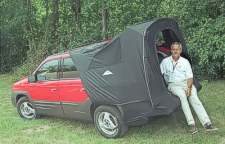 No kidding. Aztek is available with three different "packages:" a Biking package, a Hiking package, and a Camping package. The latter, which is the one I tested (probably a cruel joke from a GM exec who knew of my sedentary lifestyle), includes an air mattress and a tent. You can erect the tent over the Aztek's rear end and sleep right in the back of the vehicle. (see right)
Not only that, but Pontiac has mounted a second set of stereo controls in the rear compartment with which you can annoy your campground neighbors with loud tunes.
I didn't actually take the tent out of its package to try it. I know better. For me, getting a tent folded back up into those little bags is even worse than folding up a road map, and I was supposed to return the Aztek GT in the same condition in which I received it.
A recent review of the Aztek in "Car and Driver" magazine, however, claims you can do the deed in about ten minutes, and I have no reason to doubt them.
Pontiac includes other handy little "camping" accessories designed to make life with the Aztec as pleasant as possible. For example, there's a little cooler mounted between the front bucket seats, and you can use its handle to take it out at the campground. It's a pretty small cooler, suitable only for a few cans of pop or other beverage (I wonder if Pontiac thought about the drinking and driving potential here), and if you don't want to keep your potables portable the cooler also doubles as a cassette/compact disc holder – so you can keep your cool tunes even cooler.
There are also multiple power outlets and a selection of cup holders.
The front drive Aztek GT is powered by a 3.4 liter fuel injected V6 engine that puts out 185 horsepower and 210 lb-ft. of torque. The transmission is a four speed electronic automatic, and the combination moves the Aztek along quite well, though not spectacularly. I also thought its shifts could have been a little less obtrusive at times.
One thing you don't get, yet, is four wheel drive, but that's supposedly on the horizon.
The interior is comfortable, though one of my sons complained about a lack of rear seat legroom. Driving position is very flexible, thanks to a tilt steering wheel and a power-assisted driver's seat that does everything except lift you into the vehicle and deposit you gently back on the ground again.
That driver's seat felt as if it would spill me out of it when I took a right hand turn quickly, though; it didn't, but it felt a tad tippy.
Driving safety features include anti-lock brakes, traction control, and dual air bags up front.
The cabin is very quiet, unless you use the excellent AM/FM/CD stereo to rattle the rear hatch with wild abandon. This is not a criticism of the rear hatch; rather, it's a statement of awe regarding the stereo.
That hatch, by the way, is sharply angled on top, and its nearly perpendicular rear panel section is made of glass, which really improves the driver's rearward visibility.
There aren't a lot of creature comforts missing. Besides the hot stereo, you can have heated seats, rear captain's chairs, a keyless entry system, variable intermittent wipers, cruise control, an automatic headlight setting, power windows, etc.
Aztek GT is EPA rated at 19 city and 26 highway gas mileage.
Whether Aztek's bizarre exterior will frighten off potential buyers remains to be seen, but you have to give Pontiac credit for breaking out of the box.