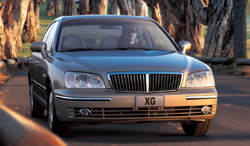 by Jim Bray
Hyundai continues to prove it's making strides against the competition with its entry into the luxury sedan market.
And with the 2004 XG350, it's proving that while it's knocking on the door - it isn't quite ready yet to come into the house.
But, ah, they're sure making some nice vehicles!
Will the XG350 do the job for them of bringing mainstream credibility to the marque?
It's hard to say. It's a heck of a good start, and a darn nice car, but considering its price and features there are other cars out there that offer more refinement for the same dollar. The Honda Accord springs to mind.
Now, to be honest, when I first picked up my "desert sand-colored" test unit I was more than a tad disappointed. I thought it felt cheap, compared to similarly-priced cars I've driven, and it seemed more like a pretender than a contender in that market segment.
Then I took it on a two day trip through the Rocky Mountains, from my home in Calgary to Jasper, Alberta. We went on roads ranging from multi-lane "superhighways" to twisty and hilly mountain highways, to decomposing and nearly dangerous side roads full of switchbacks and blind corners.
What a hoot that was! And in the end I came back with a respect for the XG350 that I didn't think was possible considering my initial impressions when I first drove it home from the dealer.
Sure, it's a tad floaty at times, and it understeers during spirited cornering. It could do without the seeming acres of woodish paneling as well (on the other hand, I could do without the seeming acres of real wood in my own car!). And if Hyundai really does want to be taken seriously it should strive to make its leather seat surfaces look like they came from cattle and not a free range PVC herd.
But be darned if this car didn't end up winning me over. It's comfortable and pleasant to drive, it has just about all the creature comforts you'd want, and seems well designed and built.
So go figure.
The heart of the XG350 is its 3.5 liter, DOHC V6 engine attached to a five speed automatic transmission with pretend manual shifter. The engine is rated at 194 horsepower @ 5500 rpm and 215 lb. Ft of torque @ 3500.
The horsepower figure may look disappointing in a $33,000 Cdn ($24K US base) car, but horsepower isn't all that one should look at. The torque, for example is more than adequate, anywhere, any time.
It's easy to chirp the tires when leaving a stop light, and when your life depends on a quick and safe highway pass, the car is there for you with all the oomph you need - and then some.
I didn't time a 0-60 run, but the XG350 also accelerates well from a standing start and, though the engine tends to howl a tad when you tromp the gas, it passes like a pro even going up a steep hill in a mountain pass. I can attest to that from multiple such experiences on our trip; spur the XG350 onward and, while it takes a second for it to decide you've told it to GO FOR IT!, once the transmission decides to downshift it leaps forward just as it should and passes quickly and confidently. And when you don't need to downshift the power and torque still come on smoothly and more than adequately.
The transmission upshifts very smoothly, though there were a couple of times on the hilliest bits when it wanted to stay in a lower gear and I disagreed with its choice. So I shifted it to "manual" and did it myself (one of the advantages of a "pretend manual"). Manual shifts aren't particularly swift, which I found disappointing; you click it up a gear and wait a second or two before the XG350 complies. It's almost as if it's mulling over your decision and deciding whether or not to argue about it.
But in the end, it does it competently. And to be fair, its shifts aren't any slower than on some other "pretend manual" cars I've tried.
The XG has the usual front engine, front wheel drive combination, and Hyundai has built the car with an independent double wishbone suspension (with coil springs) up front and independent multi link with coil springs in the rear. There are stabilizer bars front and rear. That's good stuff.
As mentioned, the XG350 can be a tad floaty over some road aberrations, but on the whole it handles well. It's no Acura TSX, but nor does it claim to be; Hyundai seems to be aiming it more at comfortable than spirited driving. And there's nothing wrong with that; I just prefer spirited. My wife, on the other hand, prefers comfort, so she was more comfortable in the Hyundai.
And though my initial impression of the car's exterior styling was that it was a bit dumpy looking, it quickly grew on me until I quite liked its appearance. To me, it's more handsome than the current Honda Accord. And if you take a look at the new Mercedes Maybach, you'll see that Hyundai's designers seem to be at the leading edge of the luxury design wave.
The exterior includes aerodynamic halogen head lamps, front fog lights, and just enough chrome to look classy without looking cheesy. Wheels are 16 inches in diameter and wear P205/60 H rated Michelin all seasons, which should be more than adequate for most driving conditions.
There are some nice, thoughtful touches, too. The first one I noticed was a little button on the end of the windshield wiper that activates a single wipe for those times when even the variable intermittent settings (which the XG350 also sports, of course) is too much.
You also get two driver's seat memory settings – something not available on the Accord or TSX.
On the downside, I really missed steering wheel-mounted audio controls. You do get wheel-mounted cruise control buttons, but you have to reach over to the stereo head unit to adjust its volume – and since that knob mimics some high end home audio components, you have to crank and crank and crank to turn it up or down, which means more time away from the steering wheel.
The stereo itself is more than adequate. It's an AM/FM/single disc CD unit hooked into six speakers and it can really wail once you get the volume knob turned enough. There's supposed to be an optional changer that mounts in the trunk, which seems kind of "deja vu" in a 2004 model when the competition is putting its changers into the dash. My tester didn't have the changer anyway, so it was moot.
The leather seats (with bun warmers) are comfortable for all day driving, though there's little side bolstering for cornering, and as mentioned it sure doesn't look or feel like leather. They're power adjustable and you can get a good driving position quite easily, though it would have been even better if the tilt steering wheel also telescoped.
The headrests adjust up and down and forward and backward.
Instrumentation is full and easily legible; both front seats get lighted vanity mirrors, and there are storage spaces in abundance. The leather-wrapped steering wheel is comfortable to hold and the variable assist power steering has good feel.
You also get automatic climate control, which works well, and a tilt/slide power moonroof that, as with most cars, creates wind noise that howls like a banshee when it's open and you're hauling butt at highway speeds.
There's even a little trip computer that shows stuff like estimated range on the current tank, average speed, etc. I found it superfluous, but that's just me.
The power/heated outside mirrors are on the small side, but they work well, and the greenhouse of the XG350 offers very good visibility in every direction.
The trunk is large and nicely finished and it expands into the passenger compartment by way of 60/40 fold down rear seats.
Safety equipment includes the usual assortment of belts and airbags, and of course the four wheel disc brakes are equipped with ABS and traction control. My tester also came with a keyless entry system which isn't necessarily safety-related but which is certainly convenient.
A couple of minor things that bugged me, though they're pretty nit picky, was the way the chimes would remind you that you've left the key in the ignition as soon as you turned off the car – even before opening the door. And the key fob stops opening/locking the doors once it's in the ignition switch.
So is this a real luxury sedan capable of competing with the Biggies?
I dunno. It's a very nice car that really grew on me during my week with it, and you get a lot of stuff for the buck. But overall, it doesn't seem as refined as other cars I've driven in this price range. My early impressions worked against it, which is probably unfair, but at first I have to admit that I preferred the Sonata to the XG350. These impressions changed as I used the car, however, especially as we put on highway miles.
So it's a very good attempt, but it may take another generation before Hyundai reaches the heights of the Accord et al.
But to be fair, Honda et al have been at it a lot longer....
Which means Hyundai has come a long way in a relatively short time – and the XG350 is a prime example of why the company deserves to be taken seriously by buyers and competitors alike.