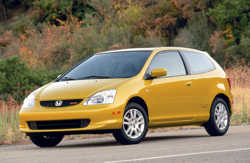 To SiR, with Love
Sporty Civic Puts the "Fun" in "Functionality"
by Jim Bray
When pondering cars with a high "fun to drive quotient," one doesn't normally think of the Honda Civic. After all, while the Civic is a fine car, its focus is on economy and practicality, not "Whee!"
Unless one looks at the Honda Civic SiR (which is "comparable" to the Si model in the US), which is not your average Civic. Starting at about $26,000 Cdn (the Si starts at about $19,000US) the SiR is a stylish three door hatchback whose sleek body looks almost extruded in one piece to maximize aerodynamics. It also comes with a bigger engine and larger wheels than the garden variety Civic sedan or coupe.
Honda says the SiR is based on the British-made version of the Civic, from the country which brought us such classics as the MGB and Austin Mini - which might explain why it's such a blast to drive. It also might explain why my tester had a couple of minor, but very un-Honda-like rattles in the vicinity of the roof area.
Now before you pop off an e-mail slamming me for slamming British cars, I'll fully admit that my comments stem from personal experience that's more than twenty-five years old and that today's British cars (which aren't particularly British, at least in ownership) have come a long way. Besides, IT WAS A JOKE!
But I digress….
This Civic also brings back memories of the Honda CRX, a "pocket rocket" priced for the masses. And that isn't a bad thing.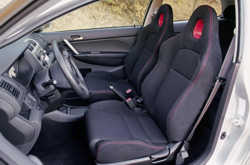 Inside, the Civic SiR looks and feels very "Civic," including the sedan and coupe's extremely handy flat floor that facilitates five passengers more comfortably than cars that still have the center "hump." It also uses the standard Civic knobs and buttons, except that this version's HVAC controls are closer to the driver and therefore more legible.
Power comes from a different engine than the other Civics. This one's a 2.0 Liter DOHC 16-Valve powerplant with i-VTEC (Intelligent Variable Valve Timing and Lift Electronic Control) that Honda says puts out 160 horses @ 6500 rpm and 132 lb.-ft of torque @ 5000 rpm. It also meets 2004's stricter Low Emissions Vehicle II standard.
That extra "oomph" (the regular Civic's 1.7 liter engine is rated at 115 hp @6100 and 110 lb.-ft @4500 rpm) more than makes up for the SiR's coupla hundred pounds extra weight - in fact, the SiR feels much lighter and more nimble than its more staid brother. Honda says its new variable timing control (VTC) allows for maximum torque at all engine speeds, and I believe it. On some older Hondas with "old fashioned" VTEC, you can feel the changeover from low to high rev cam by the way you suddenly get pushed back into the seat. With the SiR, however, you're always pushed back in the seat when you gun it.This is a good thing.
The car goes like heck, too, pushing one back into the seat in a very satisfying manner when you gun it. There's a little more engine noise than I seem to remember from other Civics, though not enough to be annoying - and the noise does seem to be more a squeal of delight than of complaint. While I didn't actually race anyone (anyone who realized we were racing, anyway!), the SiR moves swiftly and eagerly from a standing start and you're in speeding ticket range before you can say "Thanks, Soichiro!"
Honda has given the SiR "State-of-the-art Toe Control-Link Independent Strut front suspension with centralized steering gearbox," a compact, high-performance Reactive Link double-wishbone rear suspension, and has also included stabilizer bars front and rear. Thanks to this, the SiR loves the twisty bits and even on straight bits you can tell it has a much more catlike demeanor than the other Civics. It's far stiffer than its brethren and transmits very nice road feel. The Electrical Power Steering System features a Variable Gear Ratio and also transmits a nice road feel at all speeds.
Bringing the SiR to a stop are disc brakes with ABS (with electronic brake distribution) all the way around. One must also mention the attractive fifteen inch alloy wheels.
When you first plant your bum into the driver's seat you'll probably notice the gear shift's position and you may even snicker at it. That's because rather than sticking out of the center console, the shifter protrudes from the bottom part of the dashboard. This does, indeed, look strange, but after driving it for even a couple of minutes it feels exactly right. In fact, when you aren't looking at it it feels much the same as the shifter in one of those low-slung sports cars like the MG or the Mazda Miata, where you're sitting low and handling a short-throw shifter mounted on top of a tall transmission tunnel.
This is also a good thing.
I first felt the seating position to be too high for a supposedly sporty car, but after about a day behind the wheel I changed my mind and was very happy wearing the car as designed.
You'll also probably notice that the SiR has lovely front seats that wrap around you to hold you in place when you hit those twisty bits. They're also comfortable for long trips and despite the fact that they don't have a lot of adjustments (there's only forward and backward and seat back tilt) it's easy to find a comfortable sitting position. The sporty, tilt steering wheel facilitates "9 and 3 o'clock" hand positions and, as with other Civics, there's a well-placed rest for the left foot.
The rear seat is fine for two and okay for three, though of course since there are only two doors getting in and out is a relative treat.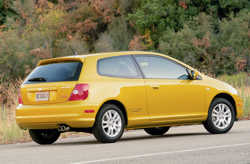 Outward visibility is very good. There's a big greenhouse; the front windshield is steeply sloped from the hood to the roof and the side windows are plenty large enough even though from the outside they appear a tad small. Likewise the rear window offers excellent rear visibility, though since it's at the very back of the car looking in the rear view mirror almost feels as if you're in a very small minivan until you get used to it.
The analog instrumentation is straightforward and easy to read and at night the black on white display turns to an attractive red on black.
Creature comforts include about everything you'd need. My tester was equipped with cruise control, power heated outside mirrors, a power moonroof, air conditioning, keyless entry, and an AM/FM/CD stereo that in typical Honda tradition is good but not great. There are also abundant storage nooks and a very flexible center console.
The moonroof has an annoying feature I first noticed on the Pontiac Vibe, so it may be some dumb safety feature that's becoming an industry standard - or, worse, yet another law. Anyway, when you close the moonroof it only goes half way and then you're forced to press the button again to finish the job. This may be safer for people (or kids or animals) dumb enough to stick their arms out the roof, but it sure isn't safer for the driver who has to take his hand off the wheel long enough to perform two functions instead of one.
This is so dumb it must be a government regulation….
About the only shortcoming that comes to mind about the SiR is the tires (or should it be "tyres," in honor of the British connection?). The car comes standard with a set of P195/60R15 88V M+S that are fine for most driving, but which don't handle the twisty bits as well as a more aggressive set of rubber would. It's an acceptable compromise, however, since better rubber wouldn't be as flexible in what is, after all, a relatively inexpensive mainstream vehicle that's meant to be driven in all road and weather conditions.
I also wonder about the lack of a six speed manual transmission, especially since Honda offers one on its Acura RSX Type S (from which the SiR's engine supposedly comes). Still, the five speed works and feels well, with short throws that let you flick away to your heart's content.
Storage space obviously isn't as good as in the sedans (except possibly for the Hybrid), since there's no real trunk, but the back seat folds down quite flat and opens up a lot more cargo area.
My tester was finished in what Honda calls "Euro Yello Pearl" but which could be more accurately referred to as "bile" or, to be kinder, "Grey Poupon." Fortunately, there are other colors…
Honda has a real knack for making cars that are elegantly simple, yet which offer excellent technology and economy. With the Civic SiR, you can add "plenty of fun to drive" to that list of Civic virtues.