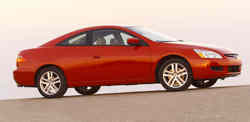 Honda's Sporty Accord a Comfortable Rocket
by Jim Bray
The Honda Accord has consistently been one of the top selling cars in North America. Having driven the newest generation's four door sedan version several months ago, it isn't hard to see why.
It's an excellent vehicle, refined and with terrific comfort and performance. It's a tad dumpy-looking to these eyes, however - not that that's the most important thing about a car. Usually a new Accord strikes me as ugly, then grows on me; this one has done the opposite.
But the two door sedan is much nicer looking and it also offers the benefit of a six speed manual transmission that isn't available on the sedan. Why not? Beats me. When you compete with the likes of the Nissan Maxima and Mazda 6, both of which offer manuals, you'd think Honda would want to remain ahead.
Go figure.
The bottom line is that if you want to shift for yourself, you either need to weld two doors shut (by buying the coupe) or move over to the Acura TSX.
Which reminds me. A bit of full disclosure is required here. I picked up my test Accord Coupe immediately after having my socks knocked off by the Acura TSX and I don't think this was fair to the review of the Accord. They're very different cars, despite the TSX being based on the European Accord, and comparing them back to back is to compare apples with oranges. So I'll try to be as fair as possible to the Accord, though in my subjective opinion it fell short of the TSX if, like me, you love so-called "driver's cars."
In fact, I don't really understand the Accord Coupe. Oh, there's nothing wrong with it; in fact, overall it's terrific (I got my first speeding ticket since 1986 behind its wheel, dammit!). But it isn't a driver's car, or a real sports car – so why not just slap the six speed in the sedan and be done with it?
Okay, the two door is better looking than the four door, though that isn't difficult. And it is sportier, but it's faux sports. This seems to be a car for people who want something sporty, but not a sports car.
And you don't have to get the manual transmission with it; Honda also makes an excellent (for an automatic) five speed slushbox. There's also a more traditional five speed manual.
Now I get it! This is Honda's Solara!
Hummph.
The Accord has evolved over the past twenty five years or so, mutating into a world class family hauler – though of course the coupe version isn't as good as a family hauler since you have to squeeze into the back seat.
Honda says this new generation of Accord, introduced for 2002, is designed to grab its owners emotionally as well as intellectually. So they've tried to add passion to the excellence.
Alas, the European Accord - in the form of the TSX - has the passion in spades. This Accord still has the excellence and the refinement, but if this is what brings passion then there's something wrong with me.
Don't get me wrong. This Accord is fun to drive, it's a really nice car, and it's fast. But passion?
Alas, no.
My tester was a fully loaded top-of-the-line EX V6 6MT, which sells in Canada for $33,600 and starts at $25,900 US. It features a wonderful V6 engine that unleashes 240 horsepower @ 6250 rpm with 211 lb.-ft of torque @ 5000 revs. The horsepower increase is 40 over the last generation of Accord V6.
This is definitely sporty. Step on the gas and the Accord Coupe leaps forward in a very un-family-car-like manner; it's deceptively simple to chirp the front wheels of this front driver, much to your embarrassment if you're over twenty years of age.
If you opt for the four banger, you'll have to live with 160 horse @5500 (up ten from its predecessor) with 161 torquey critters @ 4500 (up 9). Not that that's a really hard thing with which to live!
How does the Accord's V6 feel compared with the TSX's inline four?
Again, it's like apples versus oranges. The six is incredibly smooth and fast, and emits a wonderful growl when you prod it, whereas the TSX feels like a four, but a four that's a lot more interested in performing than your average four banger. It's as if the Accord V6 doesn't work hard at all unless you really put your foot into it, while the TSX's four lives to work hard and is happier the harder it works.
The Accord is not only fast, it's comfortable and luxurious, and everything seems built to last.
The coupe definitely looks more muscular than its predecessor, with an aggressive front end that looks to be shared with its four door sister. The styling is almost hatchback-like, though the coupe definitely has a trunk – and a big one at that.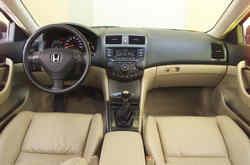 Inside, the Accord coupe feels pretty well like the sedan does, which is not a bad thing. I wrote in my review of the sedan that it felt as if Honda had taken my measurements and tailored me a car. I would back away from that now a bit, after having driven the TSX, but it's still a nice fit.
The coupe's leather, powered driver's seat (with bun warmer) adjusts well and holds you in nicely, including reasonable side bolsters. The steering wheel tilts and telescopes a little, which is wonderful. I also had plenty of headroom, legroom, elbow room, you name it, though since I'm about 5'6" I may not be the best test for roominess.
The instrument panel is nifty and classy. It has a high tech "electrofluorescent" look that comes on in stages. The big, central speedometer (which, since I got ticketed in this car, I perhaps should have paid more attention to) is surrounded by the rest of the gauges and they're all bright and easily readable at a glance.
There's a bit of a learning curve to the stereo/HVAC display, which is a single LCD panel showing all sorts of information. But it's arranged logically for quick viewing and doesn't take much getting used to. The hardest thing to get used to is the big central volume control knob; you're tempted to twist the knob to the left of it instead, but if you do you'll crank up the driver's side interior temperature instead of your favorite tunes.
Fortunately, the main stereo controls are also repeated on the steering wheel, so you don't really have to mess with the central knob at all.
The driver also gets cruise control controls on the wheel.
Oh, yeah, the Accord also has dual zone automatic climate control, which is nice if one of the front passengers happens to disagree with the other about what the perfect driving temperature may be.
Honda has done all sorts of things to make the new Accord wonderful, like a new engine mount system, improved suspension geometry. The basic structure is unit body, with double wishbone suspension, coil springs, and stabilizer bars front and rear. Steering is variable power assisted speed sensitive rack and pinion, and it has a pretty good feel. I didn't notice the numbness on center of the sedan, though I didn't have a chance for a real mountain road romp, either.
My tester was fitted with 17x7 JJ Aluminum Alloy wheels and each corner also features a disc brake with ABS and the whole shebang features brake force distribution.
You also get all the usual creature comforts and power accessories, from sliding moonroof and power mirrors to keyless entry (fobless, in this case). And the rear seat is fairly roomy considering the two door nature of the coupe.
Driving the Accord coupe was a lot of fun, but with a couple of caveats. The clutch is light, but seems a tad jumpy; I never did learn the shift the car perfectly smoothly during my week with it, and this bothered me. And you can't take it into a twisty bit with the confidence you can with the TSX.
But then again, they're apples and oranges (and I bet you're getting tired of hearing that!). I suspect the Accord coupe buyer isn't as interested in spirited driving as in reasonably spirited driving, in which case the Accord will do the job just fine.
Honda has always taken pride in "making it simple." That may be one of the things that makes the Accord such a great car: it has oodles of sophistication, refinement and technology, but it's deceptively simple once you're behind the wheel. Everything is laid out simply, it all falls nicely to hand or foot, and you know from Honda's reputation that you're undoubtedly buying a car that won't rattle itself apart over the next few years.
And that's worth something.
It all adds up to a fine vehicle, and I can see why Honda sells so many Accords every year. I did miss the convenience of four doors and, since the manual transmission isn't available on the sedan, this would move the car out of my personal wish list.
Fortunately, Honda has that covered on its Acura side...