Chevy Unleashes a Cobalt Bomb
By Jim Bray
(photos by the author)
Don't take the title of this column to mean I think Chevy's replacement for the Cavalier is a bomb in the sense of it being a failure. Instead, take it to mean this car is a blast, a lot of fun to bomb around in – that it offers megatons of driving entertainment behind the wheel.
The model of which I speak is the Cobalt SS, the 205 horsepower ( with 200 ft. lb of torque, too) supercharged version of the Cobalt. This car moves!
I must admit I feel as if I'm inviting a lightning strike by saying good things about this car. Its predecessor was popular, but I found it bland and highly ordinary and assumed people were buying it because of pricing strategies including incentives when they'd really rather have a Honda Civic, Volkswagen Jetta or Toyota Corolla. Perhaps that's unfair, but that's how I feel about it.
But be darned if the new Cobalt SS isn't a very nice car, well designed and built and a genuine indication that, if they can keep this kind of thing up, GM may be on track to return to its former glory. And it makes me salivate in anticipation of such new GM offerings as the Pontiac Solstice.
The Cobalt SS Supercharged won me over within minutes of my having slid my bum into its classy Recaro-like seats and I ended up really enjoying my time in it.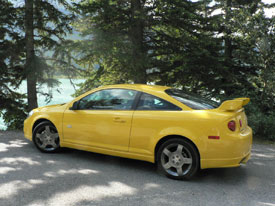 Oh, sure,it ain't perfect, but for those in the market for something fun like the Acura RSX, this Cobalt SS is well worth consideration.
My tester came in an outrageously unsubtle shade of bright "rally yellow" that was guaranteed to be a cop magnet – and indeed it was. Fortunately, the fine officer who the combination of flashy color and (okay, I admit it) outrageous speed attracted was in a forgiving mood and let me off with a warning.
I have a feeling if I had had the car for much longer I'd have lost my license….
Anyway, the Cobalt SS Supercharged Coupe is the top line Cobalt model. It's a pretty straightforward front engine/front wheel drive two door car that appears solidly built and well engineered, and includes lots of performance, safety and convenience equipment.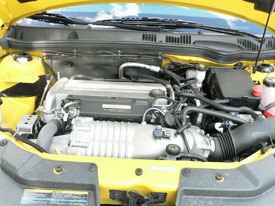 The fun starts with a supercharged two liter four cylinder Ecotec engine with dual overhead cams and four valves per cylinder. The engine is rated at 205 horses @ 5600 rpm and 200 lb-ft of torque @ 4400 rpm.
GM says the car's Eaton M62 supercharger adds 40 percent more power to the garden variety engine. It uses a helical roots compressor and integral pressure control to crank out up to 12 psi of boost. You can watch the show via a little boost gauge (a.k.a. a "there goes the gas mileage" gauge) that's mounted on the driver's side A pillar.
The result is a power plant that plants plenty of power onto the road; it's easy to chirp the front tires without even trying, a fact I discovered in a quiet residential neighborhood, much to my chagrin.
The engine is mated to a five speed manual transmission that may be the car's weakest link. Unfortunately, it's in a market segment where six speeds are also available but, even worse, it's a tad rubbery and the top gear seems to be laid out almost arbitrarily, and because of that you have to pay attention when shifting to and from fifth. It isn't as slick as the 6 speed in the Acura RSX Type S, but it works well overall and my criticism is fairly minor. And, to be fair, the Acura is nearly seven grand (Canadian) more expensive than the Cobalt SS Coupe, which is a pretty substantial difference.
The attractive and sporty Cobalt is sleek and aerodynamic from its smooth nose to that horrid wing on its bum. I don't mind spoilers per se, but this one is really big and is placed so that it blocked a substantial part of my view from the rear view mirror – so much so that it could render vehicles behind the car practically invisible. If it weren't for the outside mirrors there were times when I wouldn't have known there were vehicles behind me! This proved especially dangerous (well, embarrassing) when I was being stalked by the abovementioned police officer in a ghost car.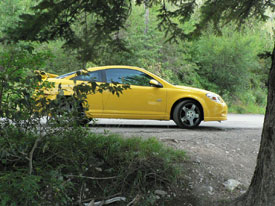 It definitely looks cool, though!
The Cobalt features a performance suspension that's independent up front and "semi-independent" at the rear. It's quite stiff, in the best sporty manner, and while you do feel everything on the road it's never jarring or uncomfortable – more "catlike" than anything.
The steering is electrically power-assisted rack and pinion and it's pretty good; I noticed quite a bit of understeer during my jaunt along my favorite twisty bits (I guess you could stay it over-understeers), but the Cobalt still managed to be highly entertaining.
Brakes are four wheel discs with ABS. The SS sports a set of reasonably handsome 18-inch aluminum wheels equipped with a good set of all season P215/45R18 performance radial tires.
Inside the Cobalt SS is a subtle and comfortable cabin that's well appointed and efficient. There's even decent room for two in the back seat, as long as you remember to plant your butt firmly in the depression at the back of the seat cushion. This leaves you sitting quite straight-backed, but it'll probably be fine for anything other than long road trips.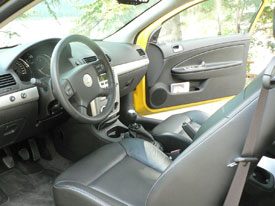 You won't have that concern up front. Those racing-style buckets are extremely comfortable and hold you nice and snug for those times when you hit the twisty bits. The seats don't have power adjustments, but they're easy to move and when combined with the tilt steering wheel it's easy to find a comfortable driving position.
The "titanium faced" instrumentation is straightforward and attractive, the steering wheel is comfortable in the hands and contains audio and cruise control buttons. Cup holders and other storage bins are easily at hand.
The audio system really rocks, though I found it a tad bassy. Part of this may be due to the big Pioneer subwoofer in the trunk, a unit that seemed to overpower the system a little. The system features 228 watts emanating from 7 speakers including that 10" subwoofer and overall sound quality is very good, even considering the bassiness (which can be managed via the tone controls). The AM/FM/CD/MP3 head unit is easy to use and features speed sensitive volume, which is a nice touch. I wish the system came with a 6 disc changer in the dash, but what can you do?
Power stuff includes the windows, outside mirrors and door locks (including keyless entry). Safety equipment includes driver and front passenger dual-stage air bags, head curtain side impact airbags, the usual gamut of belts and stuff, and OnStar is built into the car. My tester included a year's "Safe and Sound Plan" OnStar service.
The Cobalt SS Supercharged coupe gave me mostly pleasant experiences during my week behind the wheel. Other than my angst over the wing, the understeer and the shifter's feel, my complaints are of the quibble variety.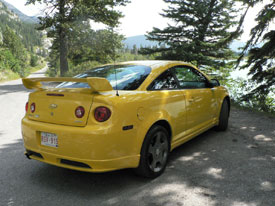 For example, I thought the clutch a tad heavy and would have liked the gear shift to have been placed an inch or so farther forward (taller people may find it perfect the way it is, though). I was also surprised at the complete lack of grab handles for any of the seating positions, and I thought the driver's side outside mirror was a tad small (or perhaps it could be a little more convex).
Counterpoint those minor complaints with the gobs of power and torque you get at your right foot, a surprising lack of wind buffeting even with the windows cracked at highway speed, and the car's overall pleasant design, execution and demeanor and you have a vehicle that's a real smile generator.
Who'd have thunk? As I mentioned up top, I went into this review not expecting much from this car. But hats off to GM for the Chevy Cobalt SS Coupe. This is a very nice car, at a reasonable price. My loaded tester lists for $27,650 Canadian or approximately $24,500 US.
Seems like a heckuva deal.