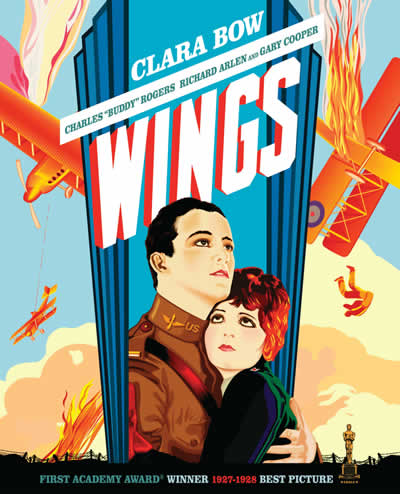 Silent classic, Sci-Fi classic, and Godly message come to Blu-ray
By Jim Bray
February 2, 2012

Three Blu-rays that have debuted over the past couple of weeks deserve mention, but for three very different reasons. Two are looks back to earlier times, while the third looks up for heavenly guidance.

The trio are Wings, Star Trek: the Next Generation, and Courageous, very different discs with different reasons to be compelling.

Flyboys, V1…

Coincidental to all the Oscar buzz about "The Artist," a modern day silent film we're told is a new masterpiece, Paramount Pictures has released onto Blu-ray a true silent classic – the first film to ever win the Best Picture Oscar.

It's "Wings," a 1927 World War One epic that features gripping flying scenes, convincing special effects (all things considered) action, romance, and a compelling story that even includes some major angst about friendly fire (or was it really?). And other than the fact that even on Blu-ray it's obvious that this is an old, old movie, it stands with the great war movies of all time.

The story revolves around  small town boys Jack (Charles Rogers) and David (Richard Arlen), who are in love with the same woman. David's a bit of a playboy, while Jack is "hands on" in a different way – he's building a custom car, aided by the sweet Mary Preston (the luminous Clara Bow), who'd like him to get hands on with her, but he looks upon her as one of the guys.

Then war comes a-calling and David and Jack become aviators in the battle against the Kaiser. They become inseparable, having put their romantic angst behind them, while becoming seasoned by combat. Even with the inevitable and seemingly mandatory romance put in either to stretch the running time, appeal to women, or draw your attention away from the expensive flying scenes for a while, it reels you in and keeps your attention for all of its 144 minute running time.

You can find similarities with other war movies that have followed ("Flyboys" is a good example), but Wings apparently did it all first, with plenty of extras to enhance large scale scenes and fantastic flying photography that must have been a real pain in the rear to pull off (though undoubtedly a lot of fun, too!) 'way back then.

I'm a sucker for aviation films anyway, but this one ranks with the best.

Paramount has done a fine job of bringing this classic to Blu-ray. You'll never forget that this is a 1927 film, but you'll marvel at it regardless. The 1080p picture, being the "full frame" aspect ratio of such old movies and not-so-old TV, leaves black bars to each side of the picture, but that's normal and what can you do anyway, other than distorting the picture through some stretch and/or zoom setting? The picture itself looks very nice under the circumstance; it has cleaned up nicely. Paramount even has a neat way to drag us into the movie's time frame by giving us a series of progressively older Paramount logos up front.

The movie itself is presented mostly in sepia, with black and white and some blue shading. Color (bright orange) has been added to machine gun blasts and burning planes. Detail is strong, and the picture is very clear though, not surprisingly, there's evidence of wear. In all, it's a nice restoration. 

You canchoose from two soundtracks, one a modern DTS-HD MA 5.1 presentation that includes a "re-recorded score" with sound effects added by Ben Burtt of Lucasfilm fame. The other is a stereo track with what is allegedly the original "pipe organ score." We switched from one to the other during our viewing and while in general we prefer not messing with the original, we preferred the "modernized" score. The music is wonderful, fitting the mood and the action beautifully and even though a truly silent movie shouldn't have sound effects, Burtt's work fits in perfectly and may help make this old flick more palatable to some viewers.

The organ track also sounds excellent, so if you're a purist, you may enjoy that, too. 

You even get some extras, including an approximately-half hour retrospective "Wings: Grandeur in the Sky," a featurette on the restoration and one called "Dogfight!" that deals with – guess what?

I had a feeling I'd enjoy Wings, but it was better than I had anticipated. Recommended highly. 

Next Generation Blu-ray…
No, this doesn't refer to the next revolution in home theater technology, it's about Paramount's upcoming Blu-ray release of Star Trek: The Next Generation, which is previewed on the "The Next Level" disc that's available now.

If you're a Trek fan looking forward to TNG, there's really no compelling reason to buy this disc unless you just have to have everything related to the "fanchise," which probably means it'll be a big hit. Having said that, it's an extremely compelling preview of just how good (hopefully) the show's seven seasons will be.

The preview disc includes three episodes, including the pilot "Encounter at Farpoint," as well as two others from subsequent seasons: "Sins of the Father," and "The Inner Light."

The original Star Trek series looks fantastic on Blu-ray, with a nicely restored picture and the choice of the original special effects/soundtrack or with new, CG effects and surround sound. The effects created for TNG aren't nearly as dated, however, though they apparently weren't up to the standards of today's HD media.

So, Paramount says, they went back and re-composited the original effects (rather than recreating them) and the result is spectacular.  The only thing missing is widescreen, which is understandable since the series was shot in the old 1.33:1 "full frame" aspect ratio. Alas, the menu is widescreen and it looks great, making me pine that the whole shebang isn't like that. Still, as with "Wings," it's better at its native aspect ratio than the alternative.

The three episodes are nowhere near the series' best, but it's a reasonable sampling of the series' highs and lows, which included Trek at its best ("The Best of Both Worlds" and most of the third season) to its worst (unfortunately, too much of the rest).

The audio is very good, too; it's offered in DTS-HD Master Audio surround and is mixed and presented well.

This quick look is really tantalizing; I can't wait for the real releases.

Gutsy, Godly Moviemaking…
And finally, a Blu-ray of a movie I'm amazed made it to production at all given the current Hollywood  and cultural currents. "Courageous" is a deeply religious and moral story whose catchphrase "Honor begins at home" pretty well says it all. It's the story of a quartet of law enforcement officers in whose lives God remains paramount (or in this case, Sony!) and whose guidance helps these people get through the challenges of life on and off the job.

Nathan (Ken Bevel) is the new guy in town. He's partnered with David (Ben Davies), who is younger and greener, though no rookie. The other members of this team are Adam (Alex Kendrick) and Shane (Kevin Downes), friends off the job as well as when risking their lives side by side.

There are a couple of pretty good action scenes, but most of the movie is dedicated more to matters of the heart, and the soul.

Tragedy strikes shortly into the film, causing them to look inward, beyond their jobs and to their families, which have been in danger of slipping away. The death of the little girl helps bring a renewed dedication and a firm commitment from all four men (and a fifth who they befriend after, it appears, that God has brought him among them) to take seriously their roles as fathers, to love their families and be strong and positive role models for them and for others.

It may sound corny in 2012, and I must admit the Godliness is wielded like a sledgehammer at times, but it works for the most part and I came away glad to have experienced "Courageous" and hoping it'll be seen by those who may find themselves wandering in the wilderness of modern society. It probably won't but one can hope.

The Blu-ray looks and sound great. The 1080p picture sparkles, with beautiful color, rich detail and nice depth. The audio, which is DTS-HD MA 5.1 lossless, is clear and natural. Since this is mostly a dialogue-driven soundtrack, it tends to be front centric, but there is good surround use when it's called for.  

Extras include an audio commentary track by the Kendrick Brothers (the filmmakers), some deleted scenes, outtakes, a kind of silly "Courageous in 60 seconds" blurb, a "making of" documentary featurette, and more.

"Courageous," the film title, also describes the filmmakers, given how it appears these days that Christians are one of the few groups it's okay to discriminate against and marginalize these days, smokers being another notable designated villain group. As far as religious epics go it's no "Ben-Hur" or "Ten Commandments," but it doesn't try to be. It's much more intimate, focusing on the Christian father's role in the modern home and accepting – nay, presenting proudly and unafraid – the man's place as the spiritual leader of the household.

Copyright 2012 Jim Bray
TechnoFile.com


Jim Bray's columns are available from the TechnoFile Syndicate.