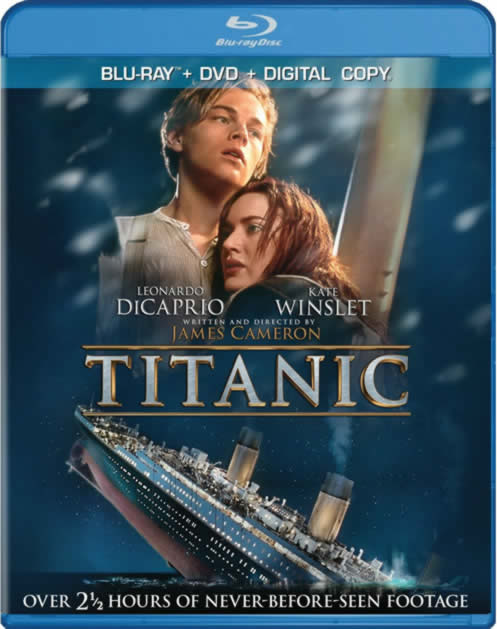 Paramount's Titanic and Indiana Jones make for fine Blu-rays
By Jim Bray
September 27, 2012
Two, well, five, highly anticipated Blu-ray titles have hit the shelves, all of which are good home theater outings that fans and collectors undoubtedly will want to own.
Neither of the releases, which consist of a single movie and a four movie set, respectively, is the ultimate Blu-ray you might have lusted after, but their good points far outweigh any issues.
James Cameron's wet epic tied William Wyler's masterpiece Ben-Hur for the most Oscars ever handed out to a movie (11), a feat repeated a few years later by the even more deserving Lord of the Rings finale. And while Academy Awards wins don't necessarily translate into a quality film (didn't Michael Moore and Al Gore win?), in this case there's no reason to quibble.
As everyone on earth knows, Titanic tells the tale of star-crossed lovers who meet and are subsequently torn apart repeatedly, and finally forever (well, nearly) by the infamous disaster that sent the ship, ironically-called unsinkable, to the bottom of the north Atlantic.
It's a BIG movie, in every sense of the word. The film is grand in scope, and it seems as if every one of the supposed 200 million dollars that were spent making the film actually got onto the screen.
Titanic has been trashed as an overblown chick flick, but that doesn't really do it justice. It's a lot more than that, with an interesting if not supremely original story, leavened heavily with Cameron's typical technological bent – we get to learn a lot about the ship and the 1912 technology as the film unfolds and he takes us from stem to stern of the ship. When the iceberg is first noticed, for example, we see clearly why the ship couldn't just skip around it like a speed boat, and we also learn exactly why it sank when it was supposedly incapable of foundering. 
And the special effects, even though they're looking just a tad dated in this new Blu-ray release, are fantastic. You can believe in this Titanic, and Cameron's famed attention to detail is visible all through this ultimately moving, inspiring, exhausting, exciting, and emotionally draining film.
I watched the 2D Blu-ray (a 3D version is available) and it's very good, though I thought the 1080p/24 picture was a bit soft in places. In others, though, it's razor sharp, with fantastically detailed images, vibrant color and even good depth. I'd have to rate it as maybe an 8.5 out of 10 for picture quality – very good but not quite reference quality.
Can't fault the audio, though. The DTS-HD Master Audio track is mostly front centric in the "Jack and Rose fall in love" scenes, but as the ship runs into trouble the rear channels are used a lot more and it makes the film quite engrossing. You almost feel part of it. And of course the low frequency effects are marvelous. The big ship deserves big bass, and Paramount and Cameron have delivered.
Paramount has piled on the extras, too, though not all of them are new to this release. Many appeared on the Titanic special edition DVD of several years ago. It's good stuff, though, and well worth seeing. And there's enough new stuff to sweeten the deal.
Disc one of this four disc set (two Blu-rays and two DVD's – with instructions for downloading a digital copy), includes three commentaries, one by Cameron, one with the cast and crew and the third with historians Don Lynch and Ken Marschall.
Disc Two starts with a behind the scenes feature of video clips from the set, and there's even a section with parodies of the film – stuff you might have seen on MTV or Saturday Night Live.  There's also a short feature on Cameron's earlier dive to the actual wreckage, a time lapse thingy showing the construction of the massive set, and some features on the effects sequences.
There's even a collection of deleted scenes (as if the movie weren't long enough!), an alternate ending (no, the ship doesn't miss the iceberg) and more.
Disc two also includes about an hour's worth of HD "Reflections on Titanic" which is basically a "making of" documentary in four parts, and a full length HD presentation "Titanic: the Final Word," which I don't believe for a second is the final word. It's a neat bit of history, though.
Perhaps even more exciting than Titanic is Indiana Jones: the Complete Adventures, which for the first time brings all four Indy films together on Blu-ray. It's also the first time the original trilogy has been available in high def, and it's about time!
As pretty well everyone who hasn't been living under a rock since 1981 knows, Indiana Jones' trilogy (plus one) is the George Lucas/Steven Spielberg collaboration that features Harrison Ford as the two fisted, hand gun and bullwhip-wielding archaeologist whose adventures have pitted him against evil Nazis, evil Thuggees, and evil Commies in his quest to find important historical antiquities that inevitably turn out to have powerful capabilities that give the filmmakers a wonderful excuse for some great special effects sequences.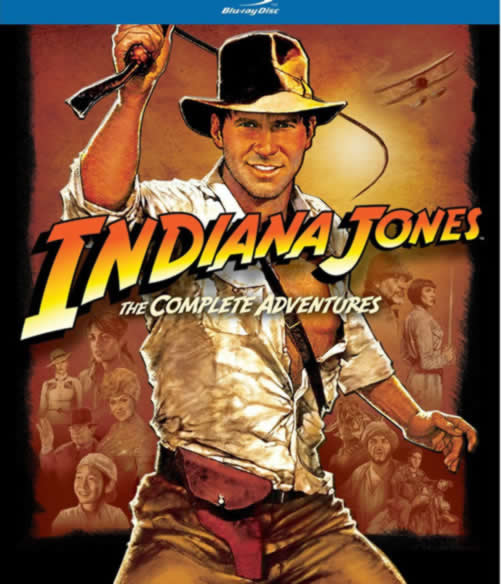 I still think the first film, Raiders of the Lost Ark, is the best of the bunch, but they've all aged well. The 1981 movie has Indy battling the Nazis and their pet archaeologist for the Ark of the Covenant and takes him through a series of cliffhanger adventures that keep you glued to the edge of your seat.

It was a groundbreaking film, an "A-list movie" version of the old "B movie" serials of old – even more so than Lucas' Star Wars movies, which were more a modern telling of the classic fairy tale than a rip-roaring Saturday afternoon serial-type story.

Harrison Ford makes a terrific Indiana Jones, and he's backed up by an excellent cast of very good actors, including Karen Allen, who was more than just a love interest/damsel in distress. Denholm Elliott and John Rhys Davies were also inspired casting choices.

And I can't not mention the brilliant John Williams, whose scores for all four films – including the famous Indy theme that became part of Pop classics – soars with the stories.

This is probably the most anticipated of the Blu-rays and even though it's the oldest film Paramount has done it justice. It has received a painstaking remastering (all the films are remastered, but this one was apparently given a special restoration, perhaps because it needed it the most) and even though it does tend to show its age a tad, the 1080/24p picture looks great. Colors are wonderful, the blacks are deep and give real depth, and the image is mostly nice and sharp. It's definitely the best video version of the movie yet.

The audio is surprisingly good, enveloping you nicely in the action – and there's even decent low frequency effects for such an old film.

Indiana Jones and the Temple of Doom, the second film, seemed determined to throw away everything that worked in Raiders except for Ford, Williams and the special effects. "Doom" sees Indy accompanied by a precocious kid sidekick (Ke Huy Quan) and one of the more annoying women seen (or, more precisely, heard) on the screen: Willy Scott, played by the highly decorative Kate Capshaw.

To be fair to Capshaw, she was only doing her assigned job; it's the script that's to blame here. The film is much darker than Raiders, deliberately and understandably so (as the middle part of a trilogy), but while Raiders was a rip snortin' adventure, Doom seemed creepy for creepiness' sake (not that there's necessarily anything wrong with creepiness) and the film has a much more serious tone.

Even some of the fantastic stunts for which Indy movies are known push one beyond the suspension of disbelief, as evidenced by our heroes' exit from the crashing airplane near the beginning. Fortunately, the mine chase sequence is nearly worth the price of admission!

The disc looks and sounds great, though – each movie in the series gets better and better in this regard – but the ultra-sharp picture does tend to show up matte lines I never noticed in previous video versions. Rather than spoiling the action, however, these understandable flaws (this was before digital effects, after all) make what the filmmakers pulled off even more remarkable.

Most of the magic came back in Indiana Jones and the Last Crusade. Spielberg, Lucas et al went back to the stuff that worked in Raiders, and we not only get to see Rhys-Davies and Elliott again, but Indy's fighting the Nazis again as they continue their quest for world domination. We even get to see Indy as a kid, learning how he got that fear of snakes, as well as how the scar came to be on Harrison Ford's chin.

But the best addition to the Indy legend was his father, Henry Jones Senior, played to perfection by Sean Connery. Connery's role is 180 degrees from the two-fisted ones that made him famous, and the chemistry between him and Ford, who are actually only 12 years apart in age, is fantastic, helping elevate Crusade nearly to the heights of Raiders.

The audio and video quality here are first rate as well, and in 1080/24p of course. It's bright and clean and crisp and colorful, and the DTS-HD Master Audio (the same type of sound on each of the films' Blu-rays) is also top notch for an analog-based film, with delicious use of the surrounds and the subwoofer.

2008's "reboot" of the franchise, Indiana Jones and the Kingdom of the Crystal Skull, takes into account the nearly two decades between the trilogy and the fourth entry, with an obviously older and more tired Indy ("It's not the years, it's the mileage," as he told Marion in "Raiders") caught up in 1950's cold war intrigue, with a very healthy dose of 1950's sci-fi flick thrown in for good measure.

Things seem a bit ominous right after the initial dissolve from the Paramount logo to – not a mountain this time, but a gopher mound with a digitally created resident that's played for repeated laughs.

The villain this time is the Russkies, led by the evil Irina Spalko (Cate Blanchett), whose team is looking for something hidden in Roswell, New Mexico. And since Roswell is famous for its UFO tales the tone is set.

It turns out that the crystal skulls of the title were created by an alien race and the quest for same will lead Indy from Roswell to Peru and other exotic places. Along the way he'll meet the teenaged Mutt Williams (Shia LeBeouf) and once again see Marion Ravenwood (Karen Allen, who returns at last). Perhaps that drink they went for at the end of "Raiders" led to something more…

While I initially thought that if Lucas wanted to do an "aliens in the 50's" movie he should've come up with a new character and situation than just recycle Indy, but I can see his logic. I also had some angst about its reliance on special effects, rather than action, but in this era of big effects movies it was undoubtedly just keeping up – and the effects are great!

And while I didn't really like "Skull" the first couple of times I watched it, the film has really grown on me and now I think it's a worthy entrant into the Indyverse.

This Blu-ray, not surprisingly, is the best of the bunch. The picture and sound are superb, rich and dynamic as far as the sound is concerned (with lots of surround) and with a detailed and colorful image that nearly pops off the screen. It's too bad the other three can't quite reach this quality, but it's also understandable.

As if it weren't enough to get the movies in high def, Paramount piles on an extra disc of extras, including several "making of" documentaries I found quite fascinating. A lot of it is in 1.33:1 aspect ratio of old fashioned TV, but even here they've found some nice, widescreen HD content to intersperse it with.

My only real complaint about the package is the package. It's a lovely, book-type thing, but the discs are in there really tightly and it's not only hard to get them out, the process of removing them can easily put finger marks on the disc.

But that's really a quibble considering all the great stuff you get on this "must have" Blu-ray set.

Copyright 2012 Jim Bray
TechnoFile.com


Jim Bray's columns are available from the TechnoFile Syndicate.