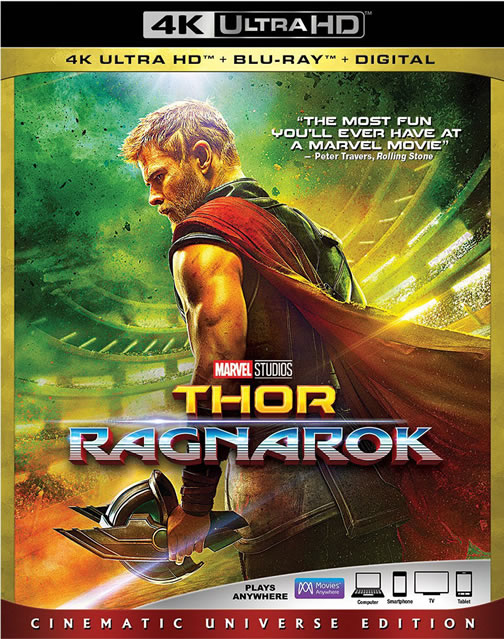 Thor Ragna-rocks in its 4K disc incarnation
By Jim Bray
TechnoFile.com

Marvel's third Thor outing is one "Val-helluva" way to get into the 4K disc market, and it's also the best of the Thor outings to date.

And it's a movie that doesn't take itself seriously and even imparted quite a few laughs on its audience.

I was never a Thor comic book reader and thought Kenneth Branagh's first Thor movie was visually lovely but nearly as forgettable as the second Thor movie ("the Dark World"). The best thing about both movies (and this one, too) is Chris Hemsworth as the title God. Whether he's being tossed out of Asgard or driving a star ship or Formula 1 car, the Aussie is a very good actor and he inhabits the Thor character very well, indeed.

On the other hand, Tom Hiddleston, who may be a very good actor, isn't very intimidating as Loki and (alas) he's along for the ride this time, too.

On the other other hand, it's great to see Anthony Hopkins back again (in what's more or less a cameo or two) and Cate Blanchett seems to always turn in a performance worth watching.

This time around, Thor's older sister Hela (Blanchett), also known as the Goddess of Death, shows up to take over the reins of Asgard and reign in a manner befitting her nickname. She not only wants to take over Asgard, though; she wants to use it as merely a launching point to take over everything else as well.

She starts off by smashing Thor's hammer and relegating him to a weird, garbage-full planet that's run by a weird dude called the Grandmaster (Jeff Goldblum), who runs a gladiatorial business reminiscent of Spartacus or the arena scene in Star Wars Episode II. Thor ends up in the ring, tasked with confronting the Grandmaster's star fighter, who turns out to be a figure who's very familiar to fans of the Marvel universe. And he's no pushover.

This opponent is only one of the Marvel characters who shows up here. Heck, there's so much crossover these days it makes me wonder if Disney (which owns Marvel) told these journeyperson thespians they'd never have to look for work again if they signed on for their universe. But I digress.

Ragnarok turns out to be a prophecy that foretells the destruction of Asgard and the protagonists spend most of the movie trying to prevent it. It should have been prevented right off the bat, when Thor bests Surtur, a fiery demon that reminded me of the Balrog from Lord of the Rings. But noooo!

Then, when Thor returns home to Asgard, his father Odin (Anthony Hopkins) has vanished and his mischievous bro Loki is ruling in his place (and with his face). Together, they find that Odin is on Earth (where else?), and he's dying. Odin's still alive enough to warn them that his long-imprisoned sister will use his death to rise to power and darned if she doesn't do just that (otherwise we'd have a very short movie!). This sets up the rest of the film.

The first half hour or so of Thor Ragnarok is outstanding and may be my favourite opening of any Marvel-based film to date that I've seen. It's not only lighter than other such outings, it's exciting, mounted on a grand scale, and it looks and sounds simply gorgeous – especially in this 4K HDR disc release. After that wild beginning the movie slows down and becomes more of a standard Marvel offering but that means it's still a pretty darn fine adventure. Marvel has truly set the bar high with most of its other films.

I still don't like Hiddleston as Loki, but the rest of the supporting characters are very good. Add to the great script and mostly great cast some fantastic fantasy/sci-fi locations and typically state-of-the-art special effects and you have a wonderful home theatre romp. And it isn't just about destroying cities, which is becoming more than a tad hackneyed.

As is typical with Disney discs, the audio and video offered are splendid. The Blu-ray that comes in the 4K UHD package is great in its own right, but the 4K version (as it should!) ups the A/V ante appreciably.

I A/B'd both disc versions (there's also a code in the package for a digital download) and it was apparent immediately that the 4K one is the way to go if you have the technology. Check out fine details, such as clothing, flesh (and what passes for flesh…) and other close up images and you'll get an appreciation for just how much work the designers put into creating the world of Thor Ragnarok. It's a real toy for the eyes, with deep blacks and wonderful colour. And the High Dynamic Range really pays off!

The Audio features a Dolby Atmos soundtrack as well as English and Spanish Dolby Digital Plus. My Panasonic/Rotel/Oppo home theatre defaults to 5.1 and it handled the task just fine. The low frequency effects channel rumbles appropriately, and the sound fills the room in a most satisfying manner.

The 4K disc doesn't offer any extras, choosing to use that storage space to maximize the audio and video. But that doesn't mean you don't get lots of supplements: they're over on the Blu-ray disc, and there's a bunch of 'em.

First up is an entertaining commentary track from director Taika Waititi. It's one of the funniest such tracks I've heard since the last time John Carpenter sat down with Kurt Russell to comment on one of their collaborations.

There's also a "director intro" to the film, and it's worth sitting through, and a gag reel that's pretty typical of the species.

Other extras include "Sakaar: On the Edge of the Known and Unknown", which is a look at the garbage planet from which Thor must escape if he's to save the universe. "Getting in Touch with Your Inner Thor" features Hemsworth talking about the character and his evolution in the film series. "Unstoppable Women: Hela & Valkyrie" looks at Cate Blanchett and Tessa Thompson, because you can't have a Hollywood release that doesn't pander to the distaff these days. At least they haven't put Thor into a dress yet.

If you're new to the "MCU" (Marvel Cinematic Universe), you might enjoy "Marvel Studios: The First Ten Years - The Evolution of Heroes." It uses interviews to give a short history of the Universe and its characters and is pretty well a lead-in to this summer's Avengers: Infinity Wars, which I hope is a lot better than the second and quite forgettable second Avengers movie.

There's more, too, including a few deleted scenes.

I really enjoyed Thor Ragnarok and recommend it highly to fans of this type of film. The Blu-ray looks and sounds great but, as it should, the 4K version is the one of choice for home theatre fans – even if you haven't made the move to 4K yet, because you get both versions in the one box.

Copyright 2018 Jim Bray
TechnoFile.com


Jim Bray's columns are available from the TechnoFile Syndicate.