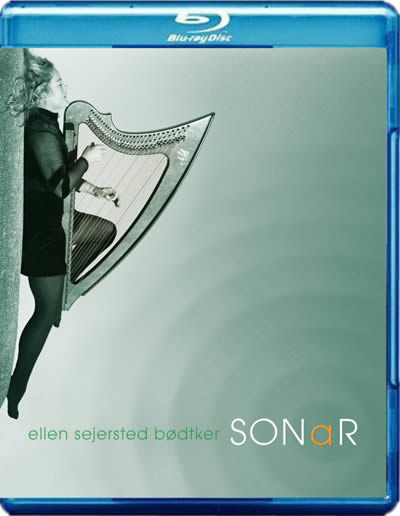 Blu-ray Forges Ahead with Music Releases
By Jim Bray
February 18, 2009
Blu-ray isn't just great for movies and TV shows. Thanks to its high resolution audio capabilities, it's also perfect for music, whether videos of concerts or audio-only recordings.
Two companies working hard to make that point are the 2L and Eagle Rock Entertainment. The former pioneered the audio-only Blu-ray while the latter is releasing an abundance of concert recordings.
I fell under 2L's spell with their initial Blu-ray audio album Divertimenti, which featured the string ensemble TrondheimSolistene performing a variety of classical works, recorded with exquisite quality.  
Likewise, I've reviewed a couple of Eagle Rock BD releases before and have been impressed with their audio and video quality. As good as DVD's are, the high definition format's better picture and sound can make for an even more enjoyable home theater experience.
So it was that I decided to try 2L's latest BD release "Sonar", which features harpist Ellen Sejersted Bødtker performing music by Magnar Åm, and Eagle Rock's "Trilogy", a concert performance of three complete albums by The Cure.
As with Divertimenti, Sonar includes a Blu-ray audio disc and a SACD in the package. The SACD, as is its nature, can be played in any CD player (at regular fidelity), but with a SACD player hooked into a compatible audio system it can give a glorious surround sound experience.  
The Blu-ray version offers three sound tracks: 5.0 dts HD Master Audio, 5.0 Linear PCM 24/96 and a stereo version in Linear PCM. I expected to prefer the linear tracks, assuming there'd be any difference at all other than the surround/stereo divide, but was surprised to find I liked the dts the best.
Sonar features three compositions:
Vere Meininga, a concerto for harp and strings (running time 28:20)
Det Var Mjukt, for sopranos and harp (4:09), and
Dette Blanke No, a concerto for harp and angels (25:42)
Unfortunately, it turns out that I'm not the best person to judge the music itself, because it did not connect with me. The recording, as with Divertimenti, is fabulous, the instruments and voices sounding as if they were in the room with me, and there's plenty of talent behind the performances. But I really didn't get the compositions; the only one that came close being the third, Dette Blanke No, whose blend of harp and voices reminded me in some ways of the Ligeti music Stanley Kubrick used in 2001: a Space Odyssey.
Ligeti is a composer I would not seek out either, but combined with Kubrick's sumptuous visuals it does indeed strike a chord, so to speak. Listening to Dette Blanke No, I found myself wishing for that extra medium of visionary images.
Since I'm obviously a musical boor, I reproduce the liner notes from composer and musician here, so people of more refined taste than I can get a feel for what the artists are presenting:
"SONaR is a sound signal sent out to create an echo from whatever it may encounter and thus reveal the unknown. I think we all send our symbolic sonars into physical and spiritual space, in a constant search for meaning. At least I do. And my life and music represent both this child's sonars and the universe's ever-unfolding answer. - Magnar Åm"

"The music is insistent, powerful and existential, bringing out the dramatic qualities of the instrument. In the cadenza the electric harp with all its effects carries on a dialogue with its acoustic counterpart, as if the new and the ancient world were melting together; a Mongolian shepherd's song winds its way between the strings. - Ellen Sejersted Bødtker"
Yeah, whatever. All of this was lost on me. I'm embarrassed to say.
I did appreciate the audio quality, however, which is superb, and it's nice to have another reference album with which I can audition audio equipment (if only in small doses!).
2L also deserves kudos for fixing one of the complaints many audiophiles had about DVD-Audio and Blu-ray: the menus. With DVD-A and the Divertimenti BD (the only other music-only BD release I've tried), you have to wait for the menu to come up, then choose the audio track (stereo, surround, whatever) before you can finally dive into the music. Not only was that slow, it meant you had to fire up your TV, just to listen to music!
But with Sonar, 2L lets you skip that ordeal by using the BD player's colored buttons to start the disc on whichever audio choice you want: red for dts MA, green for 5.0 LPCM, etc. What a great idea!
You can still bring up the menus if you want, to peruse the other info 2L provides on the disc, but you aren't forced to. This deserves an award.
I look forward to listening to further 2L releases, assuming they'll send me any more.  I had never heard of this Norwegian label before Divertimenti (which I still listen to regularly, and love), but they're well worth seeking out if you want finely recorded music.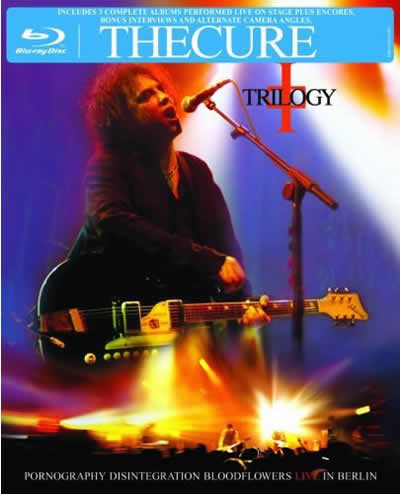 That brings me to The Cure's Trilogy, by a band "that emerged in the immediate aftermath of punk rock in the late '70s" according to the notes. I'd heard of them, of course, but couldn't put my finger on any of their tunes. Now I can safely say that, if you're suffering from Rockin' Pneumonia and the Boogie Woogie Flu, this may not be "the cure" you're looking for. On the other hand, if you're a fan of the band, or just love a well-shot-and-recorded concert, this is a heckuva good disc.

Led by guitarist/vocalist Robert Smith, whose appearance seems to have been Heath Ledger's inspiration for his Joker characterization, the albums (recorded in Berlin in 2002) feature enough of their signature "slow, gloomy dirges" to have had me pining for a "Cure" of my own: any performance by The Who.  

Pornography, the first of the three albums, is full of these "dirges". The other albums, Disintegration and Bloodflowers, are more accessible and – at least to my tastes – more musically satisfying. Heck, a few of their songs even had me close to rocking out!

Maybe I'm just getting old.

Here's the track listing:

PORNOGRAPHY
1. One Hundred Years
2. A Short Term Effect
3. The Hanging Garden
4. Siamese Twins
5. The Figurehead
6. A Strange Day
7. Cold
8. Pornography


DISINTEGRATION
1. Plainsong
2. Pictures Of You
3. Closedown
4. Love Song
5. Last Dance
6. Lullaby
7. Fascination Street
8. Prayers For Rain
9. The Same Deep Water As You
10. Disintegration
11. Homesick
12. Untitled


BLOODFLOWERS
1. Out Of This World
2. Watching Me Fall
3. Where The Birds Always Sing
4. Maybe Someday
5. The Last Day Of Summer
6. There Is No If...
7. The Loudest Sound
8. 39
9. Bloodflowers

Encore set: If Only Tonight We Could Sleep, The Kiss, from the album "Kiss me, Kiss me, Kiss me".

There's also a bonus interview with the band, a couple of alternate angle tracks that don't have the audio or video quality of the main section, and some outtakes from the interview.

Okay, I didn't come out of the Blu-ray a fan of The Cure, but I feel a lot better about them now than I did half way through Pornography! So if you're like me, stick with it; it's worth your while.

What makes it especially worthwhile is the audio and video quality. Presented in 1080i, the widescreen video looks very good – probably as good as you can expect from a show that features a band playing mostly in fairly dim lighting. Colors are good and the image is sharp and clean.

The audio, the high def version of which is presented in dts HD Master Audio surround and Linear PCM stereo (with a conventional Dolby Digital track thrown in for good measure), is top notch. The dts MA track is the best, not only for the surround but because it sounds the most dynamic, with very good presence, separation and overall quality.

One thing I love about Blu-ray audio is that, all things being equal, the sound quality is so clean you can crank it safely and let the sound wash all over you. And such is the case here; it's easy (and rewarding!) to heed the liner notes' advice: "This is a live concert film – it was played loud…so turn it up!!!"

I did, and even though I'm still not a fan of The Cure, they sounded great! And the Blu-ray makes for a nice concert experience in the home theater.

Even better, Eagle Rock is about to release "The Who Live at the Isle of Wight Festival" from 1970 with newly remastered audio and video. I can't wait for that one!

Copyright 2009 Jim Bray
TechnoFile.com


Jim Bray's columns are available from the TechnoFile Syndicate.