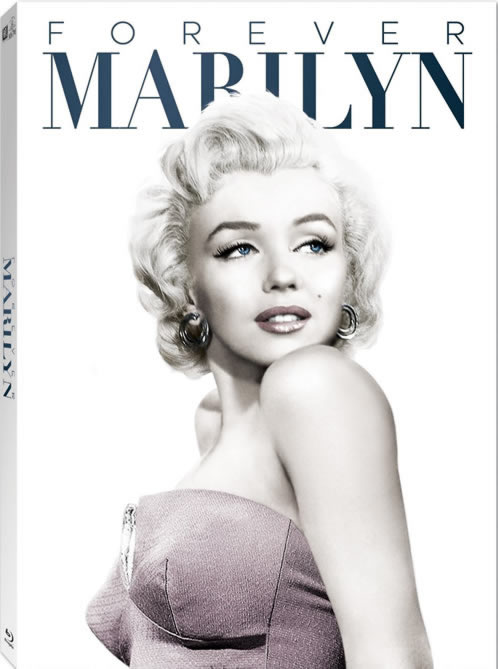 Marilyn Monroe hits high definition
By Jim Bray
August 9, 2012

Back in the 1970's, Elton John sang about how Norma Jean's candle burned out long before her legend ever did, and this new collection of seven Marilyn Monroe films on Blu-ray proves that his point is just as valid now as it was then.

It's a pretty decent selection of her films, too, though in a surprisingly shabby package and with not much in the way of extras on some of the discs.

Seven films are brought together here, though they're also available separately, and span the years from 1953 to 1961 and her last completed film. The films run the gamut from musical comedy to western drama, including the screwball comedy of "Some Like it Hot" and the John Huston tale "The Misfits."

The set is scarcely bigger than a single Blu-ray package and includes two sections in which the discs are mounted precariously enough that they keep falling out when you open it. Fortunately, the movies are worth it, and show clearly that Marilyn Monroe was far more than a sex symbol, that she was truly talented.

And while much ink has been spilled talking about her obvious sexual charms, I found that her attractiveness came as much from inside, via her eyes, as from that glorious exterior.

First up is "Gentlemen Prefer Blondes," a wonderful Howard Hawks musical comedy in which Jane Russell has the thankless task of being the straight man to Monroe. Russell was known as no slouch in the sex appeal biz herself, yet she looks plain next to Monroe, the latter of whom positively lights up and commands the screen when she's  on it. The camera sure loved that woman!

The gals play a singing duo looking for husbands, Marilyn wanting a rich guy and Jane after love for its own sake. There are some great songs and production numbers, and a good many laughs. Heck, I laughed out loud more than once, something I hadn't expected to do.

Another musical, "There's No Business Like Show Business" isn't nearly as good, and Monroe's part isn't nearly as big, but it does feature a great cast that includes Ethel Merman, Dan Dailey, Donald O'connor and Mitzi Gaynor. This one, like the rest of the movies in this set except for "Blondes," is in widescreen.

"Book One," which isn't very book like but which holds the first four movies, also has the reasonably delightful "How to Marry a Millionaire," with Monroe starring as a third of a chick triumvirate that also consisted of Lauren Bacall and Ginger Rogers – pretty heady company for someone considered by many at the time to be just a pretty body.

The trio play gold-diggers trying to snag rich men – not surprisingly, considering the title – though they end up discovering that love means more than money.

"River of No Return" may not have passed Monroe's personal muster, but this Otto Preminger western is a pretty good time in the home theater anyway. She apparently though the thespians played second fiddle to the scenery (and the then-novel widescreen "Cinemascope" format). Too bad she felt that way, because the movie's actually a pretty decent western drama/romance. Co-stars Robert Mitchum and the glorious Rocky Mountains of Banff, Alberta.

"Book Two" includes the aforementioned "Hot" and "Misfits," topped off with the hilarious "The Seven Year Itch." Billy Wilder's "Itch" starts off slowly, with co-star Tom Ewell basically acting out a one man show until Monroe gets involved, but once she shows up the movie not only takes off, but provides plenty of terrific laughs and situations, as well as some great Monroe footage as she turns in an excellent performance.

I particularly enjoyed the scene at the piano when Ewell, reluctantly overcome by Monroe's magnetism, tries to kiss her and they both fall off the bench and land with a thump on the floor. Ewell apologizes for his ungentlemanly move and claims it's never happened to him before. Monroe, sweetly and innocently, proclaims that it happens to her all the time – and who can doubt it?

I nearly fell off my recliner laughing.

Billy Wilder again helmed Monroe – and Jack Lemmon and Tony Curtis – in "Some Like it Hot," in which the male leads play female supporting musicians in an all girl band as a way to escape a gang hit. This one is sometimes considered one of the best American comedies in motion picture history and, while I wouldn't go that far, it's definitely a must see

Finally, John Huston's "The Misfits" is a beautifully crafted and shot story about drifters in the west who live on the periphery of society. The script was written by Monroe's then-husband Arthur Miller and co-stars Clark Gable, who died shortly after the shoot finished.

All seven films are well worth seeing, though I'd have loved to see "Niagara" and/or "Bus Stop" included as well.

While some of the movies here have decent supplements, the package itself can't hold a candle to the "Marilyn Monroe Diamond Collection" of several years ago, which only had five films but which had some great background stuff.

On the other hand, the films here, with the possible exception of "Gentlemen Prefer Blondes," look great in high definition, with a nice and sharp image that's rich in color and even offers some pretty good depth. The high def picture works against "River" sometimes when the blue screen work becomes obvious, but that's really just a quibble.

And of course it's nice to have Monroe popping off the screen in high def. Talk about those vibrant flesh tones!

The audio is okay – as you might expect from films of this age, so don't go into this looking for a real surround sound extravaganza with plenty of low frequency effects channel use. But for what it is, it's fine.

The packaging is flimsy and the discs tend to fall out, but on the upside it won't take up much more shelf space than a single disc, so I guess that's worth something.

So this release is a bit of a mixed bag, but with far more good than bad.

Copyright 2012 Jim Bray
TechnoFile.com


Jim Bray's columns are available from the TechnoFile Syndicate.