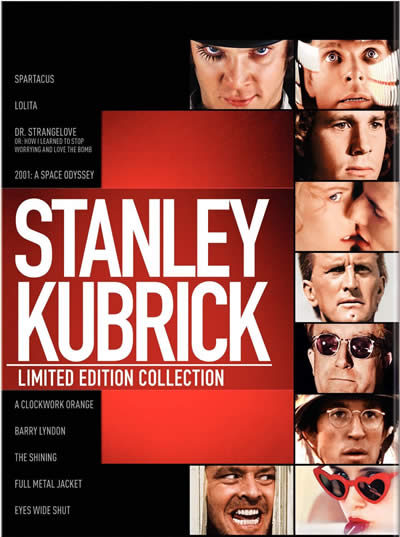 The Stanley Kubrick Collection on Blu-ray A Special Odyssey
by Jim Bray
June 4, 2011
Fans of the legendary Stanley Kubrick can get nearly all of his films together on Blu-ray in a nice boxed set that's a fitting tribute to the filmmaker.
It's called the "Stanley Kubrick Limited Edition Collection," a 10 disc set available in stores now and also sold on DVD; if nothing else it can save you some shelf space from having all nine of these films in their own packages.
Most of the films aren't new to Blu-ray, though "Lolita" and "Barry Lyndon" are newly available, as is the 40th anniversary edition of "A Clockwork Orange" that appears in the set.  
I've been a Kubrick fan ever since 2001: a Space Odyssey mesmerized me on its first run. I've had every video incarnation of Kubrick films I can get my hands on since then – and of course when the high definition Blu-ray disc was introduced I could hardly wait to see the films as they should be presented, especially since some earlier versions messed up the aspect ratios or had sound that wasn't up to snuff.
These Blu-rays are definitely the best way to watch Kubrick's film; each of them easily looks and sounds the best yet, not that you should expect anything less.
In chronological order, the Kubrick films in this Blu-ray set are:
Spartacus, Lolita, Dr. Strangelove, 2001: a space odyssey, A Clockwork Orange, Barry Lyndon, The Shining, Full Metal Jacket and Eyes Wide Shut.
Sweetening the deal is the previously-released (on DVD) documentary "Stanley Kubrick: A Life in Pictures," a fascinating full length feature on the filmmaker's life and career. Warners has also thrown in "O Lucky Malcolm!", a career profile (or, more accurately, a glowing portrait) of Malcolm McDowell who, though only in one Kubrick film ("A Clockwork Orange") – created one heckuva performance in one heckuva film.
All nine films are presented in 1080p/24 and have never looked better. The audio varies, from dts-HD Master Audio to Dolby TrueHD and even uncompressed PCM, but again, regardless of the format these are definitely the definitive versions so far.
One thing you should know is that on some of the films you'll have to access the pop-up menu and change the audio track to the lossless format deliberately, lest you hear an inferior versions. It's a bit of a pain but it's well worth it.
I'm Spartacus and So's My Wife (with apologies to Python)
While I'm more than a tad disappointed not to have the superb "anti-B.S." film "Paths of Glory" in the collection, the inclusion of Universal's "Spartacus" was a pleasant surprise. It was a true epic, the type of big, widescreen biblical film that was popular at the time, except that it isn't biblical.
Starring Kirk Dougles, it's the story of a slave revolt against the Roman Empire and even though it isn't as much a "Kubrick film" (in that he was in control of the project from Day One) as the rest of the set, it's outstanding in its own right.
The widescreen Blu-ray (2.2:1) looks great. Extras include deleted scenes, archival interviews and some behind-the-scenes and newsreel footage.
Sauce for the Gander…
"Lolita" is the racy story of a middle-aged man who becomes obsessed with the teenage daughter of his landlady. Starring James Mason, Sue Lyon, Shelley Winters, and Peter Sellers, the film's outright sexuality and "February - September romance" must have been pretty controversial in 1961.
While Mason's character would be considered a sexual predator today, Kubrick's movie paints Lolita as a little tramp knows how to manipulate men – and who has it down to a fine art.
The black and white picture is at an aspect ratio of 1.66:1, which leaves black bars to the sides of the widescreen TV. Alas, there are no extras other than the theatrical trailer.
Lovable Strangeness…
"Doctor Strangelove: or How I Learned to Stop Worrying and Love the Bomb" came out at the height of the Cold War and details the frightening scenario of a whacko American general sending his B-52 nuclear bombers to attack their Soviet targets.
There are lots of laughs – though you're often laughing in spite of the events unfolding – as the movie lampoons the cold war mentality and technology.
The Blu-ray is in the original black and white, at 1.66:1. The audio won't give your speakers much of a workout, unfortunately, but what can you do considering the age of the source?
Extras abound, including the "The Cold War: Picture-in-Picture and Pop-Up Trivia track", "No Fighting in the War Room: Dr. Strangelove and the Nuclear Threat", "Inside the Making of Dr. Strangelove" and more.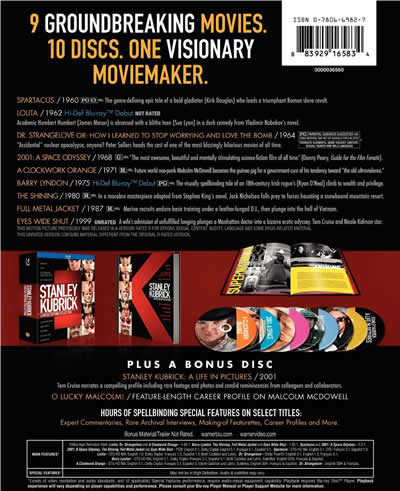 A Movie You Odyssey on a Big Screen…

"2001: a Space Odyssey" has benefited the most from the journey onto Blu-ray. Presented in 2.2:1 widescreen, it's so sharp and clean that I noticed things I'd never seen before. The planets and models look nearly three dimensional and the trip through the star gate is once again the "trip" it was originally.

Be sure you choose the PCM 5.1 track!

Extras include a commentary by stars Keir Dullea and Gary Lockwood and a documentary "2001: The Making of a Myth." You also get featurettes, an audio-only interview with Kubrick from 1966, and more.

UltraViolence…

Kubrick's follow up was the controversial masterpiece "A Clockwork Orange," one of the finest movies ever made. It's a social satire that's simultaneously disturbing, funny, violent, and thought provoking – and  every time I've seen it since its 1971 release the more levels I discover upon which this film works – and the more it has to say.

In "Orange," protagonist Alex (the perfectly cast McDowell) tells the/his story. A pampered teenager in a future world that looks more likely to come true every year, Alex and his "droogs" spend their evenings getting high and terrorizing the countryside and those in it. Reality finally catches up with Alex and he's imprisoned for murder, after which he's accepted for an experimental treatment that "cures" him of his sociopathic bent through brainwashing that makes him physically incapable of doing harm - or even of defending himself.

This Blu-ray release is supposedly the new, 40th anniversary version, and it does the film justice. The audio track is in dts-HD Master Audio, which particularly benefits Kubrick's typically wonderful use of music. The widescreen video (1.66:1) is excellent.

Also on the "Clockwork" disc are "Malcolm McDowell Looks Back," "Turning like Clockwork" ( a look at the film's Ultra-violence and its Cultural Impact) a commentary with McDowell and historian Nick Redman, the Channel Four documentary "Still Tickin': The Return of A Clockwork Orange", and "Great Bolshy Yarblockos!: Making A Clockwork Orange."

Art, for Art's Sake?

"Barry Lyndon" is a beautiful movie, visually, with production design supposedly inspired by painters of the 18th century era in which the film's set. It was shot using innovative lenses that allowed the use of natural light, and it shows: the shots look like they could be hung on an art gallery wall.

The film follows Redmond Barry, a poor Irish lad with delusions of grandeur, through his enlistment in – and desertion from – the British and Prussian armies, as well as his time as a professional gambler and his marriage of convenience to the lovely lady Lyndon, from whence his title came.

The Blu-ray's aspect ratio is 1.85:1 and it looks great. Audio is dts-HD Master Audio 5.1 and though I didn't notice a lot of ".1" (not surprising for this age of film) or use of the surround channels, it's quite satisfying.

Alas, if you're looking for a nice slate of extras, you're out of luck.

Taking a Shine…

When Kubrick's version of the Stephen King novel came out I thought the director had looked at the book and said "Nah, too easy" and retooled the story for his cinematic vision. Now, memories of the novel are less fresh and the movie can be judged better on its own merits. And as such, I like it much better now and appreciate better the delicious sense of dread permeating it.

Jack Torrance (Jack Nicholson) is a writer who gets a winter gig as caretaker of the beautiful, old, isolated (and haunted) Overlook Hotel – a classy resort nestled high in the Rockies. The Overlook has had some strange happenings in the past – and after Jack brings his family there
all heck breaks loose – slowly and devastatingly.

The Blu-ray is in proper widescreen (1.85:1), with rich colors and nice depth. Choose the PCM audio tracks to get the best audio bang for your buck.

Extras include a commentary by the inventor/operator of the steadicam used so effectively. You also get Vivian Kubrick's "home movie" behind the scenes look at the film – with an optional commentary. Shelley Duvall appears to have had a rough time with the director during the production, though she's all praise afterward – and the final product shows Kubrick knew what he was doing.

Kubrick Does Vietnam…

Kubrick waited until all those lightweights (like Francis Ford Coppola!) had their say on Vietnam before tossing his film into the mix. It was worth the wait.

Full Metal Jacket follows a group of Marine recruits from the day they report for service through the Tet offensive and guerilla action in Hue City. The first half of the film follows them through basic training, and it's here that Kubrick's touch really shows. Once in Vietnam, "Full Metal Jacket" isn't as riveting or as powerful as the basic training sequences – though "Stanley Kubrick Light" still packs a pretty powerful punch.

The Blu-ray looks and sounds really good, presented at 1.85:1 with PCM 5.1 audio.

Extras include a commentary by cast members and critic/screenwriter Jay Cocks. There's also the featurette "Full Metal Jacket: Between Good and Evil."

Close Your Eyes…

It was awfully thoughtful of Mr. Kubrick to leave us with one last, delicious, mind game.

With "Eyes Wide Shut," the legendary director went out with a bang, with a strange blend of psychology, fantasy, sexuality, and morality – and a visual and aural experience that shouldn't be missed even if you can't make head nor tail of the plot.

"Eyes Wide Shut" is also one of Kubrick's most positive films, showcasing a couple going through marital strife who work it out in the end. Tom Cruise and Nicole Kidman star, though it's really Cruise's film.

The picture is also at 1.85:1, and it's gorgeous. "Eyes Wide Shut" also features the best soundtrack of any of these films, the PCM track coming in especially handy during the "masked ball" scene featuring music that'll send shivers up and down your spine.

Extras include "The Last Movie: Stanley Kubrick and Eyes Wide Shut," "Lost Kubrick: The Unfinished Films of Stanley Kubrick," interviews with Cruise, Kidman and Steven Spielberg, and Kubrick's 1998 Directors Guild of America D.W. Griffith Award Acceptance Speech.

The set's 40 page booklet is a nice bonus, featuring short blubs about each of the films.

In all, it's a very nice collector's item, even though all of the discs are available separately – and even though the discs are hard to get in and out of the case. But if you're a Kubrick fan who wants all his films in one place (well, nearly all – Darn that missing "Paths of Glory"), this might be your cup of tea.

Copyright 2011 Jim Bray
TechnoFile.com


Jim Bray's columns are available from the TechnoFile Syndicate.