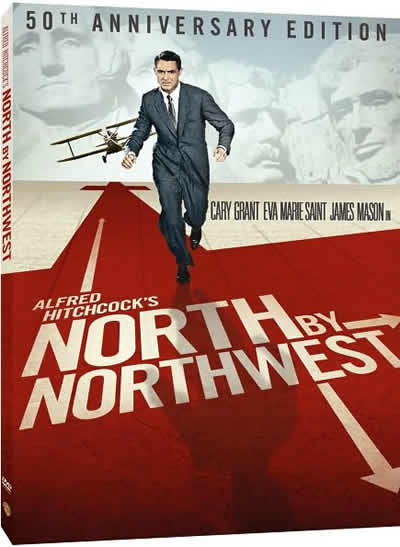 North by Northwest on Blu-ray Disc
North by Northwest is a wonderful roller coaster ride in which ad agency maven Cary Grant is mistaken for a spy, then a murderer, and has to spend the rest of the movie running for his life.
Eva Marie Saint plays the love interest, or is she something else? She's very attractive in this movie and uses her feminine wiles to - well, we won't spoil it. James Mason is the heavy, and a darn fine one.
Hitchcock has crafted an excellent fish out of water tale here, full of suspense and yet with enough chuckles to keep you from getting too depressed at the tribulations through which Grant's character of Roger Thornhill has to go.
In what has to be one of the best, if not the best, chase films, Thornhill - the successful New York advertising executive who suspects nothing untoward when the movie opens - is abducted by a pair of hired thugs who think he's someone named George Kaplan. Despite his protests that he isn't, he's driven to a luxurious estate where Phillip Vandamm (James Mason) supposedly lives, to be interrogated.
Thornhill, not surprisingly, cannot provide the information his captors want, so they try to murder him and make it appear to be an accident - by getting him drunk and putting him behind the wheel of a lovely sports convertible it would be a shame to harm. Fortunately, Thornhill escapes, but because the perps have done such a great job of covering their tracks he can't convince the cops - or even his mother (Jesse Royce Landis) that he wasn't just off on a drunk.
And things go downhill for Thornhill from there, culminating in a nifty confrontation on the carvings of Mount Rushmore. It's delicious.
The Blu-ray is pretty delicious, too, though we were disappointed in the overall picture quality. While we were hoping for a transfer in the league of such older films as The Professionals, which positively leaps off the screen at you, North By Northwest is rather flat in comparison. Oh, the details is all there, and the colors look great as well, but we were really hoping for that wonderful "depth" that marks the best BD's regardless of the age of the source material.
Not that it's bad, but we wanted more.
The audio, presented in Dolby TrueHD,is a decent upgrade from the earlier DVD's Dolby Digital 5.1 audio, but as is normal for films of this age doesn't come close to what a modern all-digital sound track can offer. It's also a tad soft, so you may have to crank it a tad to reach your normal listening level.
That said, dialogue is always very clear and they've even done a pretty good job of mixing in some surround, which you may notice particularly on the crop dusting chase scene. Other than that you get mostly stereo audio. Fans of the great Bernard Herrmann's excellent musical score can take heart in the knowledge that there's also a music-only track available via the disc's special features.
And speaking of special features, they are in abundance, right from the Blu-ray's "Book" packaging that gives you a lot of info about the production. There's also an audio commentary featuring screenwriter Ernest Lehman (before he died, obviously), and it's fascinating. There's also the full length PBS documentary "Cary Grant: A Class Apart", taken from from the "American Masters" series, which gives us looks at Grant from the perspective of friends, wives, and others.
There's more. "Destination Hitchcock: The Making of 'North by Northwest'", hosted by Eva Marie Saint is a look at the film's production, as well as Hitchcock himself. You also get a still gallery and trailers.
New to the Blu-ray release are a couple of documentaries, one of about an hour and one of about half that. "The Master's Touch: Hitchcock's Signature Style" and 'North by Northwest': One for the Ages" are both well worth your time.
Despite our complaining about the picture, this is a very nice presentation of this Hitchcock classic. The picture and sound are the best ever on home video and should encourage people to give this great movie another look.
North by Northwest, from Warner Home Entertainment
136 min. 1080p widescreen (1.85:1), Dolby TrueHD
Starring Cary Grant, Eva Marie Saint, James Mason
written by Ernest Lehman, directed by Alfred Hitchcock.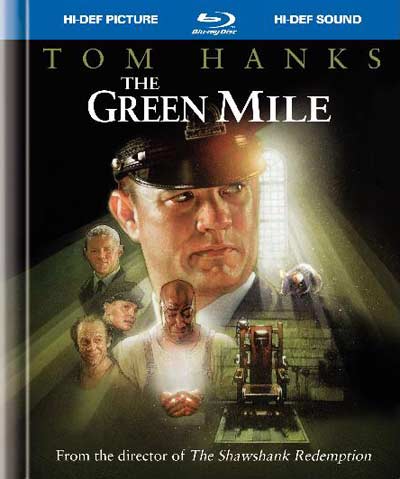 The Green Mile" on Blu-ray
The Message is: Big Isn't Necessarily Bad.

Warner Brothers' "The Green Mile" is a Stephen King story, so you know it'll have something supernatural about it.

In this case, it's John Coffey, an apparently gentle giant of a man convicted of murdering two little girls. He arrives on Death Row ("The Green Mile" of the title) at Cold Mountain Pentitentiary to have his last days "hosted" by guards led by Tom Hanks and David Morse.

Coffey's more than he appears to be, however, and over the course of the movie's three hour running time (which never drags) we learn about his special gift – and his guilt of the crime for which he was sentenced.

Tom Hanks leads a great ensemble cast that, besides Morse, includes Michael Clarke Duncan as Coffey, Bonnie Hunt as Hanks' wife, the ubiquitous James Cromwell as Hanks' team's boss, and Michael Jeter as a caged cajun criminal who adopts a talented mouse named Mr. Jingles.

This is a movie that succeeds on many levels. There are good guys and bad guys, and decent guys with the distasteful job of sending the worst of the bad guys onto their final journey.

At its heart, the movie is very much about justice. It's also about "Just is," as in "It isn't justice, it just is."

Fortunately, though this description doesn't do the film justice, justice is meted out quite fairly in "The Green Mile," for the most part. Those who deserve a comeuppance get it, those who deserve a break – or a miracle – get it; the only one who suffers a fate that isn't just is a tragic hero who may not deserve the fate handed out, but who welcomes it nonetheless as a release from the pain of living.

This is a bittersweet, though quite uplifting, movie, and an enjoyable return to the director's chair for Frank Darabont, who also wrote the screenplay and who in 1994 made the King-inspired "Shawshank Redemption." Darabont shows a sure touch in this great-looking period piece and gives us characters about whom we can really care – either positively or negatively.

The Warners Blu-ray is presented in 1080p widescreen (1.85:1), with Dolby TrueHD 5.1 audio, and the quality of both is terrific. There's excellent clarity and fine detail, with nice and deep blacks. The Dolby TrueHD 5.1 audio track isn't in your face, but it's still very good, quite dynamic and enveloping, with nice use of the surround channels.

'The Green Mile comes in another one of those "book" type packages that are becoming increasingly popular in the biz., and this one contains some nice info and pics. There's also Frank Darabont's commentary, which makes for quite interesting listening. " Walking the Mile: Making of 'The Green Mile" is a "making of" documentary featuring interviews and behind-the-scenes info, but much more interesting and substantial is "Miracles and Mystery: Creating the Green Mile". It breaks down the production into elements such as "Stephen King: Storyteller", "The Art of Adaptation," "Designing the Mile," and "The Tail of Mr. Jingles".

There's also a selection of deleted scenes, with or without director's commentary. "Michael Clark Duncan's Screen Test", "Tom Hanks' Make-up Tests" and some trailers.

The Green Mile, from Warner Home Video
181 minutes, 1080p Widescreen (1.85:1), Dolby TrueHD 5.1
Starring Tom Hanks, David Morse, Bonnie Hunt, Michael Clarke Duncan, James Cromwell
Produced by David Valdes and Frank Darabont
Written and Directed Frank Darabont


Jim Bray's columns are available from the TechnoFile Syndicate.