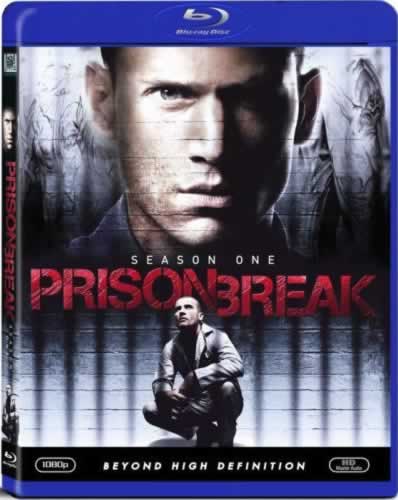 Prison Break Season 1
As the blurb says: "Most men would do anything to get out of Fox River Penitentiary, but Michael Scofield will do anything to get in. His brother Lincoln has been sentenced to die for a crime he did not commit, and the only way to save him is from the inside out. Armed with prison blueprints and an impossibly intricate escape plan, Michael gets himself incarcerated, and the race against time is on. Now, he'll need all of the cunning, daring, and luck he can muster…along with the assistance of some of the prison's most vile and dangerous felons."
We had never seen any episodes of Prison Break before the Blu-ray disc of season one arrived at our offices. We don't watch a lot of TV, and from what we assumed of the show, it didn't seem like our cup of tea.
Yet we were surprised. The pilot was compelling and smart, with good writing and strong performances from the large cast. We care about Michael and wonder how the heck he's going to pull off his grand plan. And the plan manages to unfold slowly enough to make a TV series, without boring us out of our minds.
The boxed set covers six discs featuring all 22 episodes and sundry supplements. We were disappointed in the packaging, which fell apart upon opening it, spilling Blu-ray discs over the floor, and disc one was hidden away behind a promotional insert, which caused us to put in disc two initially by mistake (proving that if you need reading glasses you should put them on before choosing a disc).
But the Blu-rays' 1080p picture quality is superb, with rich and deep colors and blacks that are a pleasure for the eyes. There's real depth here.
Audio is dts HD 5.1 master lossless audio and it's also very good. The surround channels are used fairly well, and the overall balance and tonal quality is top notch, with very good ambience.
According to Fox, Prison Break is authored in HDMV and presented on 50GB dual-layer discs with French, Spanish and Japanese 5.1 Dolby Digital Sound augmenting the main dts track. Subtitles are in English, Spanish, French, Japanese.
Here's the breakdown of the episodes and special features exclusive to each disc:
Disc One:
• "Pilot"
• Audio commentary #1: Paul Scheuring and Dominic Purcell
• Audio commentary #2: Brett Ratner and Mark Helfrich
• "Allen"
• "Cell Test"
• "Cute Poison"
• Audio commentary #1: Paul Scheuring, Dominic Purcell and Wade Williams
• Audio commentary #2: Matt Olmstead and Silas Weir Mitchell
• Deleted Scene - Veronica Watches Surveillance Footage
Disc Two:
• "English, Fritz or Percy"
• "Riots, Drills and the Devil – Part I"
o Audio commentary #1: Paul Scheuring, Dominic Purcell, Robert Knepper, Sarah Wayne Callies, Amaury Nolasco and Wade Williams
o Audio commentary #2: Nick Santora and Bob Mandel
• "Riots, Drills and the Devil – Part II"
o Audio commentary: Paul Scheuring, Dominic Purcell, Wade Williams, Amaury Nolasco and Peter Stormare
• "The Old Head"
Disc Three:
• "Tweener"
• "Sleight of Hand"
• "And Then There Were 7"
• "Odd Man Out"
• Deleted Scene –Michael Thinks About Sara
Disc Four:
• "End of the Tunnel"
• "The Rat"
• "By the Skin & the Teeth"
• "Brother's Keeper"
• Commentary #1 by: Paul Scheuring, Amaury Nolasco, Wade Williams, Robert Knepper & Sarah Wayne Callies
• Commentary #2 by: Greg Yaitanes & Zach Estrin
• Deleted Scene –
• End of the Tunnel - Alternate Ending
• Sucre and Maricruz in Court
Disc Five:
• "J-Cat"
• "Bluff"
• "The Key"
• "Tonight"
• Deleted Scene – Michael Goes Crazy
Disc Six:
• "Go"
• "Flight"
• "Making of Prison Break"
• If These Walls Could Speak: Profile of the Joliet Correctional Center
• Beyond the Ink
• Fox Movie Channel Presents: Making a Scene - Prison Break
• Season 2 Promo
• TV Spots:
• Orchestral
• Favorite
• Michael
• Last Break
• Link
• Chair/Family
Prison Break, Season One, from 20th Century Fox Home Entertainment
Starring Wentworth Miller, Dominic Purcell, Sarah Wayne Callies, Amaury Nolasco
Created by:Paul Scheuring
28 Days Later
Think about if you were to wake up in the hospital, only to discover that you're the only person there.
Then think about if you were to go outside to discover that there's nobody there, either.
Finally, think about if you walked into a church to find a pile of corpses, only to have a couple of them spring to life and charge at you with a seemingly murderous rage.
This covers the first several minutes of 28 Days Later, a zombie movie from director Danny Boyle (Trainspotting). It redefines the genre, and turns out to be a brilliant, scary-as-hell movie that will leave you thinking as well.
A group of animal rights activists breaks into a science lab in which monkeys are being kept captive in cages that don't leave much to the imagination. The activists demand the scientists free the monkeys, but the scientists remark that the captive primates are infected with a disease called "rage." It's not your typical disease: this one only takes 20 seconds to take effect, and it makes the infected want to rip apart any living thing it comes across (except, of course, for other infected individuals).
After his initial encounter with the enraged "zombies," our hero runs into a couple of other uninfected people, who help him escape. They then run into a father and daughter, also uninfected, and together they head to an army outpost that is advertising on the radio that they have a cure for the disease.
From there, it's not so much about zombies as it is about people. It's a brilliantly written and equally brilliantly directed movie that will scare you, intrigue you, keep you guessing, and yes, entertain you.
If you're sick of the horror movies of the last several years, 28 Days Later is a refreshing twist on the genre. A very high recommendation.
While it's a fine film and brilliant reinvention of the zombie genre, it doesn't really need to be on Blu-ray. The look is intentionally drab and grainy, dark and dusty. Even here, presented in full 1080p resolution, it doesn't really look much better than the DVD. In fact, we noticed a few shots here and there that actually seemed to work better on the DVD. We're full supporters of this whole Blu-ray thing, but they'd better make it worth our while.
Thankfully, they seem to have improved the audio quite a bit. The DVD of 28 Days Later was one of the worst examples of volume fluctuation we'd seen. Quiet scenes would require you to turn the sound way up just to hear what anybody was saying. Then, suddenly, something would jump out with a huge screech that was shrill, tinny, and much more irritating than frightening. We found ourselves keeping a finger on the volume knob throughout the flick. The Blu-ray features the same kind of fluctuations, but the quiet scenes carry better and don't require turning up the volume. Also, when the screeching happens, it's much less shrill and sounds more disturbingly realistic.
All of the extras are carried over from the original DVD release. They include a commentary by director Danny Boyle and writer Alex Garland, some deleted scenes with a plethora of alternate endings, a moderately lame making-of featurette, a music video, photo galleries, animated storyboards, and trailers.
28 Days Later, from 20th Century Fox Home Entertainment
113 minutes, 1.85:1 1080p anamorphic widescreen, dts HD 5.1 lossless audio
Starring Cillian Murphy, Naomie Harris, Christopher Eccleston, Megan Burns
Directed by Danny Boyle
Smallville, Season 6
Season 6 of the popular "Young Superman Chronicles" series introduces several subplots to the story.
The most welcome to DC comic book readers is the introduction of Oliver Queen, played by Justin Hartley. He's a young businessman who shows up in Metropolis with a secret "other life": he's the Green Arrow, a hooded "superhero" who's kind of a modern interpretation of Robin Hood - protecting those in need and not being afraid to break the law if it fits his idea of social justice.
Another subplot involves Clark's mother, Martha, who is now a politician looking for votes. Another revolves around Chloe's relationship with Jimmy Olsen (Aaron Ashmore) and yet another follows Lois Lane's early forays into the world of yellow journalism.
We must admit we haven't seen a Smallville episode since we reviewed the pilot (which we liked), and so we've missed a lot of what's gone on in the intervening years. But the series seems to be unfolding in a quite interesting manner that tempts us to go back and see what we've missed.
The cast is good and so are the production values and we enjoyed most of the episodes of this season 6.
Here's how Warner Brothers describes it: "They tried to be friends. But their chosen paths set them on a collision course. The Clark Kent-Lex Luthor rivalry explodes into the fierce good vs. evil battle fans have long expected. Adding to the rivalry: Lana Lang becomes Mrs. Luthor. Clark would be stunned to find out why she says yes.
"Green Arrow forms a super hero league. Will Clark Join? Luthorcorp expands its dark experiments. Will an awesome Kryptonite-powered army be the result? The answers - and thrills - are here."
We liked the Green Arrow stuff best, but that's 'cause we used to read the comic many years ago and it was nice to see the character come to the live action screen.
The Blu-ray picture appears a tad soft for our tastes, but it's more than watchable. The Dolby Digital 5.1 audio's okay, too, but nothing to write home about.
Extras include a neat feature on Green Arrow and his evolution through the years, some deleted HD scenes and some short, computer animated "mobisodes" "Smallville Legends: The Oliver Queen Chronicles." There's also a "making of" featurette and a animated storyline-related "Smallville Legends: Justice & Doom" produced by DC comics.
Smallville, season 6, from Warner Home Entertainment
917 min, anamorphic widescreen (1.78:1), 1080p, Dolby DIgital 5.1
Starring Tom Welling, Kristin Kreuk, Michael Rosenbaum, Erica Durance, Allison Mack
The Simpsons Movie on Blu-ray disc
We assume that, with a a worldwide gross of some $500 million, Fox scored plenty of d'oh! off this flick, but we're glad we didn't have to pay to see it.
That's because there isn't a lot here other than perhaps a half hour episode padded to fill an 87 minute running time. Heck, the part we liked best was when they showed us which actors do which voices during the closing credits!
The Simpsons Movie finds uber liberal eco-weenie Lisa falling in love with another of her type, Bart skateboarding naked through the streets of Springfield (and no, there's no full frontal nudity as you may have heard - but, yes, you do get to see Bart's "wee-wee"), Marge suffering her usual angst and being the glue that holds the family together, and Homer blundering through life like he usually does.
In this case, the heavily polluted Springfield is encased in a dome by the EPA (another nice joke is an EPA disclaimer - but it's before the movie even starts), trapping everyone inside in a filthy world of their (and Homer's) own making.
The Simpsons manage to escape and head for pristine Alaska, but they can't just run away and eventually return to set things right - in their own way of course.
The Simpsons jumped the shark nearly as long ago as the phrase jumped the shark did, but when it was at its height it was some of the best TV satire ever and some of their classic episodes will live forever.
Not so this mish-mash of a movie, which has very few laughs and not a lot to recommend it. It's too bad; the Simpsons deserves more.
There's a lot more obvious computer animation in the movie than in the series, which isn't necessarily a bad thing except that in this case it makes the show's look resemble Futurama more than The Simpsons. And the widescreen 1080p picture is excellent, though the animation being what it is it would probably look great on DVD, too.
The English audio track is 5.1 DTS HD Lossless Master, and it sounds great.
You also get plenty of extras, including: including commentaries with "Simpsons" writers/producers, actors and directors, numerous deleted scenes and promotional spots including The Simpsons Judge American Idol and Homer's Monologue On The Tonight Show. The Tonight Show stuff and its related ilk is about as funny as the movie.
The Simpsons Movie, from 20th Century Fox Home Entertainment
87 min. 1080p anamorphic widescreen (2.40:1), dts HD 5.1 lossless master audio
Starring Dan Castellaneta, Julie Kavner, Nancy Cartwright, Yeardley Smith, Hank Azaria, Harry Shearer, Pamela Hayden and Tress MacNeille
written by James L. Brooks, Matt Groening, Al Jean, Mike Scully, Ian Maxtone-Graham, George Meyer, David Mirkin, Mike Reiss, Matt Selman, John Swartzwelder, Jon Vitti, directed by David Silverman
Dragon Wars on Blu-ray disc
Godzilla meets Ray Harryhausen meets ancient Korean legend in this CG-drenched action flick from writer/director Hyung Rae Shim.
In reality, this is a special effects extravaganza in which the effects are the real star - and there's nothing wrong with that!
The story revolves around the legend of Buraki, a 200 meter long Imoogi serpent whose armies of darkness include strange, lizard-like creatures who bear rocket launchers on their backs and look suspiciously reminiscent of Gungan critters from Star Wars Episode One. It's also backed up by little flying dragons and a bevy of brutal soldiers.
Keeping these horrid evils at bay, hopefully foiling their plan for world domination, are the reincarnations of five hundred year dead Korean warriors now personified by Ethan (Jason Behr) and Sarah (Amanda Brooks), she the bearer of the ancient power that can turn the super snake into a really cool (and good) dragon and he the reporter whose destiny it is to help her.
And that's about all you need to know about the story.
The look is very cool and though the story is more than a tad weird and blends the abovementioned genres with stuff inspired from films like Gremlins, it's a feast for the eyes and ears as we're treated to more special effects scenes (and for the most part very good ones) than we'd expect given what was undoubtedly not the biggest of budgets.
So we get a terrific aerial battle between the U.S. military and the aforementioned winged dragon-like beasties, the huge snake smashing through Los Angeles (including a really cool sequence where it curls around a skyscraper), lots of explosions and cars being destroyed - in all, a neat if mostly superficial hour and a half in the home theater.
The dragon war of the title doesn't happen until the very end, in a climactic battle that's kind of anticlimactic but which still looks and sounds neat, but there's enough other stuff to keep you occupied. That climactic dragon looks kind of like the type you see snaking through the streets at Chinese new year more than the traditional Dragonslayer/Dragonheart-type of fantasy creation, but that's okay with us - it looks very cool in its all-too-brief appearance.
The movie cries out for a good high definition presentation and the Blu-ray disc doesn't disappoint. The widescreen 1080p picture is sharp and colorful and clean, and the Dolby TrueHD 5.1 sound track rattles the walls nicely.
As if that isn't enough, you also get a "making-of" featurette ("5,000 Years in the Making) which outlines the comedian/director's struggle to get the project done. There are also an animatics section ("From Storyboard to Screen"), as well as a conceptual art gallery. Cinematic triumph? Nah. But it's fun!
Dragon Wars (D-War), from Sony Pictures Home Entertainment
90 min. widescreen 1080p (2.40:1), Dolby TrueHD 5.1 audio
Starring Jason Behr, Amanda Brooks, Robert Forster, Craig Robinson
Written and directed by Hyung Rae Shim
Wall Street on Blu-ray disc
It's kind of like Trading Places, but without the charm, heart and humor.
Much to his eventual chagrin, Charlie Sheen's Bud Fox, an aspiring stock broker, gets what he wishes for in this tale of the evils of capitalism told with sledgehammer subtlety by director Oliver Stone.
At the movie's opening, Fox makes his money by cold calling potential customers, a depressing and difficult task in any sales position. But despite the difficulties of cold calling he's persistent, and one of his targets – Wall Street mover and shaker Gordon Gekko (played wonderfully by Michael Douglas, whose performance won him an Oscar) – finally agrees to work with him.
Thus begins a tale of the evil machinations of the denizens of Wall Street, where greed is the bottom line and (as personified by two older brokers in Fox's company) those who don't go for the jugular are left behind (though they seem to have lasted a good long time before being left behind - they're the "elder statesmen").
Fox wants to be a mover and shaker like Gekko, and Gekko is willing to take the kid under his wing and mentor him – as long as Fox is willing to do whatever's necessary whether it's ethical or legal or not. Both partners keep their sides of the bargain, initially, and Fox begins to enjoy the fruits of his labors – fine clothes, food, and women (in this case a Gekko castoff played by Daryl Hannah).
But Fox begins losing his soul, a process brought to a head when he spearheads Gekko's takeover of a small airline for which Fox's father (Martin Sheen, in a delicious bit of casting) has been an employee and union rep for years. Fox thinks Gekko is planning to save the airline, but learns that in reality he's planning to shut it down and sell off the assets, putting Fox's father and everyone else there out of work.
This is Fox's moment of truth and, much as when Dan Aykroyd and Eddie Murphy's characters in Trading Places decided to turn the tables on their unscrupulous bosses and mentors, his examination of the state of his soul requires him to stop Gekko regardless of the personal cost.
It's an entertaining movie, with excellent performances, but you can't help but get the anti-capitalist message in it, which made us wonder whether director Stone made the movie for free or if he made money off the project and thereby contributed to the evil world of capitalism.
And yet most of the characters in the movie – even most of the stock brokers and a lawyer (James Spader) used by Fox – aren't bad people. Heck, even Gekko has his points; sure he's hard-nosed but that's the playing field he's on – and until he screwed with the airline deal he we thought there was a lot about him to admire.
Take his famous "Greed is good" speech, for example. He's giving that to a shareholders' meeting at a paper company he wants to take over. If the points he makes to the shareholders about the current management are true (we have no way of knowing), then he's doing a good thing for the company. And in his "Greed" speech he's actually using the word greed as analogous to "passion" or "hunger", saying that "greed (passion, hunger) for life, money, love, knowledge" is essential for the growth of the human race (for example, do you think Edison invented the light bulb for strictly altruistic reasons?) and can not only save the paper company but the U.S. government (which he refers to as another malfunctioning corporation) as well.
Hard to argue with that.
Anyway, we'd rather watch Trading Places again, but it was interesting to see this movie again after all these years.
The Blu-ray disc is pretty good. The 1080p picture is merely okay. We love the resolution, but not the grain and the picture doesn't really display a lot of the "depth" you can get from better picture sources.
High res audio is offered in dts HD Master Audio and it's good, though hardly awe-inspiring. But this isn't one of those soundtracks that really involves you anyway. Clearly, this isn't a Blu-ray to use as a showcase of your home theater, but as the best way to watch this particular movie (not that there's necessarily anything wrong with that).
There's a good selection of extras, though.
First up is a brief introduction to the film by Oliver Stone; he also does a running audio commentary. There's also the approximately hour-long retrospective, "Greed is Good,", a bunch of deleted scenes and "Money Never Sleeps: The Making of Wall Street," documentary.
Wall Street, from 20th Century Fox Home Entertainment
126 min. 1080p widescreen, dts HD Master Lossless Audio
Starring Michael Douglas, Charlie Sheen, Daryl Hannah, Martin Sheen
Produced by Edward R. Pressman
Written by Stanley Weiser and Oliver Stone, directed by Oliver Stone
Me, Myself and Irene
Jim's Carreying On Once Again
by Johnny Bray
There's something about a cop with a chicken up his ass that just seems right.
That's just one of the many "shocking" jokes that make up Me, Myself, and Irene, from the Farrelly Brothers.
Charlie Baileygates (Jim Carrey) was the nicest man in the world before, and even after, his wife left him. For years he raised his sons, teaching them the ways of the world, without letting anything get to him. Even as a policeman, people would just walk all over him.
But then one day he snapped.
On that day, Hank was born. Hank is Charlie's other personality, and also his exact opposite. He has a filthy mouth, a bad attitude, and a short fuse. Hank does all the things Charlie would never do, like hold a little girl's head under water, and crash a car through the front of a shop.
One day he meets Irene, a sweet young gal from another state who is brought into the police station for a parking violation. He falls in love at first sight, and volunteers to help her get back home.
Unfortunately, Irene's not-as-sweet boyfriend is trying to kill her. To make matters worse, he has everyone, even the FBI, on his side. Charlie becomes a wanted criminal, so he must wage war with the crooked cops - and especially with himself - in order to clear his name and keep Irene alive.
Most of the funniest scenes are with Carrey interacting with himself as two characters. There are few actors who could pull off such a stunt, but Carrey is definitely one of them. You can never get tired of watching him work his magic.
Another funny scene involves a cow they encounter on the highway. The poor animal has been left for dead, so Charlie takes it upon himself to put it out of its misery. But the damn thing just won't die. I have no idea why it's funny, but it is. It's even referenced in a later line, which makes it even funnier.
The Farrelly Brothers are good when they're good; Kingpin is one of the funniest movies made in a long time. However, when they made There's Something About Mary, I feared they'd lost it. Me, Myself and Irene is much better than Mary, and there's not much else I can say. It's by no means a cinematic masterpiece, but it does make you laugh.
Isn't that the point of a comedy?
The Blu-ray disc
Me, Myself and Irene, from 20th Century Fox Home Entertainment
116 minutes, 1080p widescreen (1.85:1), dts Master Lossless HD 5.1
Starring Jim Carrey, Renee Zellweger, Chris Cooper, Robert Forster, and Richard Jenkins
Produced by Bradley Thomas & Bobby Farrelly & Peter Farrelly
Written by Peter Farrelly & Mike Cerrone & Bobby Farrelly, Directed by Bobby Farrelly and Peter Farrelly
The Assassination of Jesse James by the Coward Robert Ford on Blu-ray disc
It has excellent performances, some beautiful cinematography, and a compelling story.
So why were we looking at our watches by about the 30 minute mark?
Because "Assassination" breaks a cardinal rule of entertainment: it's BORING!
The movie is based on the last months of the famous outlaw Jesse James (Brad Pitt) and is a meandering, episodic view of those months. The "action" picks up just before the James Gang (sans Joe Walsh, alas) robs a train and a rookie named Robert Ford (Casey Affleck) is hanging around looking to get into the game.
James has been Robert Ford's idol since he was a kid and, in a later scene, he ecounts some of the supposed parallels he saw between himself and the outlaw when he was knee high to a grasshopper.
It's atmospheric, violent at times, and with cinematography that makes you almost feel as if you're in the time of the movie's setting. But at 160 minutes the film feels as if it's about two hours too long. Okay, maybe that isn't fair, but geez, this movie crawls!
And it's hard to keep track of. We went in not knowing the details of these historic events, and between the large cast and the meandering, we were lost as often as we were found.

The movie starts well, with a nicely-staged train robbery preceded by some scenes of the gang, having gathered in the woods nearby where they'll pull the heist, hanging out together. There are other moments like this, too, but too few and too far between to keep our interest.
It's an art film as much as it's a drama and art will only take you so far.

The 1080p Blu-ray disc looks nice and sharp, but the overall look is grainy and the colors are muted. This is deliberate and it works for the film, but it doesn't make this a disc with which you'll show off your Blu-ray system proudly.
Audio is offered only in Dolby Digital 5.1, with no "HD" or uncompressed tracks, and that's a disappointment. We wish Warners would get its act together here because this oversight happens frequently with their Blu-ray titles and carries on their tradition of offering only limited audio choice on most of their DVD's.
Extras include a "making of" documentary, but by the time we got to that we'd had our fill with Jesse James.
The Assassination of Jesse James by the Coward Robert Ford, from Warner Home Entertainment
160 min. 1080p widescreen (2.4:1), Dolby Digital 5.1
Starring Brad Pitt, Casey Affleck, Sam Shepard, Mary Louise Parker
Written and Directed by Andrew Dominik
Walk Hard, the Dewey Cox Story on Blu-ray disc
John C. Reilly stars as the subtitle character in this send up of musical biopics - and it's better than we'd expected going in.
Drawing its inspiration from Ray, Walk the Line and maybe even Dreamgirls, Walk Hard follows the life, loves, career and challenges of Cox who, like Forrest Gump with newmakers, appears to have been hanging out at nearly every pivotal musical event or period from the 1950's until his death about three minutes after the plot finally grinds to a halt. This includes gigging with Elvis, tripping with the Beatles and being honored for his lifetimes achievement by such real life musical luminaries as Jewel, Jackson Brown and Lyle Lovett.
And it's pretty funny, with some surprisingly good - though silly - musical numbers.
Cox was the lesser talented of two brothers, who kills his brother accidentally thus making his father hate him for most of the rest of his life. But he's also driven to be a musician and the movie follows the timeline of his career.
The temptation (oh yeah, The Temptations are there, too) may be to mug one's way through a script as silly and derivative as this one, but the best comedies work when the cast plays their roles as if they're actually in a real drama. And that's how it works here. Reilly's a good actor, and he - and his co stars - never let down their thespian guard and allow the film to sink under its own pretensions.
Subtle it ain't, and in parts it's really quite vulgar, but that actually works to the film's benefit, too.
The Blu-ray disc contains two discs, and two versions of the movie: the original theatrical cut that runs just over 90 minutes and "American Cox: The Unbearably Long, Self-indulgent Director's Cut" that, true to its word, comes in at more than two hours and yet isn't better than the shorter version (though we suppose that can and will be debated).
Disc One contains both versions of the movie, along with access to the online-based BD Live feature that lets you download trailers and other extra stuff (we downloaded a fake documentary on Cox), which disc two contains most of the extra material.
The 1080p picture, at the aspect ratio of 2.40:1, is razor sharp, but the colors, while clean and bright, are oversaturated in a way that makes the movie look "fantasy-like", which may or may not be the filmmakers' intent. It may also have been a way to make Reilly look 15 at the appropriate point of the film.
The audio is exquisite, which is just the way a musical movie should be. The music sounds great, and the concert scenes are full of glorious ambience that fill the home theater.
Special features beyond the BD Live aspect include:
Commentary with John C. Reilly, Judd Apatow, and Director Jake Kasdan
Full Song Performances
Full Musical Performances
Full Song Performance
Deleted & Extended Scenes
Line-O-Rama
A Christmas Song From Dewey Cox
Song Demos
Tyler Nilson: The Man Behind the Penis or Tyler Nilson: A Cockumentary
Bull On The Loose
The Music of Walk Hard
The Making of Walk Hard
The Real Dewey Cox (Talkin' Bout Cox)
The Last Word with John Hodgman
Walk Hard - the Dewey Cox Story, from Sony Pictures Home Entertainment
various running times, 1080p widescreen (2.40:1), Dolby TrueHD 5.1
Starring John C. Reilly, Jenna Fischer, Raymond J. Barry Margo Martindale, Kristen Wiig
Written by Judd Apatow & Jake Kasdan, directed by Jake Kasdan
Juno on Blu-ray disc
Who'd have thought Hollywood could release a movie about teenage pregnancy that doesn't automatically dump over the conservative values so ridiculed by many movie makers?
We certainly didn't, and have to admit that we enjoyed Juno hugely, and laughed out loud on more than one occasion at its heroine and her plucky grace in a difficult situation.
Juno MacGuff (Ellen Page) appears to be your typical 21st century American 16 year old. She's precocious and confident and happy with her life, mostly, until she discovers that her one hit sexual encounter with her best friend/boyfriend Paulie Bleeker (Michael Cera) has scored a bingo in that she finds herself in a rather embarrassing situation: she's preggers!
This forces some major decisions on her, the first of which is whether to go through the inconvenience of having the baby or whether she should just slip out for a quick abortion.
The scene at the abortion clinic is priceless, as Juno comes across one of her school acquaintances protesting outside - both girls quite embarrassed to be seen there by the other. And inside the clinic Juno decides to give the life inside her the best chance she can, which leads to her search for the perfect parents for the little tyke.
Those parents turn out to be a lovely but infertile couple (Jason Bateman and Jennifer Garner) with whom (especially the husband) Juno builds a friendly relationship over the course of her pregnancy.
The script, by Diablo Cody, is terrific - smart and funny, with realistic characters and situations. Ditto for the supporting cast, which includes J. K. Simmons as Juno's ex-military cop (who shows much more depth than you might think given the rather stereotypical way Juno describes him initially) and Allison Janney as her step mother.
We didn't know what to expect going in, but we loved Juno.
Juno was nominated for four Academy Awards and won for Best Original Screenplay, which really surprised us - it deserved it. The movie was directed by Jason Reitman and features a terrific ensemble cast.
The disc is very good, too. The picture, presented in 1080p at 1.845:1 widescreen aspect ratio, is sharp and clean and colorful. It isn't the kind of reference-quality, 3D-like picture you can get with some Blu-ray discs, but it certainly does the film justice.
Likewise for the audio, which is presented in dts HD Master Lossless Audio. It's dialog-centric, which is appropriate for this chatty film, with limited surround use and the like, but the sound quality is clean and clear and you never miss what's being said.
The Blu-ray disc is loaded with special features including, according to the studio, "commentary by Reitman and screenwriter Diablo Cody, 11 deleted scenes, a gag reel, screen tests and more." The Blu-ray incarnation also comes with "Fox Movie Channel Presents: World Premiere – Juno" and "Fox Movie Channel Presents: Casting Session – Juno" and includes Fox's new Digital Copy feature, a second disc that contains a digital copy of the movie you can transfer to a computer and to portable video devices such as an iPod and/or iPhone.
We didn't try the digital copy (being insufferable home theater snobs not about to downgrade the audio/visual experience with anything less than 1080p and 5.1 dts HD Master Lossless, but we tried the feature with our review copy of Hitman and it worked fine - though you should remember that there are digital rights management caveats that could limit your use and/or enjoyment of the feature.
Juno, from 20th Century Fox Home Entertainment
96 min. 1080p widescreen (1.85:1), dts HD Master Lossless Audio
Starring Ellen Page, Michael Cera, Jason Bateman, Jennifer Garner, Jason Bateman, Allison Janney, J.K. Simmons
Written by Diablo Cody, directed by Jason Reitman
The Professionals on Blu-ray Disc
The Professionals is not only a terrific Western, it's an excellent example of how good a Blu-ray can be as well.
Lee Marvin stars with Burt Lancaster, Robert Ryan, Woody Strode, Jack Palance, Ralph Bellamy and Claudia Cardinale in this rip-roaring Western action/adventure. Marvin, Ryan and Strode hired as soldiers of fortune hired by a wealthy Texas oil baron (Bellamy) to rescue his kidnapped wife (Cardinale).
Wifey was grabbed from Texas and taken across the Mexican Border by a band of thugs led by Jesus Raza (Palance), who is also billed as a freedom fighter.
The four professionals, each of whom is a specialist in his particular field (Lancaster, for example, is an explosives genius while Strode is an expert marksman and tracker, Ryan is a top flight horse handler and Marvin's the best in tactics and weapons. Together, they head across the treacherous (but gorgeous, in a barren way) landscape to retrieve the beautiful kidnappee.
Alas, once they get to her, they discover things aren't quite what they'd been led to believe, which causes them to do some big time soul searching.
The all-star cast turns in excellent performances from Richard Brooks' intelligent script. Maurice Jarre's haunting musical score which, in places, reminds us of his memorable achievement with Lawrence of Arabia, combine to make this a real classic.
The Professionals was nominated for three Academy Awards, two for writer/director Brooks and one for Conrad Hall's gorgeous cinematography. We can see why.
This is a smart, involving western that's way more than just a man hunt (well, woman hunt) or a shoot 'em up.
And as mentioned, it's a terrific Blu-ray, too.
The 1080p picture, presented in 2.35:1 aspect ratio, is about as clean as you could want from a 1966 vintage film. There are a few shots where grain is noticeable, but only a few; the rest of the film positively sparkles, with razor sharp images, excellent color and terrific depth.
Audio is Dolby TrueHD 5.1 and though the dialogue sounds like it was recorded in 1966, the musical score positively soars! They've even made good use of the surround channels once in a while, and that's an unexpected bonus from a film of this age.
Speaking of bonuses, there's also a decent selection of extras on the disc, including a featurette on the film itself, another that's a portrait of Burt Lancaster, and "Memories from The Professionals."
All in all, an excellent presentation of an excellent movie we'd forgotten existed.
The Professionals, from Sony Pictures Home Entertainment
117 min. 1080p (2.35:1), Dolby TrueHD 5.1
Starring Lee Marvin, Burt Lancaster, Robert Ryan, Jack Palance, Ralph Bellamy
written for the screen and directed by Richard Brooks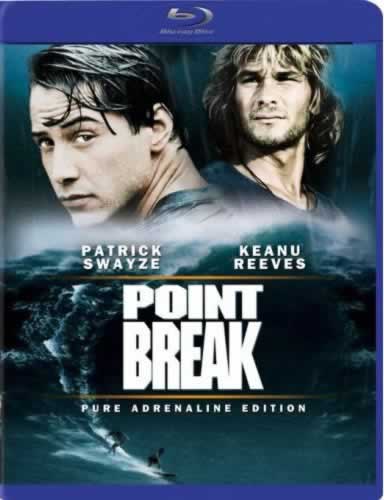 Point Break on Blu-ray disc
What can you say about a movie whose apparent message is that it's just fine to throw away a career for which you've worked very hard when you can spend your time surfing instead?
Keanu Reeves stars as an up and coming FBI hotshot named Johnny Utah, a former college football star quarterback. Upon being transferred to Los Angeles, he finds himself on a bank robbery case where the perps show up dressed and masked - and introducing themselves - as, ex-presidents of the USA. The robbers perform a well-timed-and-choreographed operation that, at the film's opening, ends with the Nixon character telling the victims "I am not a crook."
From that delicious beginning comes a celebration of the surfing adrenaline junkie's lifestyle that features some glorious scenes and wonderful shots, but which is quite over the top and unbelievable.
Johnny's partner (Gary Busey) has figured out the surfing angle - that the perps are a gang of surfers - and sends his young Padawan Learner out to infiltrate the surfing community, which he does by befriending the first person he meets at the beach, a chick named Tyler who becomes his love interest and, since she's also the ex of the surfer guru/ringleader (Patrick Swayze) his conduit to the bad guys.
Except that Johnny finds himself drawn into the surfing life, and the fact that it is (according to the movie) the finest thing about living on this planet (and here we'd always thought it was beer!). And this causes him angst as he tries to balance his duty to bust the guy and his dudes of hench and his wish to chuck it all and spend the rest of his life catching a wave and boffing Tyler.
The movie's worth watching for its great visuals of waves and surfers - and some incredible skydiving that's worth the price of admission alone. Other than that it's pretty silly, virtually worshipping the surfing guru who, when push comes to shove, turns out to be just as ruthless as any villain (except that he doesn't have the stomach to do the dirty work himself), while making "The Man" out to be a bunch of foul mouthed and incompetent oafs.
The Blu-ray's pretty good, though. The 1080p picture is quite acceptable, with nice color and detail and pretty good depth in places, though it's also grainy at times and can hardly be held up as reference quality, though some of the most glorious of the action shots can help you convince your friends of the benefits of a big screen TV.
Audio is dts HD Master Lossless and it's also pretty good, with nice use of the surround channels. Again, you probably won't want to use this as a demo, but other than that it's quite enjoyable.
Extras include a bunch of "making of" featurettes that include recent interviews with cast and crew as well as behind the scenes stuff. You also get deleted scenes, a gallery of still pictures and some trailers.
Not rocket science, and certainly not "Casablanca," but an enjoyable ride in the home theater.
Point Break, from 20th Century Fox Home Entertainment
122 min. 1080p widescreen (2.35:1), dts HD Master Lossless Audio
Starring Patrick Swayze, Keanu Reeves, Gary Busey, Lori Petty
Directed by Kathryn Bigelow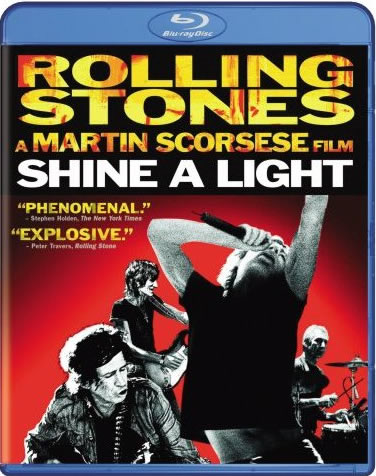 Shine a Light on Blu-ray Disc
By Jim Bray
To much of the world they're "The Greatest Rock n Roll Band in the World" (it says so on the jacket) and if nothing else their longevity and continuing popularity make them noteworthy.
But to me The Rolling Stones have always been "The Most Overhyped Band in the World", with some good songs over the years but far more adulation than they deserved as musicians. In my never humble opinion, if there's any greatest rock band, it's The Who - easily.
So take that opinion with you into this review of Martin Scorsese's Shine A Light, his film of the band's most recent concert tour - though its concert footage is virtually all from their New York City's Beacon Theatre gig(s).
Scorsese has been around the rock movie circuit for years, having been the guy behind The Band's The Last Waltz many moons ago. He's also known as a pretty innovative filmmaker, though that doesn't seem much in evidence during this very straightforward movie.
We start off as the band is getting ready for its shows at what would be a heckuva good venue to catch them in live - it's much more intimate than the hockey arenas or football stadiums that are so common with mega-band concert tours.
We get to see the Stones rehearsing, kicking around the song order and selection, and schmoozing with the likes of The Clintons - which shows you just how Establishment the band has become. We also get to see the director trying to plan his shots, as well as some vintage clips of old Stones interviews that, taken in the context of their longevity, are pretty humorous.
Then we get to the concert (also interspersed with some "other footage", which features:
Jumpin' Jack Flash
Shattered
She Was Hot
All Down the Line
Loving Cup
As Tears Go By
Some Girls
Just My Imagination
Faraway Eyes
Champagne and Reefer
Tumbling Dice
You Got the Silver
Connection
Sympathy for the Devil
Live With Me
Start Me Up Brown Sugar
Satisfaction
Okay, there are some good songs here, and the Stones show that they still have it, whatever that "it" might be.
Also on hand to play with the Stones briefly are Jack White III, Christina Aguilera and blues sage Buddy Guy.
I was interested particulary in the audio and video quality of the Blu-ray disc, a format that cries out to be pushed and exploited, and though it's a pretty straightforward transfer I wasn't disappointed. The 1080p picture is sharp and clean and, when it isn't in black and white, colorful. The old footage, and some of the new B&W stuff, is quite grainy, but it works. I was a tad disappointed in the lack of "depth", but overall the picture is very good. It's so good you can plainly see that Keith Richards has actually been dead for many years....
A good rock concert video needs great sound, of course, and in this case Paramount has released the Blu-ray with 5.1 tracks in Dolby TrueHD and dts HD Master Audio as well as stereo PCM. And it sounds very good; I ran it powered by 500 watts per channel of Rotel IcePower and definitely was worthwhile. There's plenty of punch and the overall sound is very dynamic, with a good mix that lets you hear everything.
If the concert footage isn't enough for you, Paramount also throws in four extra songs (Undercover of the Night, Paint it Black, Little T&A and I'm Free) along with a behind-the-scenes featurette that appears to be behind-the-scenes stuff from the film that ended up on the cutting room floor.
Not my particular cup of tea, but if you're a Stones fan, you'll probably enjoy this Blu-ray.
Shine A Light, from Paramount Home Entertainment
121 min. 1080p widescreen, Dolby TrueHD - dts HD Master Audio and Stereo PCM
directed by Martin Scorsese
Office Space: Special Edition
Office Space is a hilarious movie, even if you've never worked in an office building.
We have, and we can say that pretty much every office-related joke in the film is completely true.
Peter Gibbons (Ron Livingston) can't endure another mind-numbing day at his job. It's the typical situation: menial labor, irritating boss, annoying co-workers – he's on the edge, man.
So one day he decides that because he doesn't like his job, he's not gonna go anymore. Armed with his new attitude and new girlfriend (Jennifer Aniston), Peter comes up with a way to make some money without actually having to do anything.
He still makes it to work once in a while, and his newfound attitude lands him a job in upper management, much to the chagrin of his boss. Hilarious antics ensue as Peter and his friends try to outsmart their employers.
Office Space is rife with great characters, great lines, and just all-out hilarity. It's a superbly written comedy with some fine character actors who sell it. Stephen Root is particularly amusing as Milton, the soft-spoken co-worker, and Gary Cole is almost as good as the bossman. Livingston and Aniston use their onscreen charm to carry the film's story between the funny bits.
Beavis and Butthead/King of the Hill creator Mike Judge has crafted a tremendously entertaining film that goes much deeper than just straight comedy. It examines the life of the office-job schmuck and touches upon many funny-because-they're-true situations. Office Space is the kind of comedy that nearly everyone enjoys, and can therefore be viewed multiple times with different crowds.
If you haven't seen it, you should, especially if you work a similar job.
The Office Space "Special Edition" Blu-ray is presented in 1.85:1 widescreen at 1080p, of course, and the picture quality is very good. This isn't the type of movie you bring home because you want to showcase your home theater, but despite that the picture is sharp and clean, and the colors are quite rich. Audio is dts HD Master Audio and it's also very good. In all, you'll be treated to solid colors, little grain and clear dialog. And for a movie like this that's good enough.
"Out of the Office" is a half hour documentary that takes us through the development of the film. Mike Judge speaks of the original shorts that inspired the film (and we see some short clips), talks of casting, and mentions some juicy tidbits about less-obvious aspects (such as Swingline's red stapler, which didn't actually exist at the time). It's too short, and isn't a sufficient replacement for a Judge audio commentary, but it's fun and all we get.
Well, not quite. There's also "Post-It Pandemonium - the Apathy of Men" trivia track, a few silly games, a collection of deleted scenes that feature a couple amusing moments. There's also the trailer.
Office Space, from 20th Century Fox Home Entertainment
89 minutes, 1080p widescreen (1.85:1), dts HD Master Audio 5.1
Starring Ron Livingston, Stephen Root, Gary Cole and Jennifer Aniston
Produced by Michael Rotenberg, Danial Rappaport
Written for the screen and directed by Mike Judge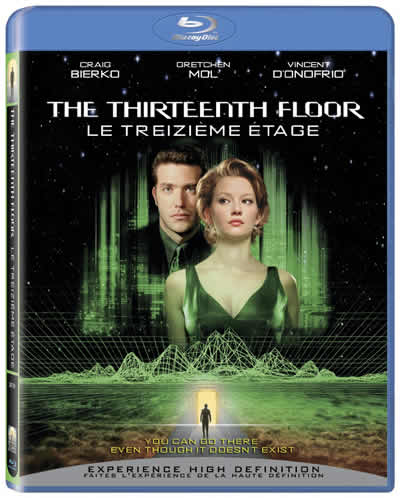 "The Thirteenth Floor" on Blu-ray disc
Virtual Virtual Reality
Here's a stylish "techno-thriller" in the film noir tradition that offers an intelligent plot, a delicious look and feel, and characters about whom you can really care.
Kind of "The Matrix" meets "Dark City" meets "I Robot" meets, well, you get the idea. But The Thirteenth Floor ends up being its own movie, and it's quite enjoyable.
Starring Craig Bierko, Vincent D'Onofrio and Gretchen Mol, the story involves a high tech company that has created an amazingly real virtual world one can actually visit and live in by downloading yourself "Matrix-like" into a cyber-character in that digital domain.
Then the creator of the project is killed under unusual circumstances, and when the evidence points to his number two man (Bierko) he's forced has to enter the as-yet-incomplete virtual world to find evidence that can help clear up the mystery.
The mystery gets cleared up, of course, but not in the way you imagine when you first slide the disc into the player.
Based on Daniel Galouye's novel "Simulacron 3," 'The Thirteenth Floor is a beautifully-realized movie and the virtual world (set in 1930's Los Angeles) is amazingly well represented through gorgeous and convincing matte effects. In fact, this is a dandy flick all around, with some delightful twists and turns.
It's also a good Blu-ray, offering a good 1080p widescreen picture that's sharp and bright and colorful, with good depth. The lack of color in the unfinished virtual world sticks out like a sore thumb, underscoring the fact that this place (despite the realism of the images and the people in it) just ain't what it seems.
Audio is presented in Dolby TrueHD and the quality is also excellent, very dynamics. Gunshots resonate throughout the room and there's good ambience in the surround channels.
Sony doesn't kick in much in the way of extras, though. You get a commentary track with co-writer/director Josef Rusnak and another by production designer Kirk. M. Petruccelli and a music video "Erase/Rewind" by the Cardigans.
The disc is also BD-Live enabled and you get some "bonus" trailers.
In all, it's a pretty neat movie that deserves to be seen as a story first, and as a visual treat second.
The Thirteenth Floor, from Sony Pictures Home Entertainment
100 minutes, Widescreen (2.35:1)/Pan and Scan, Dolby Digital
Starring Craig Bierko, Gretchen Mol, Vincent D'Onofrio, Dennis Haysbert and Armin Mueller-Stahl
Produced by Roland Emmerich, Ute Emmerich, Marco Weber, Screenplay by Josef Rusnak & Ravel Centeno-Rodriguez
Directed by Josef Rusnak
The Spirit on Blu-ray disc
From the creator of 300 and Sin City comes what appeared to us to be a Sin City wannabe, except instead of being a crime drama it's a superhero story.
The hero in this case is, not surprisingly, The Spirit (Gabriel Macht). He's already The Spirit when the movie opens, but we learn later that he was cop who, thanks to some skullduggery, has been brought back from the dead and now fights crime in Central City.
The bad guy is The Octopus (Samuel L. Jackson), your typical megalomaniac bent on world domination – and in this case immortality as well. Their conflict is over a vase containing the blood of Hercules – which is needed for, well, some nefarious purpose we'd ceased caring about by the time it came up in the movie.
The story unfolds against a backdrop of seedy sections of Central City and is a very stylized film, much as Frank Miller's abovementioned movies are as well – though looking a lot more like Sin City than 300.
The supporting cast features names that almost could be out of Dick Tracy, such characters as, according to the publicity material: "Silken Floss (Scarlett Johansson),a calculating and driven vixen; Plaster of Paris (Paz Vega), a murderous French nightclub dancer; Lorelei (Jaime King), an angel of Death; and Morgenstern (Stana Katic), a sexy young cop. Then of course, there's Sand Saref (Eva Mendes), the jewel thief with dangerous curves." And we mustn't forget "the whip-smart girl-next-door" Ellen Dolan (Sarah Paulson), either, though we don't know why we should.
Morgenstern was our favorite, with a personality somewhere between secretary and the robot waitress from Star Wars Episode II, but there's plenty of eye candy on hand. Too bad the dark, shadowy picture doesn't give us good enough looks…
The Spirit feels like a low rent version of Sin City, a movie that tries hard to recreate the magic of that earlier Miller outing, but which just can't. The look is virtually the same, a nearly black and white treatment with mostly digital sets that, while sharp and clean on the Blu-ray, is a waste of the high definition technology.
Most of the performances appear to have been phoned in – with the exception (as mentioned) of Stana Katic as Morgenstern, and the film takes itself so seriously it really does become insufferable.
The Blu-ray includes a digital copy on a second disc, which makes it a better value because you get two potential drink coasters for the price of one. The high definition picture, as mentioned, is nice and sharp, but since most of the film is so highly stylized and mostly very dark "blackish and whitish" it doesn't really matter because you can't see much anyway.
Audio is presented in 7.1 dts HD Master Audio and it makes good use of all the channels. It's also quite dynamic – and loud – and is perhaps the best thing about the movie.
Extras abound as well, including multiple featurettes, an alternate storyboard ending (with cast voiceovers) and a commentary track by the screenwriter/director and producer.
Here's a list of the featurettes:
Green World" – a look at the technical wizardry behind the making of the film
"Miller on Miller"– a look at the artistry of Frank Miller
"History Repeats" – an in-depth look at the origin of The Spirit as well as creator Will Eisner's influence and vision in the comic book world
The Blu-ray Disc also comes with an exclusive featurette not available on the DVD and is also the first LIONSGATE LIVE-enabled Blu-ray. LIONSGATE LIVE is an adaptation of BD Live and can deliver updateable exclusive content such as commentaries, games, ringtones, wallpapers, trailers and more, using on-screen notifications and widgets to do it.
Lionsgate Films also says that the feature will notify users of any new features available across all their BD Live titles. If you enjoyed the movie you might enjoy this stuff.
If that isn't enough, Molog lets you insert and animate shapes, text, audio and other graphics right into the film (We assume the producers figured the audience will be fidgety and bored) as well as to post "blogs" about the film to share with other registered users.
You also get the theatrical trailer.
We went into this knowing bupkis about The Spirit, but having enjoyed Sin City mildly and having enjoyed 300 very much, we thought it might have potential.
We were wrong.
The Spirit, from Lionsgate Home Entertainment
108 min. 1080p widescreen (2.35:1 ), dts HD Master Audio 7.1
Starring Garbriel Macht, Eva Mendes, Sarah Paulson, Dan Lauria, Paz Vega, with Scarlett Johansson and Samuel L. Jackson
produced by Deborah Del Prete, Gigi Pritzker, Michael E. Uslan
Written and directed by Frank Miller
Monsters Vs. Aliens on Blu-ray disc
It won't go down in movie history as a classic - not even as a classic in the computer animated genre - but Monsters Vs. Aliens is better than we'd expected, and is worth at least one look if for no other reason than to revel in a high def disc that's of superb reference quality.
The story opens with a lovely young lady named Sue (voiced by Reese Witherspoon), who is just about to get married. But before the nuptials can happen, she's struck down by a strange meteorite that, instead of turning her into a gooey stain on the landscape, causes her instead to grow to tremendous size - as in Attack of the 50 Foot Woman.
Naturally this causes her, her fiance (voiced by Paul Rudd) and their families,kl.;o more than a bit of angst - but before they can even think about it too much she's grabbed and spirited away by the U.S. military and imprisoned in a secret facility run by the subtly named General W.R. Monger (Kiefer Sutherland). Here, she meets other "monsters" who have been incarcerated there, including mad scientist Dr. Cockroach (Hugh Laurie), "The Missing Link" (Will Arnett), a blue blob called B.O.B. (Seth Rogen), and the huge, Godzilla/Mothra-like Insectosaurus. Susan is given the name Ginormicus, and told she'll spend the rest of her natural days in the facility, cut off from her life and the rest of the world.
Ah, but that would make for too short a movie. Fortunately, an alien invasion is on the way, led by the evil and weird-looking Gallaxhar (Rainn Wilson), who wants to retrieve the element in the meteorite that caused Sue so much trouble in the movie's opening minutes. This forces General Monger, on orders from the president of the United States, to turn his prisoners into a monster "earth defense force", the only line of defense against the invading aliens.
It's a pretty simple story, though not without its moments and with quite a few homages to sci-fi movies of days past thrown in, which we found quite amusing. And it's family friendly, which is nice. So what you get is a lightweight monster/alien movie you can watch with the kids while reveling in the technical excellence of the production and the Blu-ray disc itself.
And what a disc! The DreamWorks and Paramount folk have outdone themselves with the 1080p presentation, which shows up on your HD screen at an aspect ratio of 2.35:1. The picture is nothing short of spectacular, with incredible detail, beautifully rich colors and very nice depth. This is definitely reference quality material, the Blu-ray format at its best and it will make you glad you sprang for the latest technology.
Likewise for the audio, which is in Dolby TrueHD 5.1. This is the type of movie where you really want to have a loud, dynamic and expansive and immersive soundtrack and Monsters vs. Aliens doesn't disappoint. It's a wonderful soundtrack that'll give your home theater audio system a nice workout.
There's a decent set of extras on hand, too, including an audio commentary track with the directors and one of the producers. The most interesting to us, though, was B.O.B.'s Big Break, a 13 or so minute secondary feature that's in HD and 3D, with four sets of glasses included in the box. We didn't think much of the story itself, but the 3D's pretty cool and the feature's short enough that your eyes don't have a lot of time to become too tired or sore, which is one of our pet peeves with other 3D Blu-rays we've seen so far..
There's also a 3D game of paddle ball that we didn't think much of - and from which we had trouble getting back to the main menu.
You also get a "Karaoke Music Party, with three singalong tracks, some deleted scenes, and an HD "Making of" featurette that's quite interesting. If that isnt enough "making of" stuff, you can try "Tech of MVA, which looks at the InTru 3D technology as well as some of the effects. DreamWorks Animation Video Jukebox is about 10 minutes of music videos from other CG films from the company, while "The Animators' Corner" is a picture-in-picture track with behind the scenes footage and more. It's pretty cool.
There's also a trivia track.
Monsters vs. Aliens, from DreamWorks Home Entertainment

Ole Bull Violin Concertos Push Blu-ray's Boundaries
By Jim Bray
May 5, 2010
From Norway's 2L comes an excellent audio Blu-ray that's a good example of how Blu-ray discs can be used for more than just movies and other video titles.
That's because Blu-ray offers not only the finest video you can imagine, but the best sound as well, and that opens up opportunities for audiophile-quality recordings that are delights for the ears.
2L's latest is of Ole Bull Violin Concertos which, like 2L's excellent Divertimenti before it, is a very high quality recording of classical music the company has released on both audio Blu-ray and SACD in the same package. Divertimenti was the first such title I had heard of, and it was a spectacular sonic experience in the home theater.
This time, however, the producers have one upped themselves, going Divertimenti's Blu-ray/SACD combo one further by including a new wrinkle that lets you export the tunes to your digital player. And as if that weren't enough, they've also upped the Blu-ray ante, making the format an even more compelling way to listen to music than before.
As for the man behind the "tunes", of whom I'd never heard before the disc showed up, 2L's promotional material says Ole Bull (1810-1880) was "An adventurer, violin virtuoso, composer and international star who brought the name of Norway to worldwide attention. Within music and drama he was a pioneer in the development of a national identity, and on the concert stage his fabulous playing skills and intense charisma early won him the sobriquet "the Scandinavian Paganini"."
All of which, unfortunately, means little to me. So there. But you don't have to know all the ins and outs of the composer and his work to enjoy this classical disc, which is exquisite.
The tracks are: Sæterjentens Søndag (The Herdgirl's Sunday)
- Concerto in A major
- Concerto Fantastico
- I Ensomme Stunde (La Melancolie)
- La Verbena de San Juan
- Et Sæterbesøg (A Mountain Vision)
Some of which are world premiere recordings, according to 2L.
The music is recorded beautifully, in DXD 24/352.8 kHz surround sound at Jar Church in June of 2009. Both the SACD and the Blu-ray sound excellent, though I'd have to give the nod to the Blu-ray, not only because it offers mixes in dts HD 5.1 24/192 kHz, dts HD 7.1 at 24/96 kHz, and stereo LPCM at 24/192 kHz but because I also think it sounded slightly better.
Like most people, I don't have a 7.1 channel system, so was limited to the 5.1 and stereo versions and I preferred the 5.1 tracks for the extra depth they put into the room, surrounding you not with the musicians (though it does that to a certain extent) but with the ambience of the church sanctuary in which the recording was made.
The music is very good indeed, as are the performances by Annar Follesø (violin) and the Norwegian Radio Orchestra conducted by Ole Kristian Ruud. These people definitely know what they're doing.
The recording also gives your home theater an excellent workout, from the deep bass to the highest registers of the violin strings. Sure, there are no explosions or space ships, but the music is as dynamic as you'll get with many a movie. I can just imagine what 2L could do with the Star Wars soundtrack!
One of my quibbles with 2L's Divertimenti release was that, as with DVD-Audio, you still had to fire up your TV to get at the music, thanks to a menu system you had to click through to get at the actual tunes and which also offered you the audio choices and, on some discs, other material such as photos or videos.
2L has figured this out now, however, and while you can still use a menu, you can now change between audio tracks merely by using the Blu-ray remote control's colored buttons – red for 5.1 dts MA, green for 7.1 dts and yellow for LPCM stereo. It's great!
And naturally, you can skip forward and backward through tracks with the skip buttons, just like you can with other discs.
When you fire up the Blu-ray player it does head directly for the disc's menu, so if you don't turn on your TV monitor you have to remember to press "play" after a moment of apparent inaction, but this isn't a big deal. And while the audio tracks default to dts HD 5.1 (which just happens to suit me fine) you can switch from there via the colored buttons.
2L has also included something called "mShuttle" technology, which lets you use your networked Blu-ray player, connected to your home network, to access portable copies of the files, in "studio quality" FLAC 192kHz CD or MP3 files.
And if those aren't enough choices for you, 2L also makes the tracks available for purchase and download as HiRes 24/96kHz FLAC files.
While I haven't always loved the music the folk at 2L have sent me to preview, I do like these violin concertos very much (and Divertimenti is an excellent diversion). What I really appreciate, however, is how 2L is leading the way in offering excellent audio-only experiences on Blu-ray (and SACD). I would love it if some of the big labels would follow their lead and go back to their old catalog they way they did (somewhat) with DVD-A and SACD, and offer new, Blu-ray audio versions.
I can understand why they may be a little gun-shy, what with the lack of mainstream success of DVD-A and SACD, but Blu-ray is a whole new ballgame. Heck, all they have to do for starters is re-release all their DVD-A/SACD titles, this time on BD, and they'd get immediate access to a growing group of consumers who are learning to love the high resolution sound quality of which the high definition disc is capable.
If they can be weaned from the convenience of MP3 files...
I'll hold my breath.
In the meantime, hat's off to 2L for blazing this trail yet again.
---
Crazy Heart on Blu-ray Disc
Jeff Bridges stars as "Bad" Blake, a burned and drunked out has-been country music star who finds redemption thanks to a renewed interest in him from a star he mentored and a love he screws up.

Bridges won the Best Actor Oscar for his portrayal, possibly more for his excellent body of work than for this role, which doesn't really seem to be much of a stretch for the talented actor.

It takes nearly two hours for the story to unfold, but you probably have it figured out in the first 10 minutes because there's nothing here you haven't seen before. And that's too bad, because we like Bridges and we like country music and we like personal stories like this - often - and we really wanted to like Crazy Heart.

And there's enough to like, from Bridges' performance to a very nice one by Colin Farrell as the star who got his start as part of Bad's back up band and who, despite some apparent angst at the beginning of the film, hasn't forgotten those roots nor the quality of his former mentor's songwriting.

The love story is highly predictable. Maggie Gyllenhaal plays Jean, a writer and single mom who falls for Blake when she interviews him after one of his heartbreaking gigs at a bowling alley in New Mexico - so far has Blake's star fallen that that's the only type of venue he can get.

They're from completely different worlds, but wouldn't you know it, they're in bed nearly instantly, it seems, and from then on she gives his life meaning while he gives her, who knows - orgasms? They have little in common and she's so not in love with his boozing that she won't let him drink in front of her kid - so what exactly is the attraction? Is it motherly, in that she hopes she can convince him to turn around his life?

Naturally, he screws it up - but, naturally, this is the catalyst for him turning his life around and he once again finds his star on the ascent. Yet his screw up, which involved a moment of weakness with Jean's kid (not a sexual one, fortunately) has turned her so away from him that when he comes back to her clean and sober she pushes him away.

Do they eventually find true happiness? Well, if you can sit through this excrutiating flick you'll find out. While we find this movie terribly overrated, we won't spoil the ending for you.

Robert Duvall is along in what's little more than a cameo role and he's good, as always. But he's wasted. Farrell and Bridges are the best things about the movie, especially when they sing. In fact, the best thing about this movie is the songs by T-Bone Burnett and Ryan Bingham, so maybe it would be a better use of your time to merely buy the soundtrack album.

Even the Blu-ray is frustrating. The picture quality, which of course is 10080p (at an aspect ratio of 2.35:1), looks great. Colors are wonderful and there's excellent detail that lets you look closely at every line on Bridges' face. But the audio (dts HD Master Audio) is low, forcing us to crank up the home theater higher than the usual level to find an acceptable volume. This was very frustrating, especially during the concert scenes that should have really come alive and surrounded us with the experience. Here, there isn't a lot of surround use at all.

The Blu-ray is accompanied by a digital copy of the film on a second disc, in case you want to inflict it on your friends. The BD disc also comes with a bunch of extras, including deleted scenes, alternate music cuts and a feature wherein Bridges, Gyllenhaal and Duvall (the latter of whom was also a producer) tell you what appealed to them about the project.

Crazy Heart, from 20th Century Fox Home Entertainment
111 min. 1080p widescreen (2.35:1), dts HD Master Audio


Jim Bray's columns are available from the TechnoFile Syndicate.