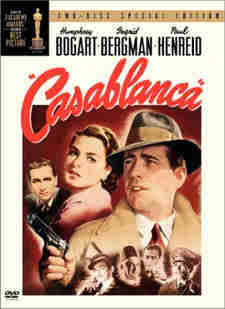 Casablanca, the Special Edition, on DVD
Arguably the greatest movie ever made, Casablanca has finally been given its due on DVD.
Casablanca, which has had such a profound effect on society that many of its phrases and situations are now in everyday use, is probably the perfect movie - if you ignore its cheesy special effects.
And now Warner Brothers has released this classic in a deluxe two disc version with remastered audio and video.
Probably the closest we'll ever see to a truly perfect movie, Casablanca is timeless. It's a tale of lost love, love regained, honor and duty; it has a terrific sense of humor and it's a movie that despite being in black and white and "narrow screen" (4x3 full frame) with mono sound works as well today as it did in 1942. Maybe better.
Humphrey Bogart stars as cynical night club owner Rick Blaine, whose Café Americain in Casablanca, in unoccupied French Morocco, seems to be the hub of just about all activity in the city. Ingrid Bergman shines as Ilsa, the lover who dumped Rick in Paris on the eve of the Nazi occupation, giving him the cynicism he wears on his sleeve as the movie opens. Paul Henreid is Victor Laslow, brave and charismatic leader of the underground resistance to the Nazis - and as we find out he's also bound to Ilsa. Claude Rains has the most fun, and the best lines, as Louis Renaud, a poor corrupt public official with a sense of humor and an eye for young women.
Then there's the rest of the main cast, including Sydney Greenstreet as a crime boss and owner of a competing night club, Peter Lorre as an oily, weasely small time hood with delusions of grandeur, and Conrad Veidt as the nasty Nazi Colonel who's there to ensure that Laslow doesn't spread his brand of hate (which to free people is a message of hope) beyond Casablanca. Each of these actors is perfectly cast and turns in a memorable performance.
We defy you to watch this movie and not be moved. From the scenes between Rick and Ilsa, and Laslow, to the incredibly powerful moment when the free French citizens of Casablanca drown out the Nazis' song in Rick'performances, the cinematography, and of course Max Steiner's magnificent score.
As they say, if you watch only one movie this year - make it this one.
The original DVD release was good, and included some good extras, but this new one really takes the cake. First of all, they've given the film a new, digital remastering and the result is a black and white image that's extremely sharp and contrasty, video that does Casablanca justice. It isn't widescreen, so owners of 16x9 TV's will have to stretch/zoom it to fit their screens, but that's better than cropping it artificially for today's aspect ratio.
Audio is a tad low, but the overall quality is fine.
Then there are the extras.
Disc one includes an introduction by Lauren Bacall, Bogart's widow, as well as two commentaries, one by film critic and rabidly brain dead liberal Roger Ebert - who, to be fair, knows his movie stuff - and one by author-historian Rudy Behlmer. You also get the original and reissue theatrical trailers.
Disc two has plenty more, and most of it has real red meat for Casablanca fans. Somehow, they managed to find some 10 minutes of deleted scenes and outtakes (though they're not the real meat), and a short featurette "The Children Remember": memories from Stephen Bogart and Ingrid Bergman's daughter Pia Lindstrom.
Our favorite stuff was a pair of Bacall-hosted documentaries, "You Must Remember This" and "Bacall on Bogart," both of which are fascinating looks at the film (in the first case) and the life and times of Humphrey Bogart (in the second case).
And get this: they've even included the premier episode from a 1955 Casablanca TV series, the Warner Brothers Looney Tunes homage "Carrotblanca" (which isn't bad, but which really misses Mel Blanc!), and some audio features: "Screen Guild Players Radio Production" with the three stars, plus rare scoring session outtakes.
There's more, too, including a gallery of the production's history with photos, press materials, studio correspondence, memorabilia, etc. And there's a DVD-ROM section as well.
It's a complete package that does justice to one of the, if not the, greatest American (dare we say from any country?) films ever made.
Casablanca, from Warner Home Video
102 min. full frame (4x3, not 16x9 TV compatible), Dolby Digital mono
Starring Humphrey Bogart, Ingrid Bergman, Paul Henreid
Produced by Hal B. Wallis
Written by Julius P. and Philip G. Epstein and Howard Koch, directed by Michael Curtiz