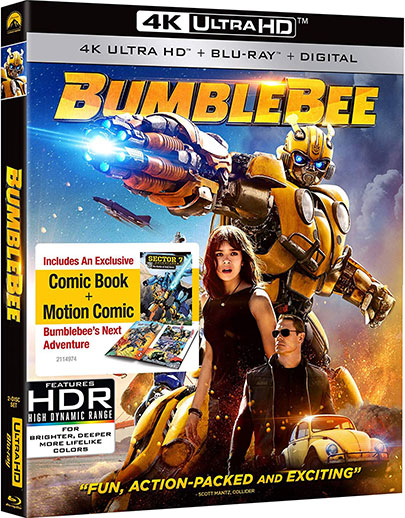 Of superheroes and transforming insects: Bumblebee and Aquaman come to home video
By Jim Bray
April 4, 2019
A couple of toys for the eyes, as well as "action figure bait," have hit home video and both Bumblebee and Aquaman are worthy of a visit to your home theatre.
Bumblebee, which Paramount wisely sent in the 4K disc version, is a kind of origin story in which we get to see the genesis of the plucky little transformer who in the previous Paramount series was a Camaro but somehow managed to become a VW Beetle here.
Fortunately, we get to see why, too. And that's great because, while my kids were Transformers fans when they were kids, I've never been able to "wrap my head around" giant alien robots that transform into Earth-centric vehicles. I mean, I'll suspend my disbelief at the drop of a hat if it's logical and presented well, but….
Ah, but when Bumblebee (who has yet to be given that name) comes to Earth after being sent here from Cybertron by Optimus Prime, we finally learn why they transform into vehicles with which we're familiar, as opposed to some alien vehicle more at home on Cybertron. Kind of, anyway. So, thanks for that, Paramount! Now I can suspend my disbelief again.
Bumblebee is a smaller movie, too, if such can be said of a Transformers flick and all its robotic mayhem – kind of a buddy film in which an angst-filled loner Charlie Watson (a girl this time, of course, given that male heroes are virtually verboten these days in Hollywood) meets up with a confused and lonely – well, Beetle.
The Beetle is languishing on a lot, waiting to be discovered by an angst-filled teenaged girl (Hailee Steinfeld), but Bee has its own angst – so much so that, shortly after he first gets taken home by the girl, he's surprised and taken aback by her and reflexively tries to "fender" off. Fortunately, this phase doesn't last or we'd have a much shorter movie.
Set in the 1980's time frame of the original Transformers stuff, it's a delicious period piece as well, full of '80's and earlier cars (I noticed a classic orange 1971-73 Datsun 240Z on hand that, other than its lack of rust, was just like the one I owned back then!). Ditto for the clothes, hairstyles – heck, the filmmakers even retroed an amusement park to reflect the era.
The story itself is more than a bit like E.T., with the human protagonist working to help a confused and lonely alien find its way, but there's more to it than that, including the mayhem we've come to know and expect (if not love) in Transformers movies. It's also quite funny in places, and I laughed out loud more than once, especially the scene in which Charlie is stuffing audio cassettes into Bumblebee's new audio head unit and Bee turns out to be quite the music critic (and with pretty good taste, too!).
They even do a decent tie-in to the rest of the series at the end, at which time we also find out how the Beetle became a Camaro.
I'd have preferred they kept it a Beetle…
The movie, presented at an aspect ratio of 1.85:1, looks and sounds great, on both the Blu-ray and 4K HDR discs in Paramount's package (it also includes a digital download feature – and a little comic book as well!). Naturally, the 4K version ups the visual ante, with photo-realistic robots that look as real as the real-life actors (some of them can act better, too…) and a spotless image that really pops off the screen.
Indeed, fine detail such as hair, rust on vehicles, signs of wear inside Bumblebee's interior, etc., is simply outstanding, though I did notice a few softer moments that are, fortunately, few and not too bad. And the black levels are rich and deep, which also helps things during the more dimly-lit sequences.  
Overall, it's a very nice example of the 4K species.
Unlike the overly bassy soundtrack of Aquaperson, Bumblee's Dolby Atmos (backward compatible to please those of us saddled with 5.1 or 7.1 systems), is excellent as well. Channel separation is first rate and the sounds envelop you nicely. It's a powerful and dynamic and very enjoyable track.  
Extras, as usual, are limited to the Blu-ray, but they're pretty good. There's a five part "making of" documentary that runs about three quarters of an hour and which gives some pretty good (though mostly kind of "promotional") look at the film's gestation, including a lot of references from cast members about how they grew up watching Transformers.
There's also "Sector 7 Archive", a short animated flick accompanying the movie and introduced by co-star John Cena; not only that, but there's a quick (not quick enough…) look at the robots at the beginning of the movie on Cybertron, as well as some deleted scenes and outtakes.
I've never been a huge fan of the Transformers or the movie franchise, though I do love the military hardware that has shown up in some of them. Bumblebee may be the best of them, though, and I must admit to having enjoyed it more than I thought I would. How's that for high praise?
It's also an very good example of the 4K UHD with HDR (Dolby Vision in this case) beast.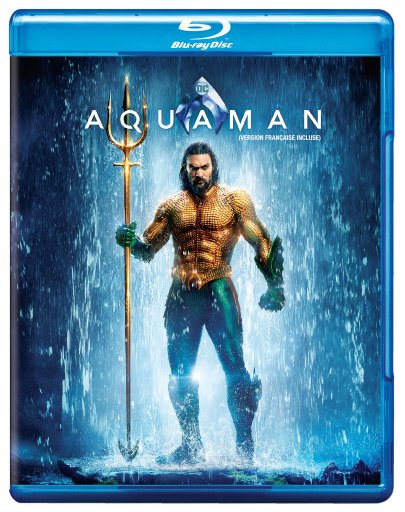 Watering down the DC universe…

Warner Brothers' Aquaman may not be a great superhero film, but it's certainly one of the better from the DC universe. And that says something.

Marvel has ruled the comic book movie universe for years, but when I was a kid reading comic books I was a DC guy – mostly Superman and Batman, though I remember the Justice League foks, including Aquaman from that era, too. Alas, with the exception of Christopher Nolan's Batman trilogy (Batman Begins, the Dark Knight, and the Dark Knight Rises), Patty Jenkins' Wonder Woman (er Wonder Person) and Richard Donner's original Superman from 1978, most of them have been pretty lousy.

I feared the worst going in. Aquaman has not only been given a bad rap by the nerds on Big Bang Theory, his character has also appeared previously in the horrid Justice League and Batman v Superman: Dawn of Justice movies. Those movies were directed by Zack Snyder, however, who is listed simply as one of the producers of this movie. That may have made the difference.

My big issue with the Snyder movies isn't just with the stories, though that's more than enough. His super hero films generally have a dark look to them that nearly makes 4K a waste of time – and casting decisions such as Ben Affleck and Henry Cavill didn't help.

Yet Aquaman is a lot of fun, looks great, and features a lead who's very likeable. Heck, while Jason Momoa is indeed a big, threatening guy who means business, there's usually a twinkle in his eye as well. I think he's the best thing about the DC universe since Gal Gadot. Funny how DC movies get better when Zack Snyder isn't in charge…

Sure, Aquaperson is no Ben-Hur – it isn't even to the level of Donner's Superman – but it's a lot of fun and simply amazing, visually. And (as with Bumblebee) if we've seen just about everything in it before (or heard – the opening sequence where Arthur "Aquaman" Curry's dad meets the woman who becomes his mum reminds me of the old folk song "The Eddystone Light") there's enough interesting, new or fun stuff to keep you going.

This, like Bumblebee and most of the best super hero movies (in my opinion), is an origin tale where we get to watch Curry grow up, find his destiny, and kick some underwater butt. Rather than follow his life growing up (as with Donner's Superman), however, we go from him being a toddler to him as an adult, with flashbacks along the way in which he's taught to be an aquaman by his mentor Vulko (Willem Dafoe).

The main story involves all heck breaking loose in the undersea world, with Arthur Curry's heritage rearing its ugly head when he's tasked to take his rightful place as king of Atlantis over the objections of his half brother Orm (Patrick Wilson). Orm is bound and determined to unite the undersea and oversea kingdoms with himself as supreme leader (Shades of General Zod), and upon their initial confrontation the unprepared Arthur loses to Orm (think Luke Skywalker in Empire Strikes Back) and thereafter sets off on a "Jason and the Argonauts-like" quest to find the Golden Fleece – er, Trident of Atlan, kind of a an Excalibur-like weapon that can be wielded only by the rightful King (and not that King Arthur!)

So, yeah, there's nothing derivative here…

What I really loved about Aquaman was the undersea stuff, with "humans" who are perfectly comfortable swimming instead of walking and a fantastic CGI undersea world that looks glorious. All of the special effects are top drawer, whether it be surface-based ships being tossed onto shore or just the mer-people's hair floating around their heads like little Ariel's did in Disney's original The Little Mermaid – except it's all photo-realistic here.

It's fun, it's a decent story, and it's a treat for the eyes – for what more could anyone ask?

Well, as with some other Warners titles I've reviewed, the audio soundtrack is far too bassy. It shook pictures on the wall and glass doors on our fireplace so badly I had to turn it down to the point where it wasn't loud enough in other sections. I've noticed this before with some Christopher Nolan titles and thought it was his editorial decision but maybe it's a corporate thing.

Whatever it is, I wish they'd resist the temptation. I like deep and loud bass as much as the next guy, but it has to match the rest of the audio signal and not overpower it.

That said, the rest of the audio track (backward compatible Dolby Atmos again) is terrific and very involving.

Since Warners only sent the Blu-ray package I can't comment on the 4K HDR picture but the Blu-ray is outstanding, so I can only speculate that the 4K version is even better and I'd love to have seen it that way.

The Blu-ray also comes with a DVD (remember them?) and a digital code.

The Blu-ray really does look great! Detail is "ultra" fine, colours are deep and rich and the black levels up the contrast ante substantially. This is indeed a reference quality BD disc.

Since there's so much CG world in Aquaman I was dying to see what the extras would cover and I wasn't disappointed. We get the usual cast/crew interviews and behind-the-scenes footage, a featurette with Jason Momoa opining about the character and himself, another one on Director James Wan, one with actor Yahya Abdul-Mateen II (who plays "Manta") and another featuring distaff stars Nicole Kidman and Amber Heard.

More interesting to me was "Aqua Tech" a too-short look at the CG effects and production design, "Creating Undersea Creatures" (which is just as it sounds) and "Atlantis Warfare", which gives more info on the effects physical and digital.

If that isn't enough, Dolph Lundgren reads (and not particularly well) a visal tour of the "Kingdoms of the Seven Seas," and there are some scene breakdowns. Capping it all off is a short preview of Shazam!, the inclusion of which I'm sure is completely coincidental to that movie's pending release.

I enjoyed Aquaman more than I did Bumblebee, but I enjoyed both of them a lot more than I thought I would. It's nice to see a good DC super hero movie again and I hope they can keep it up.

But if you have the equipment and the opportunity, see it in 4K.

Copyright 2019 Jim Bray
TechnoFile.com


Jim Bray's columns are available from the TechnoFile Syndicate.