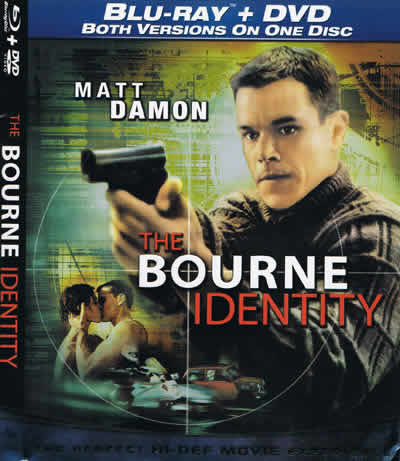 Universal's Flipper Discs Bourne to Spin
By Jim Bray
February 6, 2010
Universal Studios wants you to flip for the Blu-ray format.
Literally. In an attempt to help wean consumers from DVD's and encourage them to adopt the far superior Blu-ray high definition format, Universal has introduced "flipper" discs that contain DVD and Blu-ray versions of a title on a single, two sided disc.
It isn't a new idea, but it's new for DVD and Blu-ray and could be a convenient way for DVD owners to move into the high definition disc world, building a Blu-ray library even before picking up an increasingly affordable Blu-ray player.
The first flipper discs are of the Bourne trilogy – the Robert Ludlum spy thrillers starring Matt Damon as the amnesiac agent who it seems nearly everyone wants dead. Universal sent me all three titles (The Bourne Identity, The Bourne Supremacy and The Bourne Ultimatum) and I put them through their paces to see how they worked.
They worked, but the Oppo BD-83 universal player  (how's that for a coincidence!) didn't like them at all. I don't know what it is about Universal discs, but all three of these discs gave the player trouble, as does my copy Universal's release of Peter Jackson's King Kong.
The discs rattle in the player, though it subsides before long. It's really weird and annoying, though. In the case of the Bourne discs, which I assume are thicker than single sided discs, the Oppo didn't like the Blu-ray sides of 1 & 3, and the DVD side of 2. And The Bourne Identity froze completely about 10 minutes before the end.
At a particularly exciting part, of course…
I had to jump back to the previous chapter and try it again, at which time it worked fine.
Definitely a strange situation but one I've experience before, occasionally, with DVD's. And not necessarily Universal ones.
Noise and freezing reminiscent of winter 2009/2010 aside, the flipper aspect of the disc seems quite workable. My only issue is that they've eschewed the usual labels printed onto the disc surface (for obvious reasons), so if you want to know which side is which you have to check out the circle around the spindle hole: if it's blue, that's the Blu side. This can be a bit of a pain in a darkened home theater, but it's better than having to put on one's reading glasses to discern the even-smaller text around the spindle hole.
It was interesting reviewing a DVD again after so many Blu-rays have crossed my lasers in the past few years. I was struck by not only how inferior DVD's are so far as picture and sound quality are concerned – though up converting helps a lot – but by the clunky menus. Ironically, I had thought Blu-rays' pop-up menus (which let you access the disc's features without having to leave the movie) were a really stupid idea until I tried them, now I find DVD's about as compelling as VHS.

But if all you have right now is DVD, these flipper discs can help you transition to Blu-ray with less planned obsolescence.

Universal isn't the first to offer DVD and Blu-rays in one package (Disney, for example, has been pushing the concept for a while now), but it's the only one to do it via the "flipper disc" method. And to be honest, I wish they hadn't. Disney's "hybrid" packages include the Blu-ray and DVD (and a digital copy sometimes) on separate discs they can release in a variety of different package configurations. It just seems simpler and more user friendly to me.

Still, the Bourne Blu-rays are good. The picture quality on all three is definitely not reference quality, being a bit grainy and with color issues in places, but the dts HD sound tracks are loud and proud and make good use of your audio system.

The Blu-ray sides come with Universal's U-Control, a series of interactive features you can access during the movie. Take that, DVD side! You can also access BD Live via the Internet, though in my curmudgeonly experience I have yet to find much that's compelling online.

Universal also throws in a bunch of extras, including the usual "making of" features, bios of cast and crew and, of course, features about Robert Ludlum. There are commentaries, music videos, featurettes on the special effects, stunts, music, some deleted scenes, and plenty more. Between the three of them, which are sold separately, there's enough Bourne to choke a horse.

The movies themselves are ripping yarns. Matt Damon stars as, well, we aren't sure who he stars as when the first movie begins. We see him floating in the sea as if dead, bullets in his back. But you can't keep a good man down and there are three movies for him to get through, so he recovers.

The first film sees the bullet wounds being Bourne's least concern: he's also suffering from amnesia and remembers nothing about who he is or how he happened to be where he ended up. The only clue is a bank account number embedded in his hip (as if spies aren't hip, anyway!), so he heads for Zurich to see what that account will tell him.

On the way there - and at just about every turn through the rest of the movies – he's attacked (often apparently without reason) and discovers that, if nothing else, he's death on two legs, a killing machine whether using his hands or whatever else happens to be at hand. By the end of the movie we know Bourne is really a US government assassin and that his bosses think has gone rogue.

The Bourne Supremacy opens with his lover being murdered and him framed for the assassination of a fellow agent. Bourne is on the run again!

While searching for whoever offed his girlfriend, he comes to the realization that those pesky CIA folk are on his tail again and, unlike in the last movie, this time they really, really mean to stop him once and for all.

And in The Bourne Ultimatum , good old Jason wants to go back to the beginning and find out who he was. He undoubtedly knows that even if he sat down and watched the first two movies it would only give him part of the story, and he wants the straight goods, so we follow him from Moscow to Paris and London to Tangier and New York City as he searches for the truth while staying one step ahead of all sorts of people who wish him ill.

The rats!

I liked the first movie best, but all three are good mind games, full of action, car chases, and a lead character who, despite his brutal past, is more likeable and sympathetic than you might assume.

But watch the Blu-ray sides if at all possible!

Copyright 2010 Jim Bray
TechnoFile.com


Jim Bray's columns are available from the TechnoFile Syndicate.