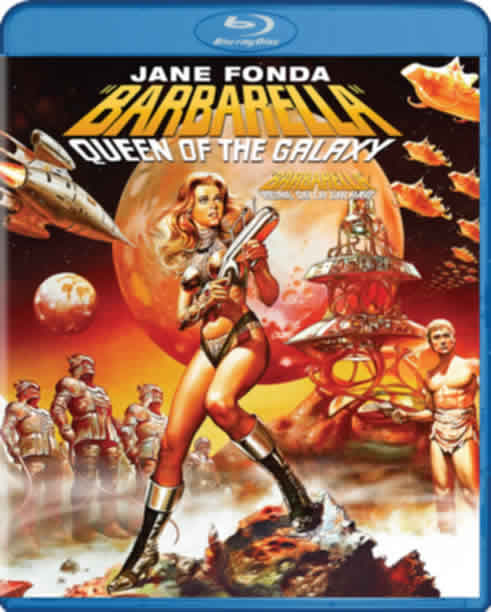 Hanoi Jane Fonda strips in high def, but better things are coming
By Jim Bray
June 30, 2012

A minor sci-fi classic hits Blu-ray this week, but if Barbarella (or Jane Fonda) isn't your cup of tea there are some better titles coming soon.

As for "Barbarella Queen of the Galaxy," while it's true that Paramount Home Video's brand new Blu-ray release of the Roger Vadim sixties camp flick certainly won't go down in history as a major sci-fi classic, as I said about its DVD release some years ago, it's the type of film that sci-fi movie buffs will want in their libraries anyway.

Pervs hanging out in mom's basement will probably get a prurient kick out of the high definition fleshtones, too.

The movie is actually based on the French comic strip of the same name, and follows a young Jane Fonda - as the titular interstellar "secret agent" - on a mission to the Tau Ceti system in search of missing scientist Durand-Durand (Milo O'Shea). Along the way she's attacked by demon devil dolls, birds, leather men, and the Concierge to the Great Tyrant herself.

But fresh, "innocent" Barbarella (she comes from an age of no war, no physical sex and, it sounds, not much fun) gains a lot of allies, too – all of whom with the exception of one are very male and interested in exploring Barbarella's feminine charms. This exploration opens the young space agent's eyes (and legs), showing her a whole new world of pleasure hitherto unknown to her and most earthlings.

Barbarella, the film, is a sex-drenched but lightheartedly enjoyable interplanetary romp. The film itself has virtually no pacing and a horrid, late '60's rock soundtrack that doesn't appear meant to enhance a scene but merely to accompany it – but it doesn't take itself seriously and that helps make it work.

And the production values are good, as is the cast. Hanoi Jane sparkles radiantly as the wide-eyed Barbarella. The movie was directed by her husband of the time and he does a fine job of making her look good, except that the darn placement of the opening credits keeps hiding the parts males really want to see. There is a pause control on your remote, however…

John Phillip Law, who went on to play the lead in Ray Harryhausen's "The Golden Voyage of Sinbad," plays the angel Pygar just right, while legendary mime Marcel Marceau actually has a speaking role as an eccentric scientist and Milo O'Shea makes an appropriately mad scientist with delusions of grandeur.

The Blu-ray certainly doesn't give you a lot other than the movie (the only extra is the trailer), but it's an okay representation of the film. The 1080p video is presented in a 2.35:1 widescreen aspect ratio and the picture is actually very good, indeed. Blacks are fine, those all-important fleshtones come through very well, as does fine detail. The high definition picture makes some of the blue screen and other effects shots look really obvious, and shows up some flaws in the sets' workmanship, but somehow that doesn't really hurt with this silly little flick.  

The audio is Dolby TrueHD mono, but I cranked it and it actually did a pretty good job of filling the room. It's no digitally recorded soundtrack, but all things considered it comes through well, with even some decent bass. 

On the whole, Barbarella – the movie and the character – still looks good after more than 40 years. It's a typical Dino De Laurentiis "cinefantastique" production (like his Flash Gordon and King Kong, lots of money was spent on it, but it's pretty lightweight) – but that's not necessarily a bad thing. Just don't go in expecting a science fiction masterpiece.

Phoning home…

On the other hand, a legitimate classic (perhaps arguably) is coming to Blu-ray in late October when Steven Spielberg's E.T.: the Extraterrestrial, is released. Universal promises a Blu-ray/DVD/UltraViolet digital copy combo pack with the original, 1982 theatrical edition of the film in its 1.85:1 aspect ratio and a 7.1 DTS-HD Master Audio track.

And it appears Spielberg has seen the light: he's apparently having the federal agents' guns that he had changed digitally to walkie talkies on the DVD (in a sop to political correctness), returned to their original high caliber glory. Now if only he could have a heart to heart with George Lucas, because there are many people who'd like a fine Blu-ray restoration of the original versions of his original Star Wars trilogy.

Don't hold your breath, though.

Spielberg is also connected with the fall release I'm looking most forward to: the Indiana Jones collection. Paramount is promising the original – and by far the best – entry, Raiders of the Lost Ark, is receiving a Spielberg and renowned sound designer Ben Burtt-supervised restoration with careful attention to preserving the original look, sound and feel of the film. The original negative was apparently scanned at 4K and then examined frame-by-frame so that any damage could be repaired. I can't wait.

The set will include all three of Indy's classic adventures, plus the fourth movie – which I've seen referred to as a free coaster included in the boxed set. You can decide whether that's a dig at Temple of Doom or Kingdom of the Crystal Skull. There's also supposed to be an abundance of extras.

Blockbuster release…

Meanwhile, Disney promises that this summer's biggest adventure, Marvel's The Avengers, will hit Blu-ray/DVD combo pack in 2D and 3D September 25. I was actually dragged to a movie theater to see this while on vacation and, while the theater was actually (and surprisingly) pretty good, I look forward to the even better Blu-ray picture and lossless sound. It's a terrific summer movie and it should make an excellent Blu-ray.

And finally, if you've been waiting for that inevitable deluxe boxed set of all the James Bond movies,  your wait will be over this fall with the release of the entire series on Blu-ray, to coincide with the 50th anniversary of Dr. No. The set will includes Videoblogs filmed on the set of Bond's latest adventure, SKYFALL.

The collection will be available in North America on September 25 and apparently marks the debut of nine Bond films that have been unavailable previously on Blu-ray. It will also come with a dossier of more than 122 hours of bonus features.

Guess BD fans can look forward to a sedentary fall!

Copyright 2012 Jim Bray
TechnoFile.com


Jim Bray's columns are available from the TechnoFile Syndicate.