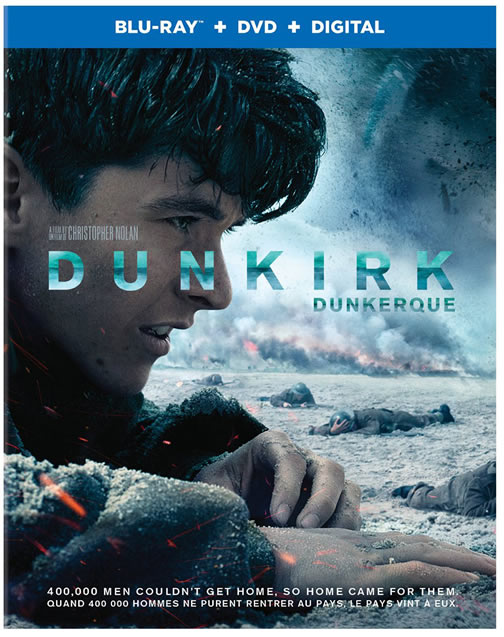 Dunkirk soars onto 4K disc - while LEGO's ninja flick plummets
By Jim Bray
December 15, 2017
Christopher Nolan's Dunkirk is a marvelous cinematic achievement, and the best way to experience it is not only on the biggest screen you can find, with the biggest sound, but also via Warner Brother's new 4K HDR disc version of the 2017 hit.
Dunkirk, of course, was a terrible defeat for the Allies at the beginning of World War II. The German forces' invasion of western Europe had stranded hundreds of thousands of soldiers, the lion's share of whom were British, between the Axis advance and the English Channel. There they waited either for rescue, or death - depending who got to them first.
That's where Nolan's film begins, literally with a bang as one soldier (well, he wasn't alone originally, but such is war) flees the invaders, climbing a fence and running down narrow streets until he emerges onto the Dunkirk beach to find he's no longer alone: he's just one of those hundreds of thousands of souls with nowhere to go.
Speaking of "with a bang," the audio soundtrack of this movie - in typical Nolan tradition - is very, very loud and dynamic and because of that I actually jumped a few inches into the air a couple of times when ammunition started flying. I also had to turn my Rotel audio system down about 10 points from my usual listening level, lest the windows of my home theatre be blown out.
It was glorious!
Nolan, whose last outings included the excellent Interstellar and the equally cool Batman "Dark Knight" trilogy, has made some fine flicks in the past, but Dunkirk takes everything he's done and elevates it to the next level. It's also a fine example of how movies used to be made because, as you'll learn in the very substantive set of supplements that take up their own Blu-ray disc, Nolan did his utmost to eschew digital CGI effects in favour of getting it all on film, on set or location. And it shows.
Indeed, Dunkirk is not only an excellent war movie, it's an excellent example of the art of movie making. Nolan isn't afraid to take risks, either, beyond the time, effort and (perhaps) expense of doing everything "live". Here, in a very non-traditional move, he gives us three different timelines for the three main stories the film recounts.
The beach scenes ("The Mole") unfold over a period of a week, while the scenes in the Moonstone (the little boat in which an ordinary citizen and his sons head to Dunkirk to help bring the boys home happens in a single day) happens over a 24 hour period. My favourite scenes (since I'm an aviation buff who once had a pilot's license) follow the British pilots on their support mission - a timeline that unravels in a single hour. Blending these in a way that isn't too confusing for the audience is a real challenge.
There can be some confusion as we see the same events unfold repeatedly as they happen in each timeline (actually, from the perspectives of those who are actually living that particular timeline), but the repetition actually helps the action and situation sink in more - and I had no objection to seeing the beautiful Spitfires again and again and again, from different perspectives. I imagine the same can be said for naval buffs, with the variety of ships and boats on hand in Dunkirk.
My favourite line came when the Spitfires were approaching the plucky little Moonstone and its skipper (Mark Rylance), without seeing them yet, tells his kids they're Spitfires because he recognized the song of the Rolls Royce Merlin engine that powered them (and, later, the P-51 Mustang and Avro Lancaster). I laughed out loud, not because it was funny but because I was thinking exactly the same thing about the classic Merlins. Nolan took the effort to get the sound right.
As the three timelines intertwine, we are treated to a heartbreaking yet uplifting true story of ordinary people who, after having sent their sons to fight a hopeless battle, had the courage and the wherewithal to go and pick them up again - under fire - when push came to shove. And they did it with hundreds of private boats piloted by private citizens whose efforts allowed Britain and her allies the opportunity to "fight again another day," and we all know how that turned out.
Imagine; if the Brits had lost those 400,000 people on that beach, who'd have been left to invade Normandy four years later? Sure, there were other nations involved, including in the evacuation at Dunkirk, but if the Nazis had prevailed at Dunkirk, would the Allies have had the heart to continue? I have no idea, and I'm very glad we didn't have to find out.
On the other hand, nearly 45 years ago I married a woman of recent German ancestry and I drive a German car now, so maybe they won after all…
Dunkirk doesn't feature a lot of dialogue, telling its story visually and using Hans Zimmer's score to heighten the tension (I think the score is Dunkirk's weakest element, but it does work as intended - I just didn't like it). Despite their lack of lines, however, the ensemble cast does an excellent job of communicating what they're experiencing.
Dunkirk doesn't have a really bright and colourful palette either, looking a little faded (or "earth toned") - kind of in the manner of "Saving Private Ryan," but that doesn't mean you're not in for a 4K treat! So while it isn't as bright and colourful as, say, Guardians of the Galaxy, Volume 2 it's still bloody fine, indeed, reference quality.
Check out the detail on the uniforms, on the surfaces of things. Viewing the Spitfire cockpits (which as it turns out, weren't really Spitfire cockpits) and their pilots' helmets, it almost looks as if you could reach in and grab the joystick. This is not only due to the 4K HDR treatment, but to the fact that Nolan filmed something like 70 per cent of Dunkirk in IMAX and, other than the changing aspect ratio during the movie, it shows in fine detail and viewer involvement.
Check out the supplements to see the issues that the IMAX cameras created!
That said, the 1080p Blu-ray that's also in the package looks darn great in its own right - but if you have the tech to exploit it, the 4K version looks appreciably better. It's a real treat, at either of the aspect ratios Nolan uses (IMAX's "full screen" 16,x9 and 2.2:1).
The audio, besides being so loud, is outstanding. Warners has chosen to eschew Dolby Atmos for this title, using DTS-HD Master Audio 5.1 instead, which seems like an odd decision but, since I and most other people still only run 5.1 channels, it's also kind of a moot point.
I don't know how much more immersive a soundtrack could be than this one anyway! All of the channels get a terrific workout, and your subwoofer may be so tired once the credits roll you'll have to send it on a vacation for a couple of weeks. Yet you never miss the dialogue, such as it is.
I watched Dunkirk on a 55 inch Panasonic 4K TV, video signal routed directly from the Oppo 4K Universal disc player with the audio going through the abovementioned Rotel system. Other than me wishing for a larger screen, it was a fantastic way to watch it.
The supplements give really good insight into the making of the movie, and they also pay tribute to the real life event as well and the people involved. All of it is well worth your time. The supplements are broken up into sections dealing with different aspects of production as well as the different timelines - so you get more general overviews and then "land," "air" or "sea" sections followed by a wrap up that, believe it or not, wraps it all up - and in a very satisfying manner.
Dunkirk is my movie of the year, which surprised me a tad after having loved Guardians of the Galaxy, Volume 2 as much as I did. But while "Guardians" is a fun romp that looks great in 4K, Dunkirk is a true life "adventure drama" recreated remarkably for the screen, and not only does it pack an emotional wallop, it's also an excellent 4K experience.
I think I'll be watching this a few more times over the Christmas season, and will use the disc as a reference when reviewing audio/video hardware going forward (along with Guardians, of course). It's definitely a keeper!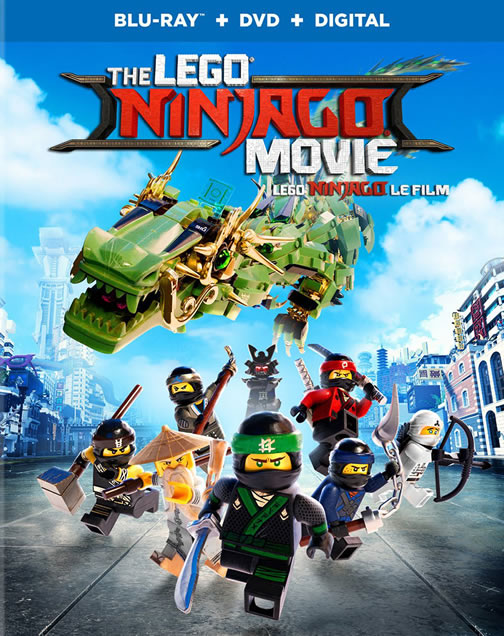 LEGO nearly drops a brick…

Meanwhile, Warners has also unleashed another LEGO movie, this one treating audiences to a Ninja-type adventure known as "The LEGO Ninjago Movie." I was curious to see it, since the LEGO Batman movie had me laughing out loud several times.

This one starts of well, though it's a bit of a Gremlins ripoff, and I did laugh out loud again, but then the movie kind of loses its mojo and ends up being a rather schmaltzy tale that runs out of steam long before its running time does.

It sure looks and sounds great on its Blu-ray incarnation, though! There are some very cool virtual sets and machines in it, too!

The movie is about a group of ninjas who repeatedly fight an invading warlord, but who are really just regular nerdy high school kids, one of whom has a bizarre relationship with the head bad guy. 

My favourite thing about the movie is the giant monster the bad guy releases to wreak havoc on the city, though it's the only non-LEGO thing (other than brief "pre and post-ambles") about the movie. It's a pussycat that appears to have been drawn to the city by the ninjas' misuse of an "ultimate weapon" that turns out to be a laser pointer! Yep, the movie spends quite a bit of its time pussyfooting around!

I did love the LEGO world here, which is made up - surprise, surprise! - of LEGO bricks and Lego themes.

There's lots to like here, but I didn't think it was nearly as good as the Batman flick. It's a very nice example of Blu-ray, though, with exquisite picture and sound quality. The package Warner Brothers sent includes 2D and 3D versions (I didn't bother with the 3D, being mostly immune to - and incapable of seeing properly - that gimmick) and a digital download code.

The 1080p video presentation looks great, and the soundtrack (backwards compatible Dolby Atmos) is top notch as well. There's even a decent set of extras, though they pale in comparison to the real substance offered in Dunkirk's supplements.

But the kids'll probably love it and it's entertaining enough to sit through with them at least once.

Copyright 2017 Jim Bray
TechnoFile.com


Jim Bray's columns are available from the TechnoFile Syndicate.