Zagg's FLEX-ible Bluetooth keyboard, Epson's flexible label maker, and Eagle Vision flexes its rock muscles again
By Jim Bray
March 8, 2012
Apple's iDevices have certainly spawned a cottage industry of companies making stuff to enhance the iExperience, including Bluetooth keyboards that can arguably let you type more naturally than you can on the iDevices' built in virtual keyboard.
The latest to cross this desk is ZAGG's ZAGGkeys FLEX, a standalone keyboard that not only works with Apple's stuff but which is Android compatible as well. It's $80 price may seem a tad high, but the product works well, offering a much better typing feel than the virtual keyboard – and even than the tiny keyboard on the Zaggmate Bluetooth keyboard/iPad case I reviewed last year.
I still love the ZAGGmate, but my stubby fingers just can't get comfortable on the case's little keyboard so now I use it chiefly as a tough, metal case to keep the glass on the front of my iPad safe. The ZAGGkeys FLEX isn't a case at all, but it's much better to type on.
The typing feel isn't as good as what my PC's keyboard gives me, but it's okay – and its extreme portability more than makes up for any tactile troubles, which are minor anyway. I also love that I can use it with my Android smartphone, whose own virtual keyboard is so small I can barely use it at all. ZAGG says you can use the FLEX interchangeably with the iPad, iPhone, iPod touch, Galaxy Tabs, Android devices, and some smartphones. That's a nice bit of flexibility.
Hence the product's name I guess.
The ZAGGkeys FLEX' rechargeable battery is claimed to provide literally months of use between charges. I haven't had to charge mine yet and, Murphy's Law being what it is, I figure I'll probably forget all about it and end up with a dead keyboard one of these days – undoubtedly when I need it immediately to write the next Great Work of Art.
The FLEX also comes with function keys designed to exploit "the most essential features of your device". They include "Home," "Search," "Slide –Show" and "Keyboard Hide/Show," as well as cut/copy/paste and music transport and volume controls.
Pairing the device is easy; you put your device into "Find" mode, the press the "Pair" button on the keyboard and enter the code the device gives you. You can only have it active on one device at a time, but I don't mind that: it beats having the devices fighting over who's going to use it.
The Flex also comes in a little case of its own, open at each end, which doubles as a stand for your device. It works well, though in my ham-handed way I have trouble getting it folded up properly with the keyboard inside so it fits flat. That strikes me as a bit of a design flaw, albeit a minor one – and it can also be argued that it's purely operator clumsiness.
Making Labels Attractive
Epson's  LabelWorks LW-400 is a neat little printer that brings incredible flexibility and opportunities for creativity to a field that used to consist merely of little tape-based impact-type printers.  This cute little thing, though a tad intimidating when you first look at it, gives you an easy way to choose from a variety of framing options, and you can also use different fonts and colors with more than 20 kinds of differently sized and colored tape available for it. You can even use glow-in-the-dark, iron-on stuff.
The thing comes with 14 fonts built in, 10 styles, more than 400 symbols, and over 75 frames. You can also choose from eight different styles of barcodes to print, which could be handy if you want to put them onto your kids' clothes so you can keep track of them. The Old Woman who lived in a shoe could have used something like this!
We used it to make place cards for a dinner party, as well as other stuff, but you can do so much else with it. Unfortunately, the device arrived when I really didn't have a lot of time to play with it – and then Epson wanted it back – so I didn't come close to exploiting its possibilities. Too bad; it's the kind of thing I'd like to keep around the house because we're always needing labels for something or other. I could see using it to put big labels on boxes, to identify what's inside, and if I'd had time I would've made new labels for all my audio and video cables to help keep track of all that pasta behind my components.
And that, of course, barely scratches the surface.
The printer can take tape up to three quarters of an inch wide, with up to four lines of text (address labels, anyone?).  Its display is backlit, which is nice, you can store up to 50 files in its memory, it supports seven languages and is very quiet in operation.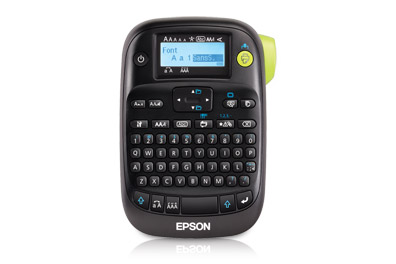 Epson lists the unit for about $50 U.S., which seems pretty decent for what you're getting.
Eagle Rocks On…
I must also make quick mention of another couple of excellent Blu-rays from Eagle Vision, a company that has a great track record at unleashing high quality HD concert discs. One is a Santana concert and the other is a look at the classic Doors album L.A.Woman.
I'm a fan of both bands here, especially the Doors, and I've looked forward to a decent Santana concert for many years. This one, from the 2011 Montreux festival, is a dandy, mostly. As more of a passing fan than a fanatic, I didn't recognize the first three numbers – and now that I've heard them I hope to never experience them again. That said, however, Carlos and his very tight band go from there into the opening four numbers from Abraxas, my favorite Santana album (yeah, I'm that old) and the performance is just what I'd hoped for.
There's a lot of meaty music on this disc's 204 minute running time, culled from the band's more than four decades, including stuff from their first album (Evil Ways and Soul Sacrifice, for example), through Supernatural (Maria, Maria, Smooth), though it's nearly ruined by a naïve, left wing political rant from Santana that very  nearly caused us to shut it off (we fast forwarded back to the music instead; shut up and play/sing, Carlos!).
Audio and video quality are first rate, helping to make this a very enjoyable concert if you skip the first couple of songs and the rant.
Bonus material includes interviews with Carlos Santana and Cindy Blackman Santana as well as some behind the scenes stuff.
The Doors disc: "Mr. Mojo Risin': The Story of L.A. Woman," is a fine look at the last Jim Morrison album from this great band. I wish there'd been more of the actual songs being performed, but I have the album on DVD-Audio anyway (and it's a fine release for that format!), so it isn't a big deal.
Telling the album's story are the band's surviving members, Ray Manzarek, Robbie Krieger and John Densmore – who offer some fascinating insight into the album, the band, and the iconic Morrison. Also on hand are Elektra Records founder Jac Holzman, their original manager Bill Siddons, engineer/co-producer Bruce Botnick and others.
The Blu-ray includes live and in-studio performances, rare archival photos and footage of The Doors in the studio and on stage (some of the footage has been circulated before, but that's okay).
Audio and video quality, not surprisingly, are all over the map, with the newest stuff looking and sounding the best. All things considered, however, it's a good presentation and well worth a boo from Doors fans, many of whom will undoubtedly form a "Soft Parade" to their video store to pick it up.
Copyright 2012 Jim Bray
TechnoFile.com