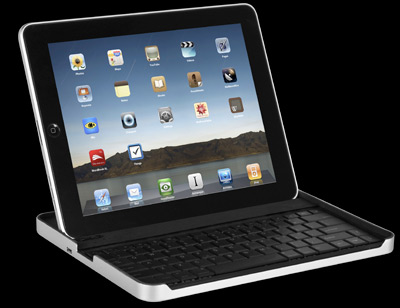 After Market Companies Make a Case for iPads
By Jim Bray
May 6, 2011
With the success of Apple's iPad comes not only a plethora of wannabes, but an abundance of accessories to help enhance your life with the wonderful little tablet.
It seems as if there's something for just about anyone, too. Well, anyone who has an iPad...
I purchased the original iPad when the price dropped after Apple unveiled the sequel. I love it and have to admit that I rarely use my netbook any more (and I love my netbook) because of it. Besides using it for my own work, the iPad also gives me the opportunity to try some of these add-ons, including the stuff here: a trio of cases/holders, a Bluetooth speaker system, and a game.
The three iPad holders are decidedly different, but each has its strengths. The best of them – at least from a flexibility and features standpoint – is the ZAGGmate, a combination cover and keyboard (though you can get it without the keyboard if you want). It's a terrific idea and, at a hundred bucks, a pretty decent value.
Zagg, a company well known for making a wide variety of iPod, iPhone, iPad and smart phone accessories, also makes what they call the Logitech Keyboard Case for the iPad 2, though there doesn't appear to be any really compelling difference between it and the ZAGGmate other than the differences between iPad versions.
The $99 ($49 without the keyboard) ZAGGmate is an excellent product. Made of "aircraft-grade aluminum" with a bead-blasted, anodized finish that matches the iPad's very well, it fits snugly over the iPad, covering the screen side of the unit but with cutouts for the connector cable, volume controls, and the like.
Alas, the cutouts are backwards: they're designed so the iPad sits with its home button on the left side, which means that when you open it the volume buttons are on the bottom. This means you have to flip the iPad around when you're taking it out or putting it away if, like me, you prefer the volume controls on top.
ZAGG says the Mate also offers military grade high-density padding (a type of foam, basically) to help protect your iPad if you drop it – which I've done, I'm embarrassed to admit. Fortunately, the ZAGGmate did its job and I didn't have to pick up pieces of iPad from the asphalt upon which it landed with a resounding and embarrassing "thud."
The ZAGGmate's little plastic folding hinge can be used to prop up the iPad in portrait or landscape mode, either nearly perpendicularly (like a netbook computer with its screen up) or at just enough of an angle to allow for easier viewing on a flat surface.
The size is perfect – maybe a bit too perfect: it's so snug that it's a bit of a chore getting the iPad out of it without breaking a fingernail – though I guess that's better than it being too loose, especially if you drop it.
If you've ever cursed the iPad's onscreen keyboard for its lack of tactile feel, you may love the Bluetooth keyboard that's built into the ZAGGmate. And it even goes to sleep after a while to conserve battery life: while I don't use it much, I've only had to recharge it once over a period of about a month. The "Sync" button that pairs it to your iPad is pen tip-sized, but I can use the corner of my thumbnail to press it instead of having to search for a pen.
The downside is that the keys are very small and their mounting deep in the case (not that there's any other way I can think of for them to do it), which makes typing on it a tad cramped. In some ways, it's actually harder to type on than the on-screen keyboard, but the more I use it the more I get used to it and the more I like it, so it appears to be a problem that solves itself over time. Besides, I have stubby fingers and that doesn't help.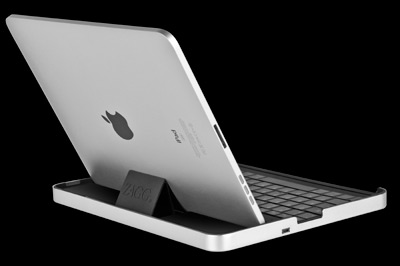 ZAGGmate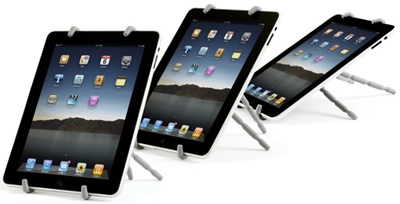 Spiderpodium Tablet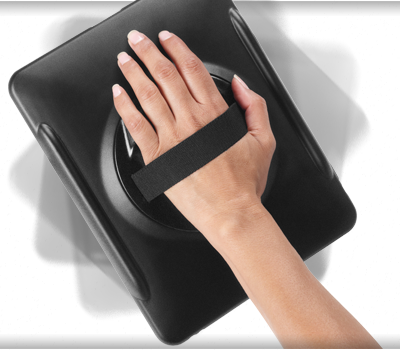 HandStand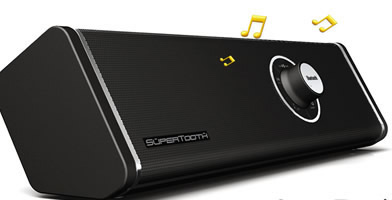 Supertooth Disco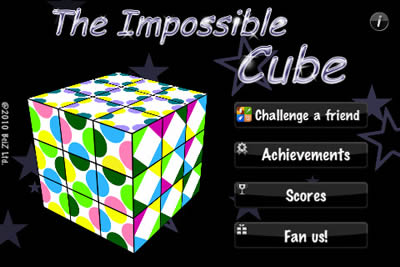 The Impossible Cube
The ZAGGmate also has keys the on-screen keyboard doesn't, such as volume, mute, play/pause/forward/back, Home, Search, Slideshow – and there's even a button to bring up the on-screen keyboard if you want to use it instead, which I find quite handy at times. And of course there are the usual tab, control, alt, apple-command, and cursor control keys.
It works great as a stand and as mentioned it works great in both portrait and landscape, though I find landscape more natural and laptop-like.
Even though you can get the ZaGGmate without the keyboard, I'd opt for the keyboard anyway, for its extra flexibility and the handy media keys.
The only real caveat comes when you want to move the iPad/ZAGGmate combo from one place to another: you either have to pack it up again or use two hands. Not a big deal, perhaps, but something to consider.
Which brings me to Breffo's SpiderpodiumTablet, which works with either iPad generation, the Motorola Xoom, Dell Streak, Galaxy Tab, EeePad and just about anything else you can think of short of a partridge in a pear tree.
This device, priced at 25 British pounds on Breffo's website, is incredibly simple, yet really handy, and it's flexible enough that you should be able to take it with you when you upgrade your equipment to whatever comes down the road in the future. In the meantime, you can take it with you pretty well wherever you go, including using it in your vehicle – where it could come in really handy if, for example, you're using your tablet as a navigation system or for playing movies to keep the ankle biters in the back seat occupied.
Basically a big Daddy Longlegs on steroids, you can position the Spiderpodium's eight legs however you want, using four to hold the tablet itself while using the rest to position or mount it where you want. It holds my iPad for easy reading and touching beautifully, and it works as well on my lap as it does on a flat surface.
The only thing I don't like about it is that if you're taking it somewhere, such as on a business trip, you'll want to fold it flat again for packing. That's what happens when I try to pack it in what my wife refers to as my purse, stowing it along with other junk including the iPad, my Toddys and whatever other stuff I can cram in. This means bending it flat to pack, bending it back into shape at the destination, and flattening it out again when it's time to come home.
To be fair, it isn't a huge deal, but it's more work than I like.
The ideal solution would be to have two Spiderpodiums (Spiderpodia?), one that stays home and one you take with you, which I'm sure the manufacturer would be more than happy to see as well.
The HandStand is one I'm happy to leave at home, since it doesn't fit in with my lifestyle, but I can see the $50 device coming in extremely handy in a professional environment where you wander around with the iPad, using it to input data (or whatever your gig entails) as you go, perhaps in a warehouse or hospital environment.
If that's how you use the iPad, the HandStand could be the greatest thing since sliced bread. It lets you hold the iPad in one hand, without worrying about dropping it, while keeping the other hand free to make gestures or to interact with the iPad.
You mount the HandStand on the back of your iPad, with the screen facing up. Then you slip your paw into the little handhold on its bum, where it's held firmly in place by a strap. Its rotating base lets you spin the iPad 360 degrees (to amaze and delight your friends, or possibly to generate wind power) or merely to switch from portrait to landscape mode easily, for lefties or right-handed folk.
And since your hand is actually behind the iPad, you won't find yourself launching apps by mistake.
As I said, it's not for me, but in the right application it could be wonderful.
Speaker of the House
Then there's the SuperTooth Disco, a handy speaker that works great with the iPad, smart phone, music player or whatever other device you may have that can stream audio via Bluetooth. I use it regularly when I'm working out, and it's small and portable enough to travel with you, using it in your hotel room, at the picnic table, or wherever else you need to inflict audio on an unsuspecting public.
The $149 device can plug into the wall, but it also has an integrated rechargeable battery the company says ensures up to four hours of non-stop, high volume music – or up to 10 hours of "moderately played tunes," whatever the heck that means.
I took it on an assignment and used it in my hotel room, where it was simply marvelous. Since it's wireless you can leave your source device in one place and take the SuperTooth Disco with you to the loo or wherever, for uninterrupted tunes. I also placed it on the bedside table and went to sleep listening to favorite tunes; the battery ran down overnight, so I didn't even need a sleep timer.
I'm not sure I'd want to really crank the Disco because, while it sounds fine for moderate volumes, its 28 watt output is definitely not high fidelity material.
Don't take that as a putdown. The SuperTooth is terrific; its sound is decent and its flexibility is incredible. Heck, it even has an auxiliary input jack so you can use it with non-Bluetooth devices, and its simple control panel can let you operate the connected device via play/pause, track skipping, etc.
There's also a bass boost feature, like a "loudness" control, that gives you a little extra oomph at low volumes.
Despite my tendency toward audio snobbery, I like the SuperTooth Disco and use it all the time. So far I've only used it indoors, but I'm looking forward to using it for streaming tunes to my patio when we barbecue or entertain.
Assuming the snow here in the foothills of the Rocky Mountains ever stops …
The SuperToooth Disco even comes with a nice little case that protects it while still letting you use it. And it probably keeps the snow from shorting it out…
Finally, I checked out BeiZ's "Impossible Cube" game, a 99 cent app for iPhone or iPad. Kind of a virtual Rubik's Cube for the new millennium, the game consists of nine squares whose edges you have to line up so the patterns all match. Once you do that, you flip the Impossible Cube around to the next nine square face and do it all over again.
I hate this game. Not that it isn't intriguing, or a good time waster – but I suck at it and it got me addicted enough to keep going to the point where I'm now stuck hopelessly on one particular face and suffering severe feelings of inadequacy.
I'm thinking of suing the maker for mental distress.
Be warned!
Copyright 2011 Jim Bray
TechnoFile.com