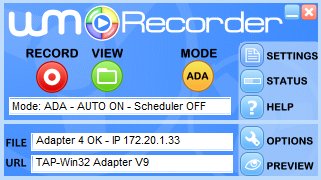 WM products let you record, monitor Internet video
By Jim Bray
July 6, 2012
You've just seen a video you YouTube that you just have to have. You don't want to just share it, mind you, you want to own it – safely on your hard drive. What to do?
Well, copyright questions aside (and there's a difference between personal and commercial use) you could partake of a couple of nifty little programs, one called WM Recorder and another called VideoClone, both of which are different ways to capture those videos onto your hard drive.
Perhaps the most timely of the products is VideoClone, because it's a nice way for those of you who live and breathe Olympic coverage to not only record live video as it streams, it also lets you watch it in a little Picture-in-Picture window so you can keep an eye on the hunt for gold while still being productive.
On the other hand, there goes your excuse to knock off work!
VideoClone, which sells for $19.95, clones a video that's playing in your browser, placing its little PIP window on top of all your other windows, at any size and position you want. You can keep other programs open or browse other websites all while never losing the video you're watching.
In function, it's very much like the Picture in Picture feature available on some TVs, except that you can do more than just switch between two video channels; you can work with other apps or do whatever else you want while the cloned video streams into its secondary window.
The maker says VideoClone will work with any streaming site – which is where the YouTube connection comes in – but especially handy with live streams, having been designed specifically for use in watching live sports or news. It's also supposed to work with chat sites, but I haven't – and won't – try that, social media curmudgeon that I am.
On the other hand, as I write this I'm streaming the live Calgary Stampede parade, which certainly beats battling the crowds!
The program is very easy to use. All you have to do is find your window or stream, click "get video" in the VideoClone interface, and the software detects the video and marks it automatically. If the video is inside a window on a web page, you can highlight that window, click "accept" and Robert's your uncle. Recordings are saved in WMV or AVI formats.
It works well, as does the YouTube recording function, though I noticed that the quality isn't what I wanted when I cloned some HD stuff – and one interview I recorded cut the bottom off the screen, though that turned out to be operator error, when I was still messing with proper window sizes. Once I got a handle on that (which was actually quite obvious one I paid attention to what the instructions said, as opposed to what I thought they said!)
Fortunately, the company has another little doohickey on hand that works even better at recording online videos for posterity.
WM Recorder, which sells for $50, is billed as the "first streaming video recorder that can make exact digital copies of internet video and audio in all the popular formats, including Flash, Windows Media, Real Media, MPEG and Quicktime streams." Now in version 14, WM Recorder records streams automatically, even if you don't actually play them (they just have to appear on the screen) and the included companion app WM Converter lets you save them as AVI, iPod/iPhone, WMV and other popular formats.
Porn lovers will undoubtedly really get off on it!
Using WM Recorder really is child's play. All you have to do is fire it up and surf to where the video is located and the software automatically identifies and downloads it. As mentioned, you don't even have to watch the video as it stream; it appears that Recorder downloads a copy of the actual video file from the source, instead of merely recording the stream. This can be a great time saver!
You can also buy the WM Recorder Bonus Bundle for $79, which seems pretty reasonable if you use this type of thing a lot. The bundle also includes WM Capture (which records video from ANY web site or player by capturing directly from your screen: "If WM Recorder can't download it, WM Capture can record it - with amazing high quality," says the company's blurb).
The Bundle also gives you the aforementioned VideoClone and another app called WM Splitter, which lets you trim portions of audio and video files – for instance, to get rid of the darn commercials so many of them have when you fire them up.
I found a bunch of videos on YouTube that I wanted to record so I could burn them to a DVD as a gift to my father. These were videos of classic, World War II aircraft (period and modern videos), including the extremely rare and mostly forgotten Halifax bomber he flew in that conflict. I wanted the recordings because my Dad doesn't have a computer or a tablet, let alone Internet service, and since he lives thousands of miles from me he'd never see these videos if I didn't record them for him.
WM Recorder made capturing them child's play – the darn thing actually captures every video on the web page (commercials, whatever), so you may have some extra files to delete once you're finished, but that's better than not getting the ones you really do want.
Recorder also lets you preview, pause, rewind and fast forward streaming Flash videos, and there's a scheduling feature that's supposed to let you record broadcast streams automatically. I haven't tried that particular feature, but if it works as well as the rest of the app it should be a great way to record your favorite talk radio shows (or whatever) when you're not around to listen to them live. 
Recorder 14 can also record live feeds from online sources such as BBC and ClearChannel, sources the manufacturer says have switched to new formats that other packages might have difficulty handling (at least for now, competition being what it is). They also claim you can record up to 100 radio stations simultaneously with no loss in quality. I didn't try that, either, and can't imagine why anyone would want to do it, but I suppose it could come in handy if you're monitoring your commercial buy or want to get different takes on a news event's reporting.
Heck, you might even be able to use it dig up the truth, rather than the typical media chorus's spin!
WM Capture records any video playing on a PC with "near-perfect quality," creating unprotected video files from any part of the screen in real time. It uses a high-speed MPEG-2 codec to record and compress video quickly, which the company says creates better picture quality.  
Developer Alex Urich describes the $40 Capture as "the first program of its kind to offer all this recording capability for less than $100," saying "WM Capture brings to the consumer a type of technology that was only available for professional applications. Now everyone can capture any moving image on screen and watch it with perfect clarity."
The stuff does appear to work as advertised, and they're easy to use and quite flexible. Not only that but the online tutorials use screen captures to show you how to work the stuff (though I noticed at least one discrepancy between the screen caps and the menus on my copy), and that for the most part makes the stuff even easier to use. And it certainly beats the typical user's manual!
Copyright 2012 Jim Bray
TechnoFile.com