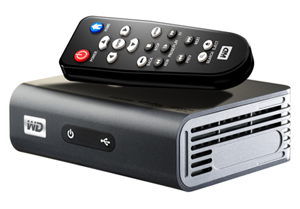 Western Digital and Logitech Bring "Harmony" to Home Theaters
By Jim Bray
August 21, 2010
Creating a gadget that's easy to use is almost like the search for the Holy Grail, as electronics manufacturers strive continuously to find ways to make sophisticated stuff that makes non-tech folk's lives easier.
I've been messing around with a couple of home theater-related pieces that aspire to just that ease of use, and both of them succeed pretty well. One is Western Digital's Live HD Media Player; while the other is Logitech's Harmony 650 "nearly universal" remote control for your audio and video equipment.
Streaming music and other media around the house – bringing musical harmony to all your devices – is getting increasingly popular and, after ignoring the trend for a few years, I've gotten hooked on it as well. It's incredibly convenient and, though the files can be "dumbed down" to make them smaller and more portable/streamable, you can still get darn fine audio quality as long as you remember the facts of "garbage in, garbage out".
So when Western Digital offered me what they bill as "the First Network Media Player Compatible With Windows 7", I figured it might be worth checking out.
And it was, though it ain't perfect by any means.
The WD TV Live HD media player offers full HD 1080p resolution and not only connects to your home network, it also lets you play media via USB. It won't let you install it easily wherever you want in the house, however, because Western Digital didn't see fit to build Wi-Fi capability in, which means you'll either have to plug it into your network router and string a long cable to wherever you want to use it, or shell out for the optional Wi-Fi adapter that really should be built in from the start.
My Wi-Fi router is in the basement and I wanted to install the WD TV in my living room, which would have meant buying a really, really long network cable and drilling holes where I don't want them. Fortunately, I have an extra Wi-Fi router I keep around for just such emergencies, so I set it up in the living room and then ran the network cable from there to the WD TV.
It was an unnecessary hassle but it worked.  
Anyway, once you've jumped through those hoops the setup is pretty easy and the only other problem I had with the unit was the same one I have with every other such device I've tried: file incompatibility.
WD says the product handles these file formats:
Video - AVI (Xvid, AVC, MPEG1/2/4), MPG/MPEG, VOB, MKV (h.264, x.264, AVC, MPEG1/2/4, VC-1), TS/TP/M2T (MPEG1/2/4, AVC, VC-1), MP4/MOV (MPEG4, h.264), M2TS, WMV9
Photo - JPEG, GIF, TIF/TIFF, BMP, PNG
Audio - MP3, WAV/PCM/LPCM, WMA, AAC, FLAC, MKA, AIF/AIFF, OGG, Dolby Digital, DTS
Playlist - PLS, M3U, WPL Subtitle - SRT, ASS, SSA, SUB, SMI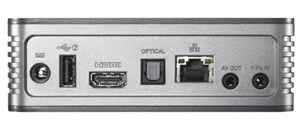 In practice, however, I had files that should have played but refused to. I can't blame the Western Digital for this because the same thing happens with my PS3 and my Oppo BDP-83 Blu-ray player, both of which also offer networking capability. What's needed is for these gadgets to not display files it can't handle so we don't have to scroll through a bunch of chaff looking for the wheat.
Anyway, you can use the Windows 7 "Play To" feature, which lets you play music and video on other networked PCs, TVs, or stereos around the house, to initiate and control the streaming of whatever the Media Gods will deign to play on the WD media player. Naturally, once you're networked you can also play media from the Internet, including from such sites as YouTube and Flickr.
You can also exploit Pandora Internet radio or listen to thousands of radio stations via Live365 Internet radio, if you have a subscription and/or live in the right place.
The WD's main menu is straightforward and navigating via the little remote control that comes in the box is very easy. I had no trouble interacting with my network or with the USB drives I also used to play audio and video content on it.
And because it's USB-enabled, you can plug in digital cameras, camcorders, and portable media players and play files that way, as long as the devices can be recognized as mass storage devices or support Picture Transfer Protocol. It's nice flexibility.  
You can also create custom slide shows, zoom and pan and search and, with movies, fast-forward, rewind, pause, zoom and pan and view subtitles. Ditto for music; you can play it at normal speed, fast-forward, rewind, pause, shuffle, repeat and search.  
There are two USB ports, one on the back and one on the side. Naturally, I preferred using the side-mounted one because it's easier to get at.
Outputs include an HDMI 1.3 port, composite and component video. I used HDMI and it worked fine. A SPDIF digital output can send audio signals to your AV receiver so you can listen to a movie or TV show in surround sound.
The unit's very small, about the size of a cigarette pack but not nearly as evil.
WD lists the U.S. retail price as $149.99, which seems reasonable considering its capabilities. Now how about building in Wi-Fi for that price?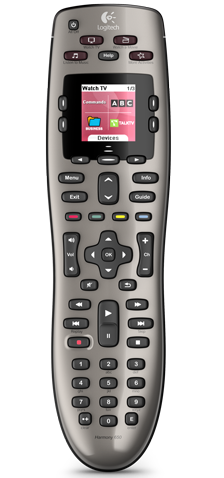 Devices in Harmony…
Logitech's Harmony 650 is part of their series of supposedly universal remotes and it works pretty much as advertised – which is a good thing!
One of the nice things about Logitech's way of doing things is that their device not only controls an abundance of your home theater components, it also organizes them by task. For example, depending on how you've set it up, you can pick up the remote and it can greet you with offers to "Watch TV", "Watch a Blu-ray" or "Play a CD" and the like, displayed on its color LCD and on buttons mounted near it. 
You have to program the remote to do this, of course, but the process, which uses software that comes in the box as well as Logitech's online database, is very easy.
Logitech says the unit (and its siblings – they have a whole line of these gadgets) replaces up to five remotes and that's true, depending upon what you want to do. It will definitely cover the basic control functions you use all the time, and that's probably all most people will need. Since I'm always swapping components in and out, I need to access more arcane functions such as the heavy duty setup menus and so I need to keep the original remotes nearby (much to my wife's chagrin) – but I find myself using the 650 for the basic control functions, and it's a real hassle saver.
Configuring the unit is easy. You just hook it into your PC via its USB cable and then let it walk you through the setup process. Logitech has an excellent database of remote codes, and if your equipment is pretty mainstream you should have no problem finding the right ones for your stuff.
Strangely enough, it didn't have the codes for my Oppo Blu-ray player, despite recognizing its model number, but by pointing the Oppo remote at the Logitech's bum and letting the software walk us through a "teaching process" it only took the pressing of a few keys before Logitech announced it had found codes that should work – and be darned if they did. Only having to press a few buttons was great; I'd figured I'd need to press every one for it to learn them all, which would have been time consuming.
The system is sophisticated enough that it'll turn on all the necessary devices and then tune or switch them to the proper input. When you're finished, it'll shut them all off for you, too. What this means is that, with one button, I can turn on (and off) my Epson projection TV,  Rotel audio system and Oppo Blu-ray player. It doesn't get much easier than that!
I could have set it to control more components than that, for example a CD player, but the Oppo player is so flexible it handles all my audio and video disc playback so I didn't need anything else.
Actually, that's not quite true. One thing it wouldn't control was my satellite receiver, but that's understandable. The Harmony 650 is an infrared remote, whereas my satellite receiver uses radio frequencies so you can put it in a room other than where the TV is and it'll send the signals through walls and ceilings. The Harmony won't do that.
Logitech makes a model that can do that, of course: the Harmony 900, which it lists on its website as selling for $399.99 as opposed to the 650's $99.00. The 900 does other things that the 650 doesn't, too (for example, it's rechargeable), so there's more to the price difference than just RF.
Anyway, if you're the least bit technically challenged, or just like a nice, clean coffee table, a remote like this Logitech Harmony 650 might fit the bill nicely. It really can make life in the home theater a little more simple.
Copyright 2010 Jim Bray
TechnoFile.com