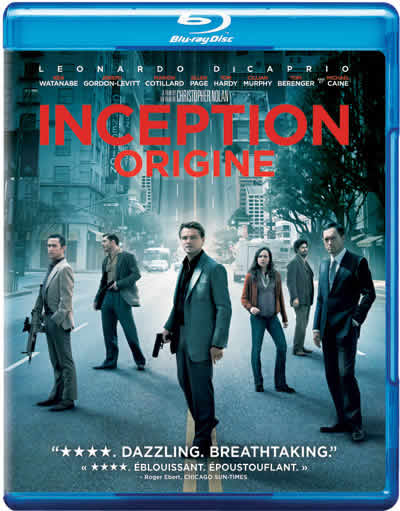 Warner & Fox Movies Come to Smart Phones
By Jim Bray
March 11, 2011
If you've ever wanted to watch a movie on a tiny screen, Warner Brothers wants to help you achieve that goal.
The company's Digital Distrubion arm is launching what it says are "groundbreaking App Editions" of the Christopher Nolan films "The Dark Knight" and "Inception", which I have to admit is a pretty good place to start the collection.
Or not. Both of those movies look best on a really big screen, so if you aren't planning to stream them from your smart phone or pad to your home theater you might find the action a little, well, limited – much like watching "Ben-Hur" on the dinky little LCD screens on airliners today.
Still, it's a start, and yet another way for movie nuts to get their Hollywood fix – as well as another potential revenue stream for the studio. A "win-win"? Time will tell.
Initially available for iPhone, iPod Touch and iPad, the App Editions let Warners offer their stuff in more than 30 territories around the world, including some (Warners says) for the first time. They're accessible right through the Apple App Store.
Both the "Inception: App Edition" and its Dark Knight counterpart are available now.
Despite my snarking about the tiny screen, I could see putting these movies onto my iPad. I watched some old TV episodes on an iPad while on the plane to the Consumer Electronics Show in Las Vegas this past January and it worked great. It was bigger than the airplane's screen – and it was certainly better to have custom-chosen content available than being forced to rely on the pabulum the airlines choose to offer. And my Bose noise-cancelling headphones worked great with the iPad.
But a widescreen TV episode is no Ben-Hur – or even "The Dark Knight" or "Inception"  – when it comes to "Wow! Factor"; I can't imagine watching such epic-looking films on a phone, even though some phones' screens are of fabulous quality these days. I'm just not that into squinting.
To each his own. Your mileage – and opinion – may vary. Warner Brothers certainly hopes it does!
The studio says the App Editions consist of a "Fully-loaded, connected viewing experience" that lets you scope out the first five minutes of the film or access some of the bonus content (the usual games, trivia, "soundtracks and soundboards"; stuff that might be nice on a long plane flight) for free. And for 12 bucks or less, the feature can unlocked be for downloading and unlimited streaming, with access to all the bonus content.
Warners says some of the territories that had so far been forced to suffer through a dismal existence without seeing "The Dark Knight" and "Inception" include China, Brazil and the Netherlands. I'd be willing to bet you can get either movie in any of those places, just not legitimately, so maybe this new App Editions will let people there who have pirated copies and are feeling remorse at ripping off the system salve their consciences for only a few bucks.
According to Warners' press release, the App Editions come with fully customized menus in 16 languages, with subtitles in 34 languages for the movie. You can also hook up with friends while watching the film, for those whose attention wanders, doing stuff like sharing your favorite movie quotes via Facebook and Twitter and watching "A feed of social networking chatter directly related to the movie in real-time."
This way, you can get people to tell you what the movie's like, so you don't have to expend any thought on it! Truly, a labor-saving device.
I don't get this social app sharing of a movie experience vicariously, but to each his own. And on the upside, maybe this'll help keep theater goers who insist on talking through the feature home to do their prattling where they're less likely to get punched out.
Bonus stuff on the "Inception" App includes three previously unreleased tracks from Hans Zimmer's excellent score that you can stream via Airplay. There's also some concept and poster art, a behind-the-scenes video on how they brought Nolan's vision to life on the BIG screen, and more.
"The Dark Knight" App  includes over three hours of bonus stuff including interactive video trivia, and you can listen to "memorable one-liners" and export them as ringtones. The App version also lets you  post Twitter and Facebook updates and monitor "relevant movie buzz" in real time.
Both apps are available for free from the App Store on iPhone, iPod touch and iPad. It's the content that – in the grand old tradition  of "Give away the razor, sell the blades" - will cost you.
Android users don't have to feel completely left out by Warner Brothers' decision to support only the "iPlatform" right now because 20th Century Fox is unleashing a "Blu-ray Wi-Fi Digital Copy" of "Unstoppable," the action-thriller with Denzel Washington and Chris Pine.
Ah, it isn't a standalone version like the Warners apps, though. To access the Blu-ray Digital Copy you need the "Unstoppable" Blu-ray, a networked Blu-ray player, a minimum of Android Version 1.6, and the PocketBLU app you can download (for free) from the Android Market. So you still have to buy – or rent – the Blu-ray.
Not only do you get the movie, but there's a bunch of extras as well, stuff like "making of" material and a director's commentary.
The only thing missing now is the ability to access a movie directly from Facebook!
Well, actually, that's been done, too. Warner Bros. Digital Distribution is testing the idea of offering movies for purchase or rental through Warner Bros. Entertainment's Facebook movie Pages. The service includes being able to buy or rent using Facebook Credits.
"Facebook has become a daily destination for hundreds of millions of people," says Thomas Gewecke, President of Warner Bros. Digital Distribution. "Making our films available through Facebook is a natural extension of our digital distribution efforts. It gives consumers a simple, convenient way to access and enjoy our films through the world's largest social network."
I'd rather be torn apart by wild dogs that do Facebook, but in yet another example of how to get blood from a, well, bat in this case, the company's making "The Dark Knight" available through Facebook for either 30 Facebook Credits or three U.S. dollars.
All you have to do, apparently, is click on an icon to start the process after which, Warners says, you'll begin enjoying the film within seconds.
The Facebook facet is only available in the United States for now. Warners promises that more titles will be made available for rental and purchase over the coming months, but their release didn't say when they'd get around to offering it outside the U.S.A..
Facebook customers get control over the film for up to 48 hours from the time of purchase, and you can watch it in full screen, pause it if you have to go get a life or something, and resume it when you log back into Facebook. You don't lose your Facebook functionality, either, and you can post comments about the movie, interact with friends and update their status.
Or maybe you could just watch the darn movie!
Copyright 2011 Jim Bray
TechnoFile.com