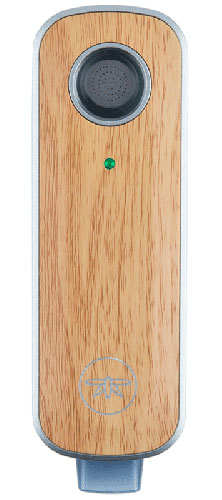 Vape sequels offer high tech features and some wow factor
By Jim Bray
February 16, 2018
What does the average cannabis user look for in a vapourizer? Is it vapour quality, price, efficiency, accessories, or even the coolness factor of the machine itself?
It's probably all of the above to a certain extent - I'm certainly no expert on the topic, but in preparation for Canada's pending legalization of the evil weed this summer, I've been gathering together a group of folks who do claim a lot of experience with cannabis products. The idea has been to get their opinions on a reasonable cross section of the vapourizers that are available these days - what's the cheapest, which have the best results, which are the easiest to use, etc..
Over this series (this is the fifth such column; you can find the rest here, here, here and here) we've looked at portable units, tabletop vapourizers, and quite a bit between. In this column I'm going to focus on a high end and very cool unit, the Firefly 2, as well as the sequel to a vape we covered in one of the previous columns: the Arizer Air II.
I'm not going to get into the supposed morality of cannabis use, and the legality will supposedly take care of itself this summer - if you believe Canada's Liberal government, which I'm old and experienced enough not to.
Meanwhile, medical cannabis is already big business in Canada and it looks as if governments of all stripes are falling all over themselves to land for their jurisdictions the type of grow operations they've, ironically, been actively trying to shut down for decades - probably because they didn't get any tax dollars from the "unofficial entrepreneurs".
The medical cannabis community recommends users vape rather than smoke the stuff, which is apparently not only a lot healthier than smoking but which also (thanks to vapourizers not actually burning the product) a lot less stinky (depending on the strain being used). A couple of the panellists have also noted that vaping is a lot more economical than smoking the stuff, making the cannabis last up to twice as long. It sounds like vaping gives you a built in BOGO sale!
Firefly sequel brings serenity?
The first vapourizer to cover is the Firefly 2. I'd never heard of the Firefly before the folks at VapeWorld sent it to me, so the "serenity" crack above refers to a Firefly I do know: the old sci-fi western that was a short-lived Fox series and a movie called, oddly enough, Serenity. Yep, I'll go to outrageous lengths for a bad pun.
Anyway, according to the folks at VapeWorld, the Firefly 2 features "a newly styled body that's 33 per cent smaller and 55 per cent lighter than the original." That's typical of technological development in just about any field and so should surprise no one.
What's different about the Firefly 2 is that it uses "convection technology" to vapourize both dry stuff and concentrates. My panel, as usual, only dealt with the dry stuff (which is why I try not to make the writing too dry…) and they thought the Firefly 2 was a pretty nifty device, with a very high (no pun intended) "cool factor."
That's because to fire the thing up and to use it, you put a finger over a sensor on each side of the device, which fires it up automatically and keeps it going as long as you keep your fingers planted there firmly. This was a problem for some of the panel, though, because their stubby fingers found the sensors a long and uncomfortable reach. Others had no such issue, however, so if you have short and stubby fingers you may be better served looking elsewhere.
The Firefly 2 is also claimed to have a newly efficient battery that's capable of fast charging. It comes with a little charging dock that uses USB power, which makes it a lot less portable than some other vapes because you'd have to haul the dock around with you, which is kind of silly. They should've put a charging port on the unit itself. But NOOOO!
What a nifty machine, though! It does charge quickly and it heats up very quickly, too, though since we never saw the original model we can't say if it's quicker.
To fill the Firefly sequel, the whole top panel comes off (it's held on magnetically, and it seems quite firm) and your fill the glass chamber just past the rim, then tamp it down. Once your fingers are on the side-mounted sensors properly, the thing heats up and, when it's ready, the top-mounted LED will turn solid green (it flashes up to that point). Keeping your fingers in place, you're supposed to draw for 10 seconds ("long, deep draws are the best" says the manufacturer), and you're supposed to stir the bowl every five draws.
You can partake of customizable temperature settings by using a free app for Android and iOS. My Android phone is too old for the app to work (and none of the panellists volunteered to try it in the interest of science, darn their eyes), but at least one reviewer on the VapeWorld site said it worked well.
Other reviews on that site, and other, "non-partisan" ones such as this one, were overwhelmingly positive about the Firefly 2, some saying it's the best portable vapourizer you can buy.
Here's a list of the unit's features, according to VapeWorld:
For Dry Herbs and Concentrates
Heats in three seconds
Charges in 45 minutes
new charging cradle
USB 3.0 cable connects to any phone or tablet charger
Sleek magnetic lid
Borosilicate glass vapour path
two year limited warranty
And here's what comes in the box:
Firefly 2 Vaporizer
An extra rechargeable battery
Charging Dock
USB 3.0 Cable
Cleaning Kit
three Concentrate Pads
That extra battery is a very nice touch and helps make the unit's rather high price a little more palatable.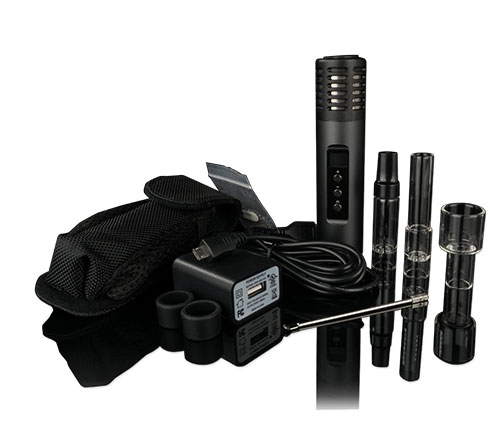 My friends on the panel said the quality of vapour was first rate, as was the Firefly 2's speed at heating up. Some concerns were expressed about keeping it clean (though the kit, with its little brush and iso pads that comes with it does a pretty good job) and there were worries expressed that the magnetic top could come off in your pocket and dump dope all through it. The latter never actually happened - the magnetic seal seems pretty strong - but if you're a "suspenders and belt" person you can easily just wrap an elastic band around it to ensure it stays shut (or don't put the herbs in there until you're actually going to use it).
Firefly says it's best to use herbs that are ground more coarsely than you'd get from a grinder, suggesting users merely use their fingers to break the stuff up instead.
The biggest drawback expressed by panellists was the Firefly 2's price: it's listed currently on VapeWorld's site for $459.95 Canadian, which is certainly not cheap. It is the coolest vapourizer my "buds" have tried, though, so I guess that's worth something. And it does work well.
Putting on Airs, again….
The Arizer Air II is the sequel/upgrade to the marvelous original, which was one of the panellists' favourite models when they reviewed it. The new one takes everything that was great about the original Air, and ups the ante by making it easier to use and easier to charge.
It's also made in Canada, if that's important to you.
The vapourizer itself is a little metal cylinder with a receptacle on top into which you insert a borosilicate glass tube, much like you put a straw into a Slurpee.
Arizer says the $280 CAD Air II has a 50 per cent longer battery life and faster heat up time than the original. It has a new, simple digital interface, as well, thanks to a little monochrome OLED screen that's similar to the one on the Solo II we reviewed in an earlier column. The new interface gives you more control over the temperature than with the older, simpler LED method, though most of the panellists were perfectly happy with 200 degrees C as a default.
The Air II charges via USB now, as opposed to the more traditional AC adapter of the original unit. You can also use it while it's charging, which could come in handy if you're suffering a cannabis emergency (assuming there is such a thing). It also comes with little screens to fit inside the glass tubes, which is a very handy touch that wasn't offered on the original model.
Arizer includes handy caps in the package that you can use if you want to pre-fill the glass tubes before going out. It also comes with a little carrying case that fits the vape and two tubes at the same time, and you can wear it on your belt like a pistol (I guess it's for when you're keen on making a "hit"…). You can also swap out the battery of the Air II, though that was never necessary during the panel's tests.
To use the thing, you push a glass tube into the container in which you're storing your stuff (ground herb, in this case) and twist it a bit to ensure the little receptacle gets filled with your finely ground herb. A press of the power button fires it up, and then you can set the desired temperature. The company recommends you preheat your Air when you first unpack it - before inserting any glass tubes - to help ensure the tubes will fit properly).
Once it's heated to your preferred temperature, you just draw gently on the tube as if you're drinking a milkshake (not a hernia-inducing one, fortunately!).
Panellists loved the quality of the vapour, noting that it was very much like the original Air's as well as Arizer's Solo and Solo II vapourizers - giving first rate clouds of vapour and, depending on what you're vaping, good taste and low odour.
There's a certain amount of maintenance required for the Air II, but it isn't onerous. When a glass tube starts getting gross, you can clean it with isoprop (or you can get a cleaning kit such as the Higher Standards one reviewed here) and the inside of the unit itself can be cleaned nearly as easily (though you won't want to immerse it!).
Here's what you get in the box:
Arizer Air II Vaporizer
Battery
Charger / USB /Power Adapter
Glass Aroma Tube – 70mm
Glass Aroma Tube – 70mm with Tip
Silicone Stem Caps
Stainless Steel Filter Screens
Glass Botanical Dish
Belt-Clip Carry Case
Stainless Steel Stirring Tool
Package of Botanicals (potpourri)
Owner's Manual
Panelists' reactions to the Air II were similar to that of the Firefly 2, though the Air has much less "wow, that's really cool!" factor. But they loved its vape and even though it's a bit fussy to be completely portable, thanks to the glass tubes, overall most of them preferred the Air II to the Firefly 2. That surprised me, since the Firefly is such a cool device and works so well on its own.
Part of the reason the panellists preferred the Air II is financial: they were mostly united in judging that, were it their money being spent, they'd go for the Air II and put the money saved into something else, like an extra battery or - dare I say it? - some extra herb to use in the vapourizer.
Copyright 2018 Jim Bray
TechnoFile.com