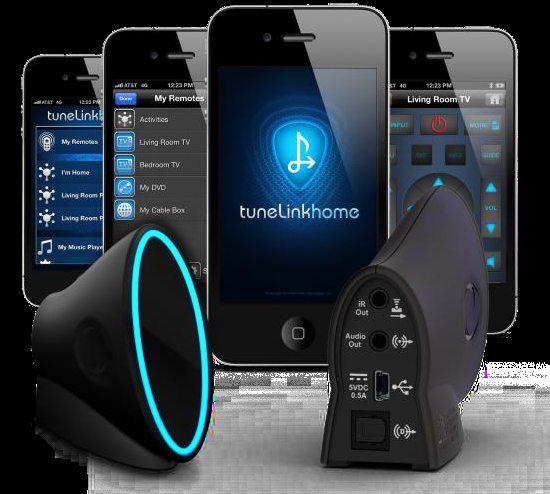 TuneLink device streams audio to your home stereo wirelessly
By Jim Bray
October 4, 2012
Bluetooth is one of the handier innovations of recent memory. The wireless communications system can let you talk on your phone hands free in your vehicle, as well as stream music to wireless speakers systems.
I've grown to really love the convenience of Bluetooth, and argue regularly that its inclusion in today's vehicles is a safety feature at least as important as airbags. That's because you'll use Bluetooth streaming in your car more often than you use airbags – which you'll only use once, if you're unlucky.
But I also use the wireless streaming of music all the time, either to my Bose SoundDock 10 iPod adapter or my Bose SoundLink wireless speaker system, the latter of which I take around the house with me when I do my chores, as well as on the road with me so I can play quality tunes in my hotel room. I stream music to cars often as well, and simply love the convenience – and even the sound quality.
Sure, there are the odd fadeouts, but they're generally very brief and not too annoying.
One thing I've missed, however, is the ability to stream the thousands of tunes on my Android phone to my big home theater system downstairs. It's a great system, 500 watts per channel of Rotel Class D power driving Definitive Technology speakers, and when I'm not watching movies on it I love to play tunes. It's like being there.
Being as sedentary as I am, I liked the idea of not having to get up to change discs, or of having to load server software on my PC to stream tunes from the computer to my Oppo Blu-ray player.
Yeah, I know: how lazy can you get? Pretty lazy, actually. But it isn't all about being lazy; it's also about convenience – as well as the ability to continue a tune, playlist or album I started playing on a wireless system upstairs when I park my butt in the home theater downstairs.
Then the folks at New Potato Technologies sent me a press release trumpeting the introduction of their TuneLink Home Bluetooth system, which is designed for just such purposes. I got in touch with them right away and they were kind enough to send me the system to audition.
The TuneLink Home is designed for "app-enabled" mobile devices such as the Android phones, as well as the comparable Apple products, the iPhone, iPod Touch and, of course, the iPad. I don't have an iPhone or iPod, and I don't keep music on my iPad (I save that storage space for other stuff, since I have about 3000 tunes on my phone anyway, and I can slip it into my pocket if I want to), but the TuneLink device works just fine with my Samsung phone.
TuneLink Home is a small device that tucks nicely beside my Blu-ray player on the audio stand in my home theater. You can connect it via analog outputs, using a cable with a 3.5 mm jack on one end and stereo RCA jacks on the other – the old white and red connectors of many years – from the output on the TuneLink to the inputs on your audio system. It works fine that way, but an even better way to do it – and which also offers better sound quality in my experience so far – is to use the unit's optical connection for digital transmission.
I tried connecting the TuneLink Home both ways and the analog method played appreciably more quietly, forcing me to crank the preamp higher than the level that usually fills the room nicely. I also think it may have interfered – at least, hooked into the tape loop inputs as I had it – with the home theater's video quality, because I watched the Blu-ray of Raiders of the Lost Ark with it connected that way and I could swear the picture was deteroriated. This is not good.
I didn't try hooking the unit into other analog inputs, opting instead for the TOSLINK optical method. And it was far more satisfying, with a louder, richer sound that's very enjoyable – and without any picture problems.
So I'm very happy with the TuneLink Home, with two minor caveats. First, I wish it had an on/off switch because I have to unplug the unit before it'll let my phone stream to other devices again. This isn't a big deal, since I'd have to get up to do either operation and the AC plug I'm using is located very  conveniently next to the audio stand. 
The other is that the New Potato folks advertise an app for the phone that not only lets you operate the unit itself, but which – thanks to the infrared blaster built into the unit – can apparently be programmed to act as a universal remote to control the other components of my system.
The blaster extender isn't included in the package, so you have to get your own. I don't have one and don't care about this feature enough to spring for one, so can't really comment on how it works. Besides, in my experience such IR extenders add clutter to a system that's already rife with spaghetti in the way of innumerable other cables – and I don't mind a pile of remotes on my end table – so not having it doesn't bother me a whit.
 Setup is a breeze. After you hook the unit into your audio system and fire it up, you need to pair it to your Bluetooth device, of course. This turned out to be child's play – easier than many other devices and/or cars with which I've paired my phone. Kudos to the New Potato folk for that. Pairing was completed quickly and with no fuss whatsoever.
As for the TuneLink Home app, it was supposed to be released in September, but I couldn't find it either on the Android market nor Google Play. They have a car app there, TuneLink Auto (which isn't really related to this product), but I could only find the Home app on iTunes, which is useless to me but which should work fine for Appleficionados.
Another plus for the unit is that it not only lets you can't stream tunes from the TuneLink; it'll stream audio from any app you choose. This is particularly handy if, like me, you don't have a tuner in your audio system because you can activate one of your radio station apps and listen that way. And it works fine.
Range is claimed to be more than 120 feet, which is pretty darn good. I didn't try it anywhere nearly close to that (I'd have to fire it up outside my house and run inside to listen) but in my home environment it worked just fine wherever I tried it. I could leave the phone plugged in upstairs and stream to the basement; the only problem with that was that I couldn't skip tracks, change playlists or the like, on the phone without running upstairs again. And I'm not about to do that!
The TuneLink Home app supposedly contains more than 80,000 pre-programmed remote control codes, as well as the ability to learn new codes, and lets you create custom macros, personalize your remote skins, layouts, and the like. So it should be able to control most mainstream equipment, as long as it doesn't require an RF remote like my satellite receiver does, which figures.
The TuneLink accessory sells $99.99.
Copyright 2012 Jim Bray
TechnoFile.com