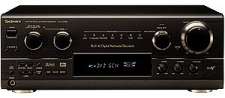 Technics SA-DX930 Receiver

Affordable Digital Surround - for the mainstream consumer
By Jim Bray
Technics has long been one of the leading names in consumer home audio components (among other things), so it isn't surprising that it would have a series of competitive entries into the audio/video receiver marketplace.
The SA-DX930 is in Technic's "higher end" of affordably priced ($400US) units and offers all the major features the average consumer will need for a relatively modest, yet relatively state-of-the-art home theater. For example, it gives you both Dolby Digital AC-3 and DTS digital audio decoding, and a good sounding amplifier that cranks out 100 clean watts into each of the five channels - and that's the bottom line for a reasonable home theater receiver today.
Like the Sony STR-DE835 A/V Receiver reviewed elsewhere in TechnoFILE, this Technics is a "mainstream" receiver, which means it's positioned in the lower to middle end of the market - where most people shop. Like the Sony, this is an affordable unit; unlike the Sony, it isn't chock full of digital toys and isn't as flexible. It's also cheaper, though, so that may make up for some of the differences.
The Ins and Outs
The receiver comes with conventional RCA inputs for Phono (a nice touch one doesn't always see nowadays), CD, Tape, DVD, VCR, and TV/DSS. It also has two optical inputs - designated for a CD player and a Digital Satellite System - and a coaxial digital input for a DVD player.
This arrangement of digital inputs struck us as a bit strange, since our DSS receiver has no digital output (though it's also a couple of years old) and we like to use the optical digital audio output from our reference DVD player. This meant we had to hook the DVD player into the TV/DSS inputs and vice versa to get our favorite configuration. Not a big deal, but a surprising oversight.
We were also surprised to find very small and compartively fragile, "clip-type" speaker terminals instead of the much preferred binding posts. This made it difficult to hook in our "banana plug-equipped" heavy gauge speaker cable, though it won't be a drawback for people who use the more common and thinner gauge speaker wire. Still, it struck us as another oversight in what's generally a good unit.
The layout of the handsome front panel is straightforward, from the power button to the "sound mode selector" and "Sound Field Control" selector (that lets you choose from a variety of stereo, surround, or digitally synthesized listening environments like club or concert hall), to the rotary input selector and the big volume control. There are also tone/balance controls, tuning and preset/memory buttons for the tuner section, and a large display section that reads out about as much information as you could want. Some of the display sections are pretty small and hard to read from across the room, but this is a common problem with such components.
There's also a "Help/reset" button which is a nice way to bail yourself out of any programming/setting mistakes you make while getting to know the system.
Using the SA-DX930 is pretty straightforward once you have everything hooked in (though the layout of the input panel on the back leaves something to be desired) and we found listening to it to be a very pleasurable experience. As with the last Technics receiver we tested, this unit produced very good sound quality that belied its low price.
Still, it's inevitable that corners be cut in such an affordable unit, and one big corner Technics trimmed was the remote control, which (to be bluntly honest) was a real disappointment. It's a "universal" remote, so it controls various components from various manufacturers, but it's too small, poorly designed and laid out, and we had problems working it. We'd prefer to have seen Technics add a few bucks to the admission price and put a real remote here.
Still, this problem isn't unique to Technics, either, though this particular remote is one of the poorer examples that we've seen. We found ourselves getting up from our easy chair and controlling most functions from the front panel - and using the other components' remotes for their operation instead of trying to muddle through with this Technics. This made the remote rather superfluous.
The owner's manual does a decent job of walking you through most of the hookups and operations and, like most of the complex audio/video receivers these days, you'll probably want to spend some time here when you unpack the unit. It'll help you get comfortable with the features and how to access them.
On the whole, we were disappointed with some of the "fuzzily thought out" features we've mentioned above, but feel that if you can live with them, this Technics receiver can be a good value for the dollars spent. It offers true digital home theater surround sound for a budget price, and gives audio quality above and beyond its modest cost.
So while we'd encourage readers to spend a couple of hundred dollars more and get a higher end audio/video receiver with fewer compromises, people for whose budgets this Technics is truly intended may find this product well worth a look and, even better, a good listen.
Manufacturer's Features and Specifications:
Built-in Dolby Digital (AC-3)/DTS decoder
Home Theater Mode: equal high power output of 100W (1kHz, 8 ohms, 0.9% THD) per Left/Center/Right/Surround Left/Surround Right channels
Dolby Pro Logic Surround is available
Speaker configuration setting: large, small, none for each channel 2 channel down mixing
Powerful stereo mode: 100W per channel (20Hz - 20kHz, 8 ohms, 0.05% THD)
"TA-KE" capacitors for high sound quality
Enhanced Class H+ amplifier circuitry
User-friendly HELP function
Sound Field Control (Hall, Club, Live, Theater, Simulated Surround)
Universal Remote Control ready for DVD player control
Subwoofer output for extended bass reproduction
3 video and 4 audio rotary-type input selectors
Tape monitor
Quartz synthesized digital tuning system
Direct 10-key tuning (by remote control)
Low impedance