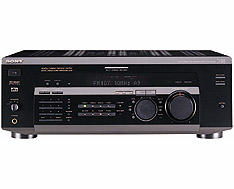 Sony STR-DE835 Receiver

Affordable Digital Surround - and toys, too!
By Jim Bray
Sony's line of mainstream audio/video receivers offers a lot of features in a variety of price ranges for those who want lots of toys on a reasonable budget.
By mainstream, I mean the lower to middle end of the market, which is where most average human beings find themselves when it comes to spending money on home electronics. Sony's STR-DE835 makes Dolby Digital and DTS decoding affordable for the masses, while throwing in enough interesting gadgets to amaze and confuse at the same time.
The 835 sells for $485US ($650 Cdn), which is darn affordable considering all the stuff crammed into the box. It comes complete with Dolby Digital and DTS (Digital Theater System) decoders built in, so it'll play any DVD's or CD's audio you care to throw at it with the exception new audio standards (like DVD Audio) that are bound to remain in the realm of the high end anyway.
There are inputs and outputs galore on the STR-DE835, including twoS Video inputs and 1 "S" output to send signals to your monitor. You also get a total of 3 optical digital inputs (1 output), and a coaxial digital input.Hookups for other A/V components include Phono, CD, MD (MiniDisc)/Tape deck, TV/Satellite, DVD/LD, and 2 Video I/O's, and there are also separate 5.1 channel inputs for those who want to use the AC-3 decoders they already have.
This latter is a nice touch, and it was interesting to try it out with my reference DVD player - but it makes me wonder why consumers who already have an AC-3 decoder don't just buy a "Dolby Digital-Ready" receiver and be done with it.
Once I'd tried all the analog and digital hookups (and ensured that they all worked fine), I stuck with the optical digital input from my DVD player and was very happy with it.
Power is rated at 100 watts x 5 in surround mode, and the same in stereo mode, at 8 ohms from 20 - 20,000 Hz, and with 0.09% THD (total harmonic distortion).
The owner's manual gives extensive and well illustrated advice for hooking up and tweaking all manners of A/V components for all manners of room configurations - utilizing the mind boggling array of adjustments crammed into the microchips of the 835. You can set adjustments for your speakers' positions, distances, heights, and sizes, and the standard test tone generator (all of these are accessible from the remote control) lets you set the speakers' volume right from your favorite listening or viewing spot.
When I first looked at all this stuff I thought you'd need some kind of college degree to figure it all out, and you probably would if you just used the 835's front panel display or remote control and plowed ahead, but the manual walks you through things quite well. After all you are just setting up a receiver and not installing a custom elevator in your home!
There are far more adjustment than the average person needs, and you'll probably only have to do the adjustments once (If you even choose to do them at all) - but it's nice to have choices and be given the opportunity to play around with all the wonderful gadgets this receiver provides.
You can also make most (if not all) of the adjustments, including the different surround modes, from a jog/shuttle wheel/cursor control button combination on the front panel - as well as from the remote - but in my room that required actually getting up from the easy chair and expending energy walking over to the receiver. Guess which was my preferred method of adjustment...
Surround modes are in abundance. Not only do you get regular Dolby Digital, DTS, and Dolby Pro-Logic, but there are enough parameter adjustments to make your head spin - about 30 in all. These range from "normal surround" to a variety of "cinema studios" tweaked for different genres of movie. There are also interesting settings like "night theater", which is meant to give you a good, theater-like environment without keeping the kids awake, and "headphone theater," which as its name suggests is for personal listening with the world shut out.
You can use other settings to "virtually" reproduce your surround speakers - or give you surround sound with only front speakers, and there are also the usual concert hall/sport stadium venue effects that have become common over the years.
Call me silly, but though I tried all these settings (and some of them are indeed kind of cool), I prefer a WGIIWYG ("What Goes In Is What You Get" - hey, I've created an acronym!) configuration and, fortunately, Sony has taken care of this, too.
Once the "messing around with the gadgets period" was over, I discovered that the vast majority of my listening was with the 835 set to "AFD," or Auto Format Decoding. This sets the receiver to automatically sense the type of signal coming in (AC-3, DTs, Pro-Logic, or standard 2 channel stereo) and govern itself accordingly.
Sure, I messed with the concert hall settings when watching some concerts, but even there I mostly stuck with the AFD setting once I'd tried the gimmicks a time or two.
As far as other toys are concerned, Sony includes its "S Link" controller for hooking in other Sony components and controlling them all at once. I hate this type of thing, however (though it's really a matter of personal choice), and prefer operating each component separately. I don't mind having a pile of remotes on my coffee table.
My wife, however, disagrees strongly.
Which brings me to Sony's Remote Commander remote control, by far the weakest link in this chain.
For a company that makes one of the all time great remotes (a lovely, LCD unit that comes with its highest end components), the model included with the 835 is not one of Sony's proudest achievements. It's complex and confusing; it even comes with its own owner's manual - and chances are you'll need it.
But it wasn't even the relative difficulty of use that really annoyed me; it was the silly labeling of the component control buttons that turn on and/or switch the receiver to your DVD player, TV, or what have you. They're of the light green "glow in the dark" type that's becoming common (and extremely welcome) on many remotes - but where Sony blows it is in labeling the buttons in light green as well, thereby rendering the labels virtually unreadable!
The remote itself has lots of features, and can be programmed via codes to operate a wide variety of "other brand" components. This programming is easy, but I found overall use of the controller difficult to get a handle on. I preferred to have the other remotes handy by which to control individual components.
Sound quality of the 835 is good. The receiver uses discrete output transistors (which offer high speed, high current capacity and low distortion), and for this segment of the market the performance is up to snuff. Still, in order to offer that much bang for the buck, something has to go and while this receiver runs rings around some, it falls down in audio quality when compared with admittedly much higher end receivers like the Nakamichi AV-10 reviewed elsewhere in TechnoFILE.
To be fair, though, both receivers are aimed at different segments of the market - and are priced about a thousand Canadian dollars apart. Besides, I'd defy the average consumer (who generally has more on his mind than comparative audio quality) to really tell the difference without hearing the two side by side (which, fortunately, I had the opportunity to do).
On the whole, I can see Sony selling truckloads of this receiver and its kin. It's affordable, offers just about everything one could want from a mainstream audio/video receiver, and has Sony's reputation for quality and innovation behind it.
If you'd like a glimpse of how Sony handles its higher end toys, try our (admittedly very short term) review of its ultra high end TAE9000es preamplifier and TAN9000es amplifier. They really rock!
Manufacturer's Features and Specifications:
Stereo Mode Power Output, both channels driven, 20 -- 20,000 Hz, 0.09% THD: 100 w x2 into 8 ohm
Surround Mode Power Output, all channels driven, 1000 Hz, 0.80% THD: 100 w x5 into 8 W 4-ohm/8-ohm
Switching Enables reliable operation with low-impedance speakers.
Dolby Digital Decoding
Fluorescent Display (Dot Matrix)
AM/FM Random Presets: 30
Station Memo display
Pre-Programmed Remote
Digital Signal Processing (DSP)
Full 24 bit + 32 bit DSP Acoustic Environments, 27 Digital Cinema Sound system
Audio Inputs/Outputs 4/1
A/V Inputs/Outputs 4/3
S-Video Inputs/Outputs: 2/1
Optical Digital Inputs/Outputs: 3/1
Subwoofer Outputs 2
Frequency Response Phono, RIAA: ±0.5 dB Line: 10 -- 50 kHz, +0.5/-2 dB
IHF Sensitivity 11.2 dBf 50 dB
Sensitivity, Mono/Stereo 18.3 dBf/38.3 dBf
FM Alternate Ch. Selectivity 60 dB
FM Frequency Response 30 -- 15 kHz, +0.5/-2 dB FM THD @ 1 kHz, Mono/Stereo 0.30%/0.50%
FM S/N Ratio, Mono/Stereo 76 dB/70 dB
27 lbs 8 oz 17" x 6 1/4" x 14 7/8"