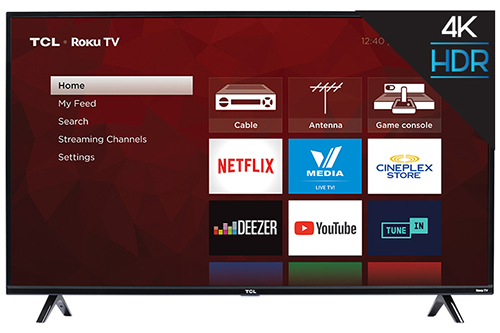 TCL makes a big and affordable statement in the 4K TV market
By Jim Bray
September 6, 2019
Consumers looking for a 4K smart TV that won't break the budget, yet offers a big "WOW!" factor, should check out the offerings from TCL.
I've been using their 65-inch 65S425-CA for the past few weeks and, though it's definitely not up to the levels that video snobs might require – something like an OLED, QLED, etc., it offers a big and mostly very good picture, as well as the smart features so popular on TV's these days.
Click on the image to open a slideshow.
Even more interesting, the smart TV aspect comes from the TV's use of Roku as an operating system, which not only allows you to access your various audio and video sources but which also brings to the TV the Roku streaming apps that offer an amazing selection of streaming apps, from Netflix and YouTube to, well, just about anything.
I'd seen Roku TV's on display in local stores and always wondered how they would work. And I like how they work; the TV's interface is not only as smart as you want it to be, it's also very easy and straightforward to operate, even if you don't live and breathe home video equipment. That's the Roku factor.
And the TV's a darn good value, too.
The only potential drawback I can think of to having your Roku built in is that if either part of the system (TV or operating system) breaks down you'll lose both while the one aspect is repaired. On the other hand, I have no evidence that such a scenario would play out, at least as far as Roku itself is concerned: I've been using a variety of their devices for a few years now and other than some handshaking issues with one of their 4K devices (and Roku isn't alone in this) they've all worked flawlessly. This potential drawback isn't merely Roku-related, either, and can apply to any smart TV with apps built in. In other words, it should be no big deal.
If you're looking for a TV that still does 3D, however, you're out of luck here. That didn't bother me a whit; I don't even have 3D glasses any more and I have to admit I haven't missed them.
Listed on TCL's Canadian website for $899.99, as I write this in the first week of September, 2019, the TV is currently on sale for about $650 CAD, which strikes me as a very good price for a TV that's this big and which works so well.
Go big or go home…
In my history of video snobbery, I've always been willing to make some compromise between size and ultimate quality, in that I'll opt for a bigger, lesser quality screen if I can't afford the bigger, better quality screen. Until about a year ago, I had a 106-inch front projection screen in my dedicated home theatre and loved it. Yet as great as that Epson projector was, by the time its image is thrown across the room onto that screen, there was a tad of softness. But overall it was an exquisite video experience.
I usually run a 55-inch Panasonic 4K in my current home theatre room, which is laid out in "landscape" orientation (the 106 inch screen was in a "portrait" room). This orientation lets me get away with a smaller screen (because it's closer to the viewers), and that means I can opt for the (arguably) better overall picture quality you can get from a panel, rather than a projector. Alas, 55 inches isn't big enough and I probably won't be happy until I have a 77-inch OLED on that perch. But those are really expensive!
But the TCL's 65 inches (diagonally measured, of course) works really well there, even with my "widescreen torture test" disc that I use to estimate if a screen is big enough for me. That movie is the ultra-widescreen Ben-Hur, whose 2.76:1 aspect ratio can make all but the largest screens look too closed in. And, yeah, while I'd still love 75 inches or more of screen size, I find I could live with the Wow! factor of this 65-inch screen.
Sure, I'd love blacker blacks than the TCL puts out, which is why I'm willing to pay a LOT more for my next eventual (and final, according to my dear wife) TV purchase, but my wife is definitely NOT the video snob her husband is and she had no issues at all with the quality of this TCL, though she'd have been just as happy with a 55 inch or smaller (heresy, at Chateau Bray!).
Well, until I pointed out the "dreaded soap opera effect" that plagues this TV (and many, many – if not most – others), a "pejoratively-named" feature manufacturers use to smooth fast motion. You see, LCD TV's (and LED TV's, which are really just LCD TV's with different screen illumination) have a tendency to lag a bit when the camera taking the shot you're watching is moving relatively quickly, such as from left to right.
Without getting technical, TV manufacturers combat this by using "motion smoothing" of varying names (TCL calls it Clear Motion Index. TCL's customer service person described it as "the combination of advanced signal processing and back light scanning to enhance the native refresh rate of the LCD panel (60Hz or 60 frames per second) and present an effective refresh rate (what your eye sees) of 120Hz, or 120 frames per second."
The problem is – and as noted this isn't just a TCL thing by any means – the resulting picture looks razor sharp on people/things in the foreground, but those people/things look kind of like they're being filmed in front of a blue or green screen, making the whole thing look less lifelike and more "special effect-like". I hate it, and I'm not alone.
Most TV's I've tried let you shut the feature off, but according to my TCL support source, TCL models won't let you shut it off. That would probably be a deal breaker for me if it weren't for the fact that the CMI's "soap opera effect" is quite gentle compared with some I've seen – and most of the time when I'm watching stuff on the TCL it doesn't bother me.
Besides, there's so much else to like about this TV considering its place at the lower end of the market. It offers all the connection the average consumer is likely to want and, thanks to Roku, you can access a positively dizzying amount of content – free or premium.
Since I have a Roku account already, all I had to do when setting up the TV was access my account on my computer, type in a code from the TV, and – as with the other Roku devices I've registered – Bob was my uncle. All the apps I've added over the years show right up and I can get right into it. Another nice thing about Roku is that you can move the apps around on the home screen, so if (for example) you watch a lot of Netflix on one Roku but prefer Shout Factory TV (or whatever) on another, you can customize each Roku that way.
Not a big deal by any means, but thoughtful.
You have to register a payment method to get going, which rubbed me the wrong way back when it happened to me, but to be fair I've never had an issue or a charge. And apps that will cost you are generally labelled that way.
The Roku interface treats your video sources as apps as well, in that they appear the same way on the TV screen, but up at the top of the other apps. And they're reasonably customizable as well.
You also get a reasonable menu system for adjusting audio and video parameters, and there's even an advanced menu that, while it isn't as advanced as I'd like, probably delves farther into the set's more arcane aspects than they're comfortable with. You can go even more into the TV's guts via the Roku app on your smart device, which is way more than I expected. Alas, the one thing I wanted – to turn off the CMI – eluded me.
Still, once I "calibrated" the TCL via the HD Basics disc I was quite pleased with the picture obtained. The colour wasn't perfect, but it was close, and the blacks aren't as deep as they should be, but for most TV/movie viewing it's perfectly adequate.
Setting up the TV physically, which of course comes first, wasn't quite as easy. It's very straightforward on the whole, but the TV's feet mount so far apart I had to run out (well, walk…) to the garage and bring in a plank long enough to let me sit the TV on it, which I then sat on the TV stand. This worked fine and sent the clear message that I need a new TV stand (this one's only about 40 years old!).
I really like the straightforward Roku operating system. Sure, I'm used to it anyway, but I love how Roku puts everything together in one place. The simple remote is great, too: hit the "Home" button and everything you could want to access on the TV (other than the picture/sound adjustment menus) is right there on the screen (you may have to scroll, of course, if you have lots of apps), from all of your other components to Netflix, YouTube, whatever.
The TCL offers 4K resolution as well as High Dynamic Range and you can tweak it for a variety of room situations (darker, lighter…). I threw a lot at the TCL, from DVD's to 4K discs and streaming video (Netflix, etc.), as well as downloads and satellite TV.
I came away impressed with how well this bargain TV works. Watching live sports on TV was great, even though it was only a 1080i signal (the TCM upconverts to 4K and does a reasonable job); I watched several CFL football games and some IndyCar racing and the combination of screen size and quality was very enjoyable.
Yeah, it'd be better still with an OLED, but a comparably-sized OLED is about four or five times the price!
The TCL's sound quality is pretty ordinary, and this might cause some angst if you rely on the TV's speakers, but it's no worse than most I've tried. I don't care a whit about a TV's sound because I always run the audio through my Rotel/JBL 5.1 audio system. How better to annoy family and friends?
Here's a list of some of the TV's specifications:
3x HDMI 2.0 inputs (one with audio return)
Video Modes: Movie; Normal; Vivid; Low Power; Sports; HDR Dark, Normal, Bright
Dual-band Wi-Fi & Ethernet port
1x coaxial cable Input
1x Optical Digital Audio Outputs
1x Headphone Jack
1 x USB Media Port
Internet Connectivity Wi-Fi and Wired
Bluetooth  
I'd like another HDMI input and a stereo analogue audio output, but I doubt most people will need anything the TCL doesn't offer already.
I usually review higher end TV's than this TCL, but I'm glad I got a chance to try this one and am comfortable recommending it for people who don't care if every pore on the villain's face pops off the screen. You know, people with lives.
If you want to watch the latest game, the latest game show, or the latest episode of your favourite TV or streaming show, this TCL should serve you well. It's affordable, offers a great "WOW!" factor (depending on your distance from it) and performs more than adequately for most applications.
Add the terrific Roku interface and remote and you have a very compelling video choice.
Copyright 2019 Jim Bray
TechnoFile.com