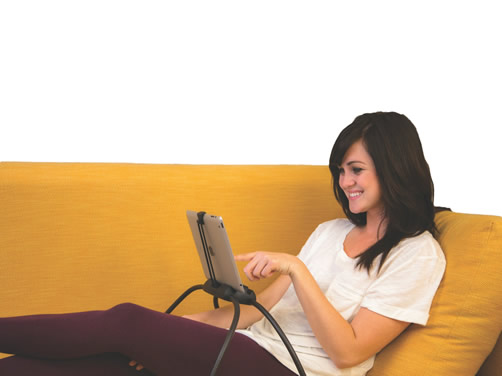 Tablift makes tablets standup and be noticed - while Belkin and Nomad do their bit for flexibility
By Jim Bray
August 28, 2014
Three products designed to make life with your i or Android device even more rewarding than usual offer solutions to very different problems. But do they all pull it off well?
Yes, and no. Read on!
Let's look at the Tablift first. The $60 doohickey is a very nice stand for your tablet. It has four flexible legs you can bend into just about any position, which sounds kind of kinky but which actually lets it present your tablet to you in a wide variety of venues, from the couch to the kitchen counter, from the desktop to the bed.
It works, too, though it's so big you probably will want to leave it at its primary location rather than give up that much valuable space in your overnight bag. And that's okay if that's what you need.
The company behind the Tablift says it works with all iPads and Samsung Galaxys, as well as Amazon Kindles,
Google Nexus, Microsoft Surface, and more. I used it with my iPad Air and liked how it raised up the tablet closer to eye level (for me, anyway!). Perhaps in their zeal to offer one product to work with all such devices, however, the slots are quite thick and the iPad Air tended to flop around.
An elastic strap-like contraption is included to keep your device from flopping around, and it works fine, though I'd rather not have to futz around with it. But they had to do something and this is a reasonable solution. I've tried several such stands, including the basically similar "War of the Worlds-like" Lapdawg O-Stand, and the most problematic part of all of them is how - and where - they hold the device to keep it firm and steady. So I guess the strap is workable solution.
I use the stand mostly when I'm kicking back on the couch, where it facilitates playing with the iPad Air while being cuddled by whichever pussycat is in the mood. Unfortunately, to use it I have to take the tablet out of the protective case I keep it in so it'll fit into the - as it turns out - not large enough slots.
The biggest problem with the Tablift is that, thanks to its nature, you might find it challenging to find a place for it when you aren't using it. It isn't a huge device, and it does fold up quite well, but it definitely requires space for its footprint. In my home that's at a premium.
And $60? I dunno about that.
Belkin up the wrong tree…
Bluetooth keyboards are a wonderful accessory for the iPad, and I use them often when I actually need to do work on the tablet rather than just play or surf. The ones I like best also work as cases, protecting the iPad when you aren't using it.
That's why I was so disappointed in Belkin's Thin Type Bluetooth wireless keyboard case. It's a great keyboard, but a lousy case. And for $100, it really should do both things well.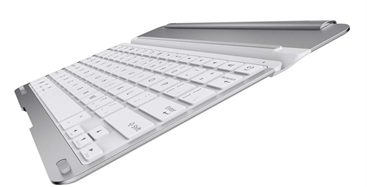 It's a shame. The keyboard (Belkin calls it a QODE Thin Type) is beautifully made, with a lovely anodized aircraft-grade aluminum construction that looks right at home with the iPad. It holds the pad upright enough, and you can secure it to the iPad via "secure hold" magnets. You can perch the tablet in its slot in either portrait or landscape mode, too. And if you more the tablet off its mounting slot and into the magnetic holder and then swing the tablet down over the keyboard it can act as a protective cover for the screen. Kind of.
And there's the rub. While the magnetic attachment works great and holds the tablet nicely, there's no such arrangement at the other edge. So the keyboard is prone to flopping around unless you keep it closed yourself. What's the point of that? Not only do you have to pay attention, you can't just toss it into your back pack (or whatever) without giving it a conscious thought.
Still, as a keyboard it's small and light, strong, and it's nice to type on, with keys that are spaced well and that accept your inputs readily. And it pairs easily.
Belkin says the Thin Type offers up to 79 hours of active battery life.
The lack of it being a secure cover would be a deal breaker for me, but of course your mileage may vary.
Putting in a plug for Nomad…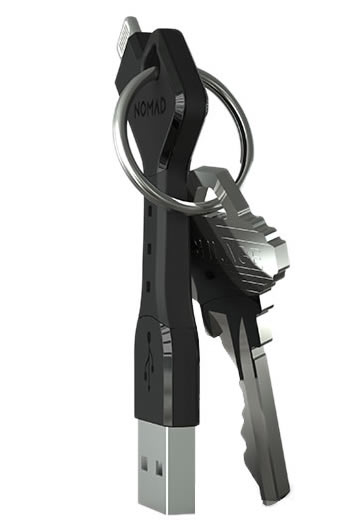 Nomad, meanwhile, claims to be reinventing phone charging and, while time will tell if they're correct, they do have some neat products, two of which they sent me to play with: the Chargecard and Chargekey.  
The Key and the Card are so named for their size, the former being designed to fit on your keychain while the Card slips into your wallet like a credit card. Either way, you have a small and unobtrusive USB charger you can take with you everywhere - because who hasn't discovered to his/her/its chagrin that you forgot to charge your phone or tablet before you left home. These products let you "don't leave home without it" and that means you'll never be short of a charger as long as you're near a USB port.  
Nomad says they shaped the NomadKey to be as similar to a house key as they could, to make it "virtually invisible on your keychain," there when you need it but out of the way when you don't. You might want to keep the contact parts free of pocket lint, however!
And since keychains and wallets aren't necessarily the most gentle places to haul around things electronic, the Nomad folks worked to ensure the toughness of the products, and from my experience so far these things appear to be virtually indestructible, with a tough "engineering-grade polycarbonate from Bayer" - according to the company - and a "stellar rubber elastomer from Dupont" as well, which means the things are not only tough, but flexible - the latter point being handy because you can bend the ends around to fit into less straightforward ports. 
Nomad says you can use any USB port - on a computer, TV, printer, keyboard, whatever - to charge your device. Naturally, since the things are so tiny you need to get your smart phone or whatever very close to the port, but this shouldn't be too onerous most of the time.
And of course you can plug your two devices together with the devices and, rather than just charge them, synchronize your data.
It's a pretty slick idea and, at about 30 bucks, a reasonably cheap one too.
Copyright 2014 Jim Bray
TechnoFile.com