Sonos Playbar – a TV sound bar with connections
By Jim Bray
May 9, 2013
What's better than a sound bar for enhancing the audio put out by your TV? How about a sound bar that also lets you access digital media files you have stored on your network or want to access online?
That's the rationale behind Sonos' Playbar, a handsome if pricey nine speaker "bar-like" system the company calls "the soundbar for music lovers." Sonos also says the Playbar brings "immersive HiFi sound to the TV and, being a full Wireless HiFi System, streams all the music on earth through one easy-to-use player."
It does this through a combination of hardware and software (via an iOS or Android app you download and install on your smart device – in my case, an original iPad), and it works very well.
The Playbar is a handsome bar, cosmetically, and seems to be built well. And it even has sensors built into it that help it adjust equalization and channel orientation so you can lie it flat on the TV stand (I mounted it that way) or rotate it for wall-mounting above or below the TV.
Setup is easy. You just connect the Playbar to your TV via an optical cable (so you'd better make sure your TV offers optical output before you shell out for the Playbar – but it's a common feature), and plug it into the wall. Once you've done that, the Playbar will act as a speaker system for everything else you may have plugged into the TV as well – whether it be a Blu-ray player, game console, media box or whatever.
There's a bit of a configuration routine for connecting the Playbar to your network as well, but it's quick and easy.  
The system even let me use the TV's remote control to adjust the Playbar's volume, which was a handy touch.  
Sonos uses Class D amplifiers in the Playbar, which is a good place to start. I've been using Class D amps – in my installations they come from Rotel and/or Bose – and have been very happy with their quality. Class D amps can create incredible oomph from small, efficient packages, so Sonos is definitely on track here. And the Playbar does sound very good, and you can crank it nicely.
When it comes to crankability, however, Sonos stresses that their amplified speakers play clearer, not necessarily louder. The nine speaker setup includes six midrange and three tweeters, so there's no subwoofer. Despite that, it sounded darn good in my living room, with bass that was quite adequate.  
The Playbar also offers a surprisingly wide soundstage, making it seem as if the speakers are set more widely apart than they are in reality. That's always a treat with multi-channel sound. It's also my only real beef with the Bose SoundDock 10 I use in the same application as the Playbar; while its Class D sound is fantastic and the thing really does rock, the speakers are so close together it can almost sound like it's monaural audio at times.
Of course, since the Playbar has a much wider footprint than the more compact Bose (which is meant more as an iPod/phone/Bluetooth dock than a TV soundbar), it isn't really a fair comparison.
I tried the system as a standalone (except for the $49 Bridge module that plugs into your network, which is required if you want to exploit that capability), but you can also add a subwoofer and/or surround speakers – all of which Sonos also sells, purely coincidentally, I'm sure.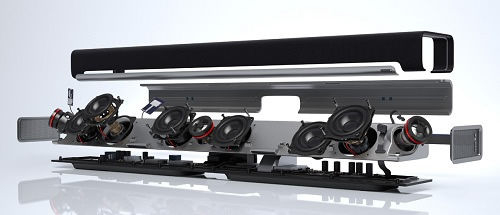 While the Playbar does a nice job as a typical sound bar, offering a good sonic experience and easy upgrading to a full 5.1 surround system if you want, it's the networking that really sets the Sonos apart, and they've pulled that part of it off well. Of course, you can also accomplish this with a media box – such as those made by Western Digital and others – or a PS3.
On the other hand, if you have Sonos equipment already, Sonos says this system will blend with it seamlessly. I didn't have any other Sonos stuff so didn't try this aspect, but I've tried Sonos stuff before and have no reason to think it won't work as advertised; heck, everything else about it worked well.
The Sonos app (which is included in the unit's $699 retail price) lets you use iPhone, iPad, Android, Mac or PC as the nerve centre. It's easy to install and to use, and I exploited its capabilities to stream audio from the PC in my office and to play stuff from the Internet. It worked fine. Remember, you need to have the Sonos Bridge (sold separately) to do this if you don't have other networked Sonos stuff already.
Sonos says the technology works with Amazon Cloud Player, AUPEO!, Deezer, iHeartRadio, JB Hi-Fi NOW, JUKE, Last.fm, MOG, Pandora, Rdio, Rhapsody, SiriusXM Internet Radio, Slacker Radio, Songl, Songza, Spotify, Stitcher SmartRadio, TuneIn, Wolfgang's Vault and WiMP, though I didn't try most of those (some of which won't work in Canada or which require a subscription I'm too cheap to buy).
Audio formats supported include compressed MP3, iTunes Plus, WMA (including purchased Windows Media downloads), AAC (MPEG4), AAC+, Ogg Vorbis, Audible (format 4), Apple Lossless, FLAC, and uncompressed WAV and AIFF files. It also supports sampling rates from eight to 48 kilohertz.  
I listened to a variety of sources, both audio and video, and was impressed with the Sonos 'quality. Movies really rumbled nicely, and music sounded clean and lifelike. Will it replace one of my audio systems? No, but if you don't have an audio system in the room already, it's worth considering.
Sonos has also announced a free software update for its Wireless HiFi System. The new version (Sonos System Software 4.0) supposedly includes enhancements to make it faster and easier to use. Sonos says its Favorites provides one-touch access to your most loved tunes from any Sonos source, while the Sonos Controller for Android features a new widget you can use to control your Sonos device directly from your home screen.
Sonos is building quite a reputation for itself, and the Playbar is a nice addition to its product line. I think its $699 price is a tad high, but if space is an issue in your home and you want a handsome, networkable way to get quality sound in your room, you might find the Playbar just what the doctor ordered. And of course if you already have a Sonos setup, the Playbar will blend in with it – and interact with it – very nicely indeed.
Copyright 2013 Jim Bray
TechnoFile.com