Portable Scanner and Speaker Lapdesk for Life on the Road
By Jim Bray
November 11, 2010
Business travelers have a couple of new tools designed to make their trips either more productive or more enjoyable.
The productivity tool is Canon's imageFORMULA P-150 portable scanner, also known as the "Scan-tini", a tool for those times when you just have to scan documents or photos away from your home scanner.
Logitech's Speaker Lapdesk, on the other hand, is the "enjoyable" tool – a little portable desktop with pretty good built-in speakers you can use instead of the dinky little ones you may have in your notebook or netbook.
Canon's Scan-tini, the name of which sounds kind of like the sound uttered by a Star Wars Jawa, is a little big to be called "hand held", but it might be small enough to pack comfortably in your luggage for those business trips when you're involved in, oh, I don't know – industrial espionage, perhaps?
The manufacturer says Scan-tini was designed for professionals to "Improve their personal efficiency and individual productivity in offices and in transit." They say it's aimed at the small office/home office (SOHO) user, the occasional traveler, and the employee who travels at lot. Not that they'd turn down your money if you don't fall into those categories…
The P-150 is Canon's first entry into the personal scanner market, of which there've been many over the years, and they also say it's the first USB-powered, professional grade document scanner that's capable of operating with a single USB cable.
And that's how I used it, plugged into my netbook with the single cable that not only powers it but which also connects it for data transfer. It's very easy to use, will scan a complete letter or legal size page in one scan, and the software is very easy to use.
It comes with a second USB cable, which is meant to supply extra power Canon says might be required sometimes – or just to speed up the scanning process.  I didn't really notice much difference in scanning speed and since it worked fine with one USB connection from my netbook, I didn't bother use it again after I'd tried it initially.
Speaking of that, the Scan-tini's "Plug-and-Scan" capability lets you head right for the scanner without needing to install Windows drivers and applications, though you also get a disk full of just such stuff, including CaptureOnTouch Lite for Windows, Nuance PaperPort, and NewSoft Presto! BizCard.
The scanner itself measures about  1.6" x 11" x 3.7", so it should fit nicely into most briefcases and laptop bags. It weighs about two pounds, though, so get ready to pack that extra weight.
The basically black scanner, which appears to be built very well, will hold 20 sheets of paper at once and Canon says it'll scan black and white pages at up to 15 pages per minute or 30 images per minute. And get this: it recognizes double sided pages automatically and scans both sides at the same time, a very cool feature that'll help you get out of that competitor's vault before you get caught and sent off to be water boarded.
Canon says its optical resolution is up to 600 dpi, which should be good for most applications. It's also quiet and I was very satisfied with the results of my scans.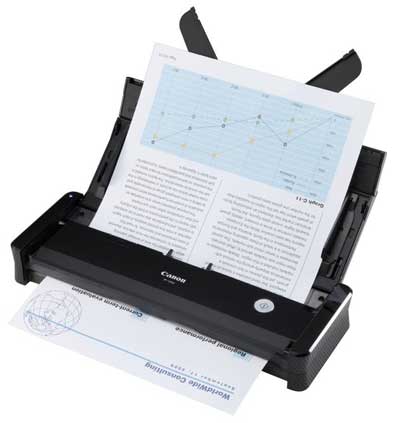 Advanced Features include Text Enhancement, Auto Color Detection and Auto Page Size Detection.
Scan-tini is available for both Windows and Mac environments and sells for about $260 U.S.
Lap Dance
Logitech's Speaker Lapdesk N550, meanwhile, will take up even more space in your laptop bag or luggage, but I think I'm going to make room for it next time I hit the road anyway. It, according to the manufacturer , is a way to get "Big-Time sound and comfort for the small screen". And that's right up my alley.
This $60 unit looks kind of like a "Back to the Future 2" hoverboard, and I've been using it to replace the tinny and weak little speakers in my otherwise terrific netbook with something a lot more "audio-worthy". It's ideal for home or road use and the sound quality is very refreshing after suffering for over a year with my netbook's internal "speakers".
The N550 is more than just a pair of external speakers, though. It's also a very comfortable desk for your lap (hence its name!), designed to be used with laptops of up to 14.1 inches. If that isn't big enough for you, Logitech has you covered: it released the Speaker Lapdesk N700 for laptops up to 16 inches a while back.
My netbook is one of the larger ones available (I opted for screen size over extreme portability, an easy choice since it's still comparatively tiny) and so there isn't enough room on the lapdesk N550 for my mouse and the computer, but I don't mind – and if you use your computer's touchpad it's a non-issue.
The unit's wide, padded base features a four layer, heat-shielding design with what Logitech calls a "soft, air-mesh fabric", which makes perching the portable PC on your paunch perfectly comfortable. This isn't a big deal with my netbook, which doesn't generate much heat anyway, but it's a godsend with my big laptop computer, which works up so much warmth we could use it in lieu of our fireplace.
Two little "foldable bumper" tabs at the front of the Lapdesk keep your computer from sliding off.
The Lapdesk connects to your computer via USB and Logitech says it's plug-and-play easy, with no software to install. They're right about the software – and I noticed a couple of customer reviews that said you only need to plug in the USB cable and you're good to go, but this wasn't my experience. I had to go into Windows' Control Panel and point the computer toward the Logitech, making it the default speakers. This is a bit of a rigmarole, but not really difficult. Alas, I also have to keep re-enabling the Lapdesk every time I want to use it, though I tend to blame my netbook (since the problem seems to be unique to me) rather than the Lapdesk.
You can plug the USB cable into either side of your computer (depending upon where its USB ports are, of course); the Lapdesk's cable comes out of the center of the rear panel and you can feed it through a little channel that keeps it mostly out of the way in either direction.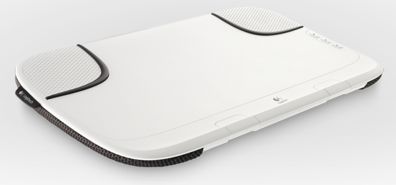 Volume up and down and muting controls are on the right side of the top surface, easily at hand and easy to use. And since the Lapdesk uses your computer's power, there's no need for batteries or an AC adapter. This means it'll suck up some battery life, but it doesn't seem onerous.
The speakers, which sit to each side of my netbook, give good stereo separation and better sound than I expected. They don't rival the Bowers and Wilkins MM-1 speakers I'm using with my desktop PC right now, but few computer speakers that I've tried do – and they absolutely blow away my netbook's crummy little speakers, so I'm content.
Neither the Lapdesk nor the Scan-tini are cures for cancer, of course, but both are handy solutions to some issues that could be important to you. The Logitech Lapdesk N550 is something I would use every day, whereas I'd probably never need a portable scanner such as Canon's Scan-tini – but your mileage may vary.
However you slice it, both of these products do a good job at filling the market niche for which they're aimed.
Copyright 2010 Jim Bray
TechnoFile.com