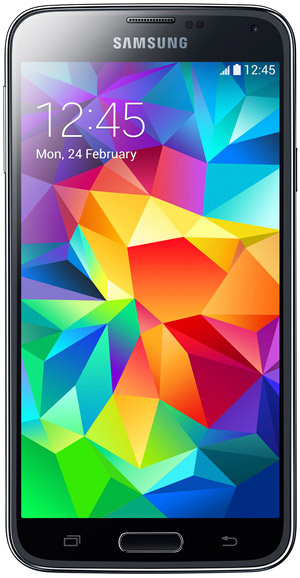 Samsung Galaxy S5 and SIII Mini continue the company's line of great phones
By Jim Bray
June 5, 2014
Apple's iPhone may have been a game changer when it comes to smart cellular phones, but that doesn't mean the competition has been standing still.
Samsung, among others, has been releasing nifty new phones at what seems like a furious pace, not only helping to advance the state of the art but to offer a variety of niche phones for just about anyone who wants such a beast. So it is with the new Galaxy S5, and the less new Galaxy SIII Mini, both of which are great phones for different customers.
Telus sent me samples of both phones and, while the S5 is definitely the more up to date and more robust of the two, it was actually the Mini that appealed to me. This is because my own smart phone needs are normally pretty straightforward: phone, music and streaming of online radio stations, with the odd other app and the occasional picture required once in a while. And the Mini does a fine job for me and probably will for many other people who want a phone that's smart but isn't necessarily a Mensa candidate.
That said, the Galaxy S5 is a pretty prodigious performer, building on Samsung's years of Galaxy making. I've been using Galaxys since my first smart phone, the Galaxy S, purchased originally because I got a better deal on it than I could have gotten with an iPhone at the time. And I've been very happy with the Samsung; I still lust after an iPhone, but not enough to pay through the nose for it or sign my next several years away to get a deal.  
The Galaxy S5 is a really neat phone, one that does a good job of everything that's important. It comes with Android 4.4 KitKat as its operating system, its display is scrumptious and it boasts an excellent, 16 megapixel camera that focuses really quickly - which comes in handy when your subject refuses to stay still. The camera is easily good enough that (if I had such a phone permanently), I could throw away my dedicated digital camera. It also boasts stuff like auto focus, phase detection autofocus, touch to focus, manual focus, and High Dynamic Range mode (HDR). Indeed, there's more camera stuff here than you can shake a stick at.
That isn't the case for the Mini, however; its five megapixel camera is fine for what used to be called snapshots, but if you're thinking of doing even semi-professional work with it, forget it. So if you're taking shots of the kids, dinner, or whatever, it should be more than adequate. I've used it to take some product shots for posting on the web and they were good enough for my needs. The Mini's camera also features auto focus, face detection, smile detection, digital zoom, and geo tagging - and its settings menu features a nice and easy scrolling-type interface.
Likewise, the Mini's four inch screen falls down compared to the S5's 5.1 incher (well, duh!). Samsung claims the S5's Super AMOLED screen offers 1080p resolution, which is what you get from Blu-rays, and the image is definitely rich and gorgeous. The Mini's screen is also Super AMOLED, but Samsung only admits to 800 x 480 pixels, which might as well be an old CRT - though thank goodness it isn't or it would be a real treat trying to get it into your pocket!
Both phones also feature a front-firing camera, the 5's with a resolution of 2 megapixels and the Mini's a mini 0.3 megapixels. Selfie shooters take note.
While the 5's screen is obviously better, whether or not it makes a difference depends on what you want to do with it. If you want to watch HD video, great; not only does the 5 have the proper resolution, it's also appreciably bigger, and bigger is always better when you're watching video. And video does look great as long as you don't mind squinting a bit.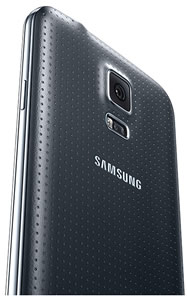 Many people don't care about playing videos, however. I, for one, use my iPad Air for watching video on the go and so my phone only has to do the duty for music and/or streaming/internet radio, which means that, as long as the screen is bright and colorful and legible I'm okay with that. Looked at that way, there's nothing wrong with the Mini - and its smaller size makes it easier to pack the phone in your pocket (though also easier to lose in your purse or pack, I suppose). I liked the smaller size because it fit better in my tiny little paw; the S5 was too big to be really comfortable. Your mileage - and your hands - may vary, of course.
The Mini uses Android 4.2 (Jelly Bean) and there are differences between the two versions, but they're pretty minor compared to the differences between my old Galaxy S and the new phones; that's almost like going from Windows 3.1 to Windows 9x. Not only is the software interface different now - and in a good way for the most part once you get used to it - but they've changed how "buttons" function. I like the new methodology, though I'm still getting a handle on it.  
What appears on both phones' screens is very customizable, which is nice because I really didn't like the way they were set up out of the box. Of course, neither of the phones under discussion here are unique in that aspect.
The S5 is water resistant, but that means there's a little flap over the ports on its bottom and you have to keep opening and closing it or it'll give you a warning that it isn't happy being left exposed like that. The Mini doesn't have that little door, and so requires less fuss when plugging in the USB connection. Keep these respective features in mind if you suddenly get an urge to skip your Samsung across a pond, toss it into the loo, or whatever.
Onboard storage goes mostly in favor of the S5 as well; it offers 32 GB as stock, twice what the Mini sports, and the S5 also doubles the Mini's 1024 MB RAM of system memory. You can add more storage via microSD, microSDHC or microSDXC up to 128 GB to the S5; the Mini only takes microSD and microSDHC, up to 64 gigs worth.
If you've ever found yourself needing a fingerprint sensor or heart rate monitor, the S5 is the phone for you. I was afraid to try the fingerprint thingy lest the phone be programmed to alert the authorities about my questionable past, and it isn't something I'd need anyway - but you certainly have to admire the creativity in offering it. As for the heart rate monitor, it worked fine; you fire up the ap, place your finger on the sensor Samsung has mounted on the back panel, and Bob's your uncle.
Naturally, both phones offer flexible connectivity (including the fact that they're phones) as well as Bluetooth, Wi-Fi (you can make them portable hotspots, too), and the like.
Battery life is more than adequate. I normally charge the phones overnight if I haven't already done it during the day, and power was never an issue unless I completely forgot about charging - and you can't blame the phones for that!
I noticed with both of these phones that the information they transmit to a car via Bluetooth is more useful than with my old Samsung. The Galaxy S basically only gave you forward/backward and play/pause controls on the car's audio system. These newer phones up the ante by reading out information such as the artist and title of a particular song when you're streaming music. That's most welcome.
This is only scratching the surface of a couple of  very flexible and (at least reasonably) powerful smart phones. The Galaxy S5 is obviously the choice for power users or folks who just have to have the latest, and I can see why people would want it. And if video - or a fingerprint reader or heart monitor - are priorities in your life you're hardly slumming with the S5.
The Galaxy SIII Mini is plenty good for many people, however, and I thought its small size made it a better bet for me despite any toys it may lack and the fact its technology is actually a couple of years old.
As always, it depends on what you need. And of course the deal you can get when you sign up.
Copyright 2014 Jim Bray
TechnoFile.com