Samsung Galaxy S6 Edge a high tech but frustrating phone for cyber curmudgeons
By Jim Bray
July 3, 2015
It's cool and it's high tech, but to this middle aged user Samsung's Galaxy S6 Edge is as annoying as it is innovative and interesting. Of course, maybe that's just me, because nearly everyone I showed the phone to thought it was the greatest thing since sliced bread.
Go figure.
You may have seen the S6 Edge in commercials; it's the phone whose screen wraps around at the edges, like it's been extruded from the phone's body, and it looks great. It also feels very solid and built well and the screen is simply lovely.
Telus sent me a Galaxy S6 Edge to play with and it didn't take it long to rub me the wrong way - but to be fair, I think my angst sprang mostly from the Android OS than from Samsung, whose phones I have used for the past several years. The screen (an exquisite Quad HD Super AMOLED type) is so sensitive to touch that you practically just have to look at it and an app loads. I've had this issue with other Android phones as well, so this isn't a specific complaint about the S6 Edge: I can't count the number of times I've pulled one of these phones from my pocket only to discover some processes running that seem to have just decided on their own to fire themselves up. And that doesn't include "pocket dialing!"
The S6 Edge is available from Telus with onboard storage from 32 to 128 gigabyte, and apparently it's like an iPhone in that you can't stuff more storage into it via an expansion card. This is kind of a shame because you can get an SD card for less than the upgrade price of the S6 Edge if you look for it. Telus' website lists the phone's 32 gig version at $350, the 64 gig at $460 and the 128 gig at $570 (all prices Canadian), so be warned. The Edge brings about $100 premium over the mostly similar (except for the curved screen) Galaxy S6.
That said, for that amount of cash you're getting a device that looks and feels like the Bugatti Veyron of smart phones - attractive, classy and with all the technology you could want in such a gadget.
Speaking of the technology, besides the usual phone functions (let's face it, today's smart phones are basically small personal computers that have a phone app) including call timer, conference calling, flight mode, speaker phone, vibration alert, voice control and the like. It also comes with an accelerometer, ambient light sensor, compass, heart rate sensor and even a barometer. And if you're concerned about its security, you can have set it to require your fingerprint before it'll unlock.
I tried that a couple of times but I don't have a lot of security concerns (my life being the open book that it is!) and found that the fingerprint reader slowed down my access more than I liked, so I bailed on that particular feature. But it's there if you want it.
One feature I found really handy but which you undoubtedly won't use much is its capability to transfer information from your old phone wirelessly. I got the Edge to talk to my older Samsung and it brought over such stuff as my contacts and wallpaper, which was quite cool. You can transfer other stuff wirelessly too, of course, but this helped make my setup a tad quicker and more painless.
The phone also comes with a UHD 4K-compatible, 16 megabyte camera the company says fires up in less than a second. It's a pretty fine camera, too - I've used standalone cameras that aren't this good - and Samsung says the phone's front-facing 5 MP camera offers the world's first "real-time, shadow-reduced (HDR) selective focus," designed to help you get clear and bright shots in low light.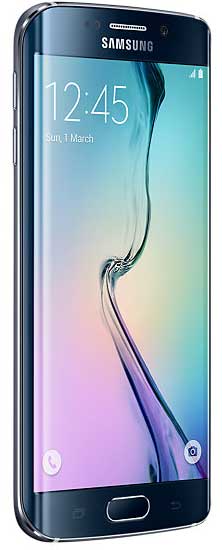 The main camera sticks out of the back of the phone a bit, which makes for a bump on the surface and strikes me as being an accident or scratch just waiting to happen. On the other hand, it means the phone sits on a flat surface with its edges raised a tad, which could make it a bit easier to pick up than otherwise - and I found it hard to grab otherwise thanks to the curved edges and my stubby fingers.
The Galaxy S6 Edge offers a Multi Window feature that makes multitasking easier: you can open two apps side by side and switch between them easily. So, for example, you can watch a YouTube video on one part of the screen while surfing the web on another, and you can resize windows. Why you'd want to do that on such a small screen is beyond me, but you can - and to be fair, despite the diminutive size of the windows, the screen is good enough that even small text is quite readable, though of course it depends on the web page and the size of its text and the state of your eyes. 
As for the rounded "Edges" of this phone, they're more than just cosmetic, though probably not much of a deal breaker or deal maker. But you can set the edge screens to distinguish between up to five contacts (it displays the colour you assigned to that contact on the Edge screen) and you can communicate with these contacts using the tabs displayed on the Edge screen. The screen can also display items such as a news feed, which appears along the edge like that scrolling sign at Radio City Music Hall (but much smaller, of course!), without turning on the main screen. You can also use it as a clock at night.
This seems more gimmicky than practical, but at least it's something new and different. Until everyone else jumps on the bandwagon…
The sound quality of the phone when you're using it as a phone is fine, and naturally you get all the latest editions of the usual connectivity technologies, as well as an abundance of basic apps.
Samsung says the phone can be charged to give you about four hours of yakking time (or whatever) in about 10 minutes, and can be charged wirelessly if you have a charging pad (it doesn't come with one and I don't have one, so can't comment on how well it works). 
One of the things that really rubbed me the wrong way with this phone - and it's probably more an Android thing than a phone thing (since Google appears to be intent on taking over the world) - is that it was always trying to get me to sign up for stuff, and giving me notices about things for which I didn't care a whit. I could perhaps have avoided some of this via the phone's settings, but I'd rather it were the other way around - that the phone wouldn't bother me unless I asked specifically for the stuff. Your mileage may vary.
It also bugged me that this edition of Android has seen functions changed and/or moved around, so soft keys and things I'm used to on my older Samsung phone now work differently. The new functionality is okay, but I resent having to go back to school every time I try a new phone. Perhaps it's that cyber-curmudgeon thing…
But as a state of the art smart phone, it's hard not to like the Samsung Galaxy S6 Edge. It isn't my particular cup of tea, but perhaps that says more about my smart phone needs than it does about this particular product.
Copyright 2015 Jim Bray
TechnoFile.com