New Samsung phones offer smart – and not so smart – performance
By Jim Bray
July 22, 2013
South Korea's Samsung continues its all out assault on all things electronic, this time with a pair of new cell phones.
One, the Galaxy S4, is designed to compete head to head with Apple's latest iPhone and the rest of the smart phone genre. The other, the Rugby III, eschews a googolplex of gadgets and apps, opting instead for rugged strength for those with "active lifestyles." Both are pretty nifty products for very different niches.
And both are also offered in Canada via Telus, who supplied the review samples for this article.
Smart…
The Galaxy S4 continues Samsung's tradition of offering fully featured smart phones, only now with a larger screen than before and even more capabilities. The screen in question is a peach, too: a five inch, full HD Super AMOLED display that claims 441 ppi resolution (Samsung says it's the world's first), made with Corning's "Gorilla Glass 3," which is claimed to be "as beautiful as it is tough."
Not that gorillas are drop dead gorgeous for those who aren't seriously into great apes…
The screen offers full 1080p video, which is great if you like squinting at a movie on a five inch screen, and thanks to what Samsung calls its "Adapt Display," it adjusts resolution and brightness automatically to give you "the best quality for the type of media you're watching," whether you're streaming an HD video or checking out photos emailed to you by a buddy.
The screen certainly is beautiful. I happen to own an original Galaxy S and one of the things I've always loved about it is the bright and colorful AMOLED screen – and this new one ups the ante over that one.
Samsung says the Galaxy S4 also detects your motions, face and voice to let you control stuff without needing to touch the screen with your finger (they say you can use it with gloves on, too, which is a nice, er, touch). No, really; this "fingerless access" could be a way to avoid activating apps accidentally, something the old Galaxy has a bad habit of – or just a more convenient way to use the phone.  
And as is the trend these days, the phone offers dual camera modes (you can appear on screen along with what/whoever you're shooting) via a 13 megapixel camera on the rear panel that comes with 12 different shooting modes – though "assault weapon" doesn't appear to be one of them.
At the Galaxy S4's heart is a 1.9GHz Snapdragon Quad-Core Processor and there are two gigabytes of RAM on board as well.
The initial setup is easy, though the thing tries to get you to sign up for a bunch of services as you're doing it – stuff that you might find handy but which you might also find intrusive or annoying – or even expensive. Fortunately, you can click through these pitches to ignore them as you go.
Gadgets include such niceties as news headlines, your calendar, travel info and the "Samsung Hub," the latter of which is "the one stop shop for any content you want." Basically, it's a shortcut to "your entertainment universe" and lets you access videos, books, games and stuff the company thinks you'll enjoy for a price.
Fortunately, you can ignore all this stuff, too.
An interesting touch is the phone's multi-window capability, which gives you multitasking right from the main window, so you can (for example) watch a video while you're opining to your friends via text or email just how much it sucks. 
The sound quality for the phone, as a phone, is fine, and its Bluetooth performance is good. Battery life is good as well – remembering that stuff like Bluetooth does tend to suck the life out of a phone more quickly than you might like (which means you may want to consider bringing along a USB charging cord with you). This isn't just a Samsung thing, however; it's more the nature of Bluetooth.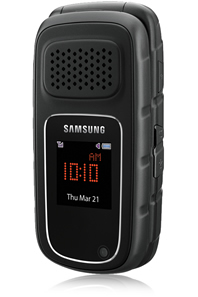 The phone appears to be about 25 per cent larger than original Galaxy S, though it still fits nicely into most pockets, and it seems to be built very well, with a nice solid feel. 
Learning the many ins and outs of such a device can be intimidating, but Telus offers a "TELUS Learning Centre (TLC)" where you can virtually pick the brains of "a Samsung GALAXY expert," who can help walk you through the phone and its many, many capabilities. 
The Galaxy S4 seems like a worthy successor to its older brothers and, if nothing else, its beautiful screen makes it worth checking out when you're looking for a new smart phone.
Not as smart, but just as phone…
Not everyone needs all the bells and whistles of a fully tricked out smart phone – and some folks might find such a phone a tad fragile for trips to the job site or into the wilds of the boonies. For that reason, Samsung has also unleashed the Rugby III, also supplied for review by Telus Canada.  
Samsung says the Rugby III is "perfect for outdoorsy types, active on-the-job professionals and those who want an easy-to-use, inexpensive phone." It's designed to be robust enough to bounce off a rock or two, is dust, shock and water resistant and is small enough to fit into a tiny pocket.
The company claims the phone is military-grade certified, and was tested and proven "to withstand four  inches of rainfall per hour, blowing sand and dust, the shock of a four foot drop, extreme temperatures, and even an altitude of 15,000 feet." So you can phone home while in free fall after bailing out of an airplane!
It looks like a step backwards for phones, however. The Rugby III is one of those old fashioned flip phones that looks like a communicator from the original Star Trek TV series. That also means it really requires two hands to open, which kind of sucks.

That said, the sound quality of the little phone is okay – but just okay. Samsung claims that its "2 Mic Noise Suppression technology" isolates your voice from surrounding noise – kind of like noise cancelling headphones for the person at the other end of the call – and it works reasonably well. But for the user, the sound quality isn't up to the snuff of other units. It isn't horrible, but it could be better.
And while it isn't as smart a smart phone as the Galaxy S4, it's no slouch. The Rugby III comes with a camera – albeit a comparatively "primitive" one compared to its big brother (three megapixels), though it can still shoot videos at 15 frames per second.     
It even comes with a web browser, though it's not a particularly good one. Therefore, if you're looking for a phone with which to spend lots of time surfing, this unit isn't for you. If you only need occasional, emergency browsing, however, this could work in a pinch. But only in a pinch.
The phone also comes with a pre-installed sensor-controlled e-compass, so when your spouse tells you to get lost, you won't be able to. 
Battery life is very good. Samsung says it'll last an "entire workday, and then some." And depending on your carrier, you can also use the Rugby III as a "Push to Talk" phone, with walkie-talkie-like performance.
One of the nicest things about the Rugby III is its keyboard, which features nice, big buttons you can use without resorting to reading glasses. Ditto for the display, which prints out the number you're calling in big, legible numbers as well.
Of the two, it's obvious that the Galaxy S4 has more capabilities, gadgets and gewgaws, but if your needs are for a more robust phone (not that the Galaxy is a slouch) with fewer bells and whistles, the Rugby III might be worth a look.
Copyright 2013 Jim Bray
TechnoFile.com