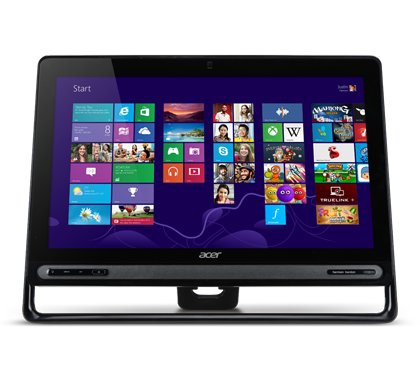 Acer and Samsung create big touch screen devices for home and away
By Jim Bray
November 14, 2013
Touch screens have become the rule rather than the exception when it comes to handheld devices. And now they're also appearing on new generations of desktop PC's, bringing a unity of user experience across major platforms.
Such is the case with Acer's Aspire Z, a neat all-in-one Windows 8 (64 bit) PC that's about as close as you can get to a gigantic tablet without actually being a tablet (or needing a horse to haul it around on!). Instead, it's a real, honest to goodness PC - the sample Acer having sent for review boasting a delicious 23 inches of diagonal screen size offering a satisfying resolution of 1080p.
The downside is Windows 8, though I've heard Windows 8.1 is better (I haven't upgraded the Acer as of this writing). It's supposed to be a game changer and I can see it being pleasant enough to use on a tablet or smart phone, but - and maybe it's because I'm a Windows curmudgeon who's used the various generations since the breakthrough 3.1 shell for DOS - I found myself preferring the old Windows desktop and interface.
Fortunately, the "old" Windows interface is easy to get at if you want it, though even here there've been tweaks that'll probably make things challenging if you like to get under the operating system's hood and make your own configurations. Most people probably won't do that, fortunately, so between the two interfaces for Windows, most people will be off to the races without a lot of hassle.
The LCD screen basically contains the whole computer (everything's built into it, including I/O ports, optical drive, etc.) and it comes with a little stand to park it in position comfortably in front of your eyes, tilting at up to 20 degrees away from you. The stand, which folds out of the monitor, seems a bit fragile, but it works well and so far we've had no issues.  
Acer offers three PC's in this series, ranging in price from $599 to $899 Canadian. The sample was the top line AZ3-605-EF21, powered by Intel's Core i5-3337U processor and equipped with six gigabytes of RAM (upgradeable to 16 GB) and a one terabyte hard disk. It's quick and spacious enough for most mainstream applications, boots up quickly and the screen looks terrific.
The system also sports Intel HD graphics a DVD+/-R/RW drive, the surprisingly decent internally-mounted Harman Kardon stereo speakers, webcam and a wireless keyboard and mouse. Wi-Fi and Bluetooth are built in, there's an HDMI video input, two USB 3.0 ports and two USB 2's, audio I/O's and a card reader. The whole shebang comes with a one year limited warranty.
As mentioned, this particular model's LCD is a touch screen, and it feels really weird pawing at the monitor. I've spent years admonishing people to keep their greasy fingers off my screen (usually to no avail) - but the system works fine. That said, the computer curmudgeon in me caused me to use the wireless mouse nearly all the time and, fortunately, it works just fine as well. And I don't have to scrub finger marks off the monitor!
Not so fine is the wireless keyboard. Oh, it works well, but I hated its layout, mostly because of its very small "enter" key, though that wasn't the only thing that rubbed me the wrong way. If you're not stuck on a particular key placement, or exhibit more patience than some pundits, the keyboard actually works just fine - and the wireless aspect of it and the mouse are a real bonus in a system whose very raison d'etre is to help clean up clutter in your office.
So on the whole, this is a fine PC that works as advertised. Yet there's one oversight that could be a deal breaker if you plan to use the 23 inch unit for watching movies: you only get a DVD drive! The monitor will display full HD, which is 1920x1080, progressively scanned (1080p) and that makes it ideal for playing back Blu-rays - yet the only way you can do that with this PC is by hooking a BD player into its HDMI input.
Who the heck would want to do that? Why would a company that offers an all in one HD solution not offer one of the popular HD sources?
On the other hand, I checked out some customer reviews online and nobody complained, so maybe it's just the video snob in me coming to the surface (it's never buried very deeply).
There's one other potential downside to the whole concept of an all in one PC as compared to a traditional desktop or tower-type of computer: if one component fails, the whole shebang goes back to the shop and you're left without a computer. If, for example, your optical drive or monitor packs it in and you need it/them for your work, your entire PC is out of service.
I have no reason to think something bad will happen - and the PC does seem well built and quite robust - but Murphy's Law being what it is, it's worth keeping in mind.
Otherwise, this is a fine PC that offers a lot of power and performance in a footprint only slightly bigger than a standalone monitor.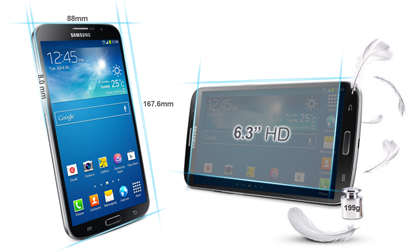 Upsizing the cell phone…
Speaking of standalone, Samsung's Galaxy Mega smart phone could almost function as a PC, the darn thing is so large. The thing blurs the line between smart phone and tablet quite successfully, which is surprising because so often "compromise" products end up doing nothing well. And with its beautiful 6.3 inch screen it's a really nice portable unit with which to surf the net.
For some reason (probably cost), Samsung has eschewed its excellent AMOLED screen technology here, opting instead for the more traditional TFT LDC. It doesn't really seem to matter much, to be honest - the colors don't seem as rich as they are on my three year old Samsung phone's AMOLED screen, but since it runs at a resolution of 1280 x 720 high definition, fine detail looks great. I downloaded a couple of HD movies to it and was surprised at just how compelling a dinky little screen like this could be. It's no home theater, but it can suffice in a pinch if you're away from home; heck, I found myself being drawn into the movies in spite of myself.
You may be tempted to hide when using this behemoth as phone, however, because its gigantic size (you could almost use it as a snow board or Frisbee) makes you look like a Hobbit with a conventional cell phone. But it works fine, the sound quality is more than adequate, and it offers all the phone and "smart" features to which you've become accustomed. But that size! It's reminiscent of Maxwell Smart's shoe phone, though it probably won't put sole marks on your cheek.
If you have wee paws (not as in "wee paws for station identification"), you might find that holding - let alone using - the phone requires quite the stretch of the fingers. When I carried it around the house to stream music while doing my chores my fingers would fall naturally right where the volume control is, which meant I'd tweak it when I didn't meant to.
But that big screen is definitely the Mega's mega selling point; otherwise, it's basically just a smart phone - not that there's anything wrong with that! The screen is not only surprisingly good for movies, but for use as a web browser, too. My original Galaxy's screen is far too small for anything more than "emergency" surfing, but the Mega's great! It's like having a mini-tablet.
Internal Memory is 1.5 gig of RAM with 16 GB ROM, and you can add up to 64 gig of external memory. The "phone" runs Android 4.2.2 (Jelly Bean), features a dual core processor running at 1.7 GHz, and the front-mounted camera offers 1.9 megapixel performance (the rear camera's rated at eight megapixels resolution).
I liked using the Mega as a camera as well; its big screen let me see what I was shooting better than conventional phones. I'm not convinced the actual pictures were better (surely attributable to "the nut behind the wheel"), but the shooting experience certainly was. I still needed my reading glasses, but I could finally see if things were in focus!
Here's a list of other specs from the company's website:
LTE 4G
GSM / GPRS / EDGE (850 / 900 / 1800 / 1900 MHz)
LTE Cat 3 (700 / 850 / 1700 / 1900 / 2100 / 2600 MHz)
HSPA+ (850 / 1900 / 2100 MHz)
Wi-Fi: 802.11a/b/g/n/ac HT80
NFC available
Bluetooth 4.0: PBAP, A2DP, AVRCP, HFP, HSP, OPP, SAP, HID, PAN, DI, MAP
NFC available
DLNA, MHL 2.0 support
KIES, KIES Air support
All of which means the Mega's pretty much a state-of-the-art smart phone, but stretched.
Thanks to that big footprint, you may not want to carry the Mega in your pants pocket but, much to my surprise, it fit into my shirt pockets well.   
Battery life is fine. Samsung says it'll give 10 hours of video playback time, as well as "up to" 87 hours of audio playback time and 18 hours of talk time. By then you'll undoubtedly be ready to put the thing down for a while!
I don't think I'd like the Samsung Mega as my primary smart phone, because it's so darn big. I don't think I'd like it as my primary tablet, either, just because it's so darn small. But if you need a smart phone that can act as either device in a pinch, the Galaxy Mega might be worth checking out.
Copyright 2013 Jim Bray
TechnoFile.com