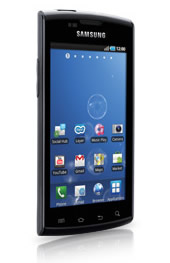 Samsung Galaxy S Captivates Android Market
By Jim Bray
February 17, 2011

Samsung's Galaxy S phone is an excellent example of the smart phone genre. It – actually, they – is not only a good phone, but thanks to all the apps you can get, the Galaxy is also an excellent productivity tool.
As hinted at above, Samsung doesn't only offer one Galaxy phone but, rather, some variations on the theme. I happen to own a Galaxy S Vibrant, and recently spent a couple of weeks playing with the Galaxy S Captivate, a phone I don't like as much overall as my S Vibrant so far as usability is concerned, though I prefer the way you get at its battery.
Proving once more that some people are just never happy.
The Galaxy looks quite a bit like an iPhone, which is a good way to snag the eyes of potential customers perusing the store shelves. It's slimmer than my original generation iPhone, though, and thanks to the addition of extra buttons on the front panel it's easier to use.
Not that extra buttons are necessarily the be-all and end-all. The Captivate I played with has two more buttons than my Vibrant does, yet I don't find it quite as easy to use. Go figure.
Your mileage, of course, may vary and just because I like my phone better than its sibling doesn't mean you will.
Anyway, the Galaxy S is an Android-based smart phone, using V2.2 of Google's operating system (as opposed to Apple's or Microsoft's). I've been using Android for a few months now and learn more nuances nearly every day, much to my delight. It also changes – subtly, so far – with updates.
I like Android a lot, better than I liked my ancient iPhone's OS if only because it multitasks – though I understand Apple has addressed this with the latest generation of the phone that started the wave.
The first thing I noticed about the Galaxy S when I saw it in the store – and something I've grown to love ever since – is its spectacular, four inch "super AMOLED" screen. I know Apple has a fancy new screen as well, and it's lovely, but there's something about the AMOLED (which could be the TV screen of the future when they get the price down)  that really grabs me. Its picture is bright, beautifully rich and deep, with gorgeous color and marvelous detail.
It's also pretty good outdoors in bright sunlight.
Samsung trumpets the Galaxy S' AMOLED screen as contributing to the phone's thinness and responsiveness, as well as lower power consumption for longer battery life.
The battery life's adequate, especially when using Bluetooth, but it's easy enough to recharge via the mini-USB port either from a computer or with the included AC-to-USB adapter.
So far as using Android is concerned, if you've ever used an iPhone you'll be comfortable. It operates via touching icons or links and dragging stuff or scrolling using your fingertips. One nice touch is that you can avail yourself of a Task Manager that lets you know what apps you have running so you can shut down ones you may have forgotten about, saving battery life.
The phone interface is straightforward and I was interested to discover you can program it to insert your area code automatically to any local number you've stored. This beats the living heck out of adding the three extra digits to every local contact in your Contacts (the phone will synchronize with MS Outlook for contacts, schedule and notes) if you live in an area requiring 10 number dialing.
It blows up in your face when you try to check your voice mail, though. You're supposed to be able to check your voice mail merely by holding down the "1" key, but in this case you have to delete the area code first. Fortunately, I rarely check my voice mail…
Speaking of blowing up in your face, the touch screen is very sensitive and I often loaded apps unknowingly, sometimes just with a slight touch as I put it in my jacket pocket.
The apps are great, and there's an abundance of them – and more all the time. I've reproduced all of the iPhone apps I used (and wanted)  except for one, and it's supposedly coming soon. I wrote a column about apps recently, so I'm not going to go over that again here; suffice it to say you'll probably find what you need and a lot of the stuff out there is free. There's everything from productivity to fun and back again.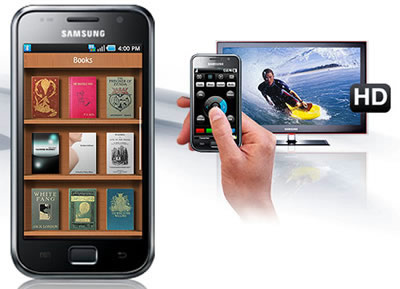 The phones integrate with Google Mobile Services, which gives you access to stuff like your Gmail account, Google Maps, YouTube videos. You actually get quite a bit of power in your palm, and the GPS capability works well with the navigation and other location-specific apps. And of course Wi-Fi is built in.
The Galaxy S can integrate your email, social networking and phone contacts into one address book  and you can combine your Google Calendar and social networking calendars as well. That's way more organized that I could ever be, but to each his own.
You can also post your status and upload pics to Facebook, MySpace and Twitter, sync digital content, and it'll show HD video, though why anyone would want to do that with such a tiny screen is beyond me.
The built in camera offers five megapixel performance and a four times digital zoom, 720p HD video capability and you can get up to 32 gig in memory.
The Galaxy S Vibrant's two extra soft-key buttons are a "go back" key and a kind of "options" key that opens up a window offering various settings (or whatever) for the particular app you're using. Press the "Home" button and the screen turns on and, if you aren't there already, you're taken to the home screen.
The Captivate eschews the big "Home" button, instead giving you a small soft-key-like one lined up with the "options" and "go back" soft keys, as well as a "search" key. Firing up the Captivate's screen requires you to press the power button on the side. I prefer the Vibrant for that.
The Captivate has a nicer backside, however, so if it ever asks me if its case makes its butt look big I can answer honestly. The "carbon fiber-compatible" battery door is opened by sliding the bottom section of the rear panel and popping out the door to access the battery, memory card, etc.. That's better than with the Vibrant, whose entire back panel is thin plastic that's prone to separating if you drop it, at which time the battery falls out to add insult to injury.
This has happened to me more than once, and each time my life flashes before my eyes. So far, however, the phone appears no worse for wear, with only a tiny scratch to show that it's been bounced a few times. I guess I just blew my warranty by writing this, though.
I also think the Vibrant feels better in the hand than the Captivate, though they're pretty close.
Samsung has updated its previously awful KIES software, which you install on your computer to update drivers and synchronize media, contacts and the like. When I first got my Vibrant, KIES was a nearly useless resource hog, and wouldn't even let me use the iTunes playlists I'd set up for my iPhone.
That prompted me to download the doubleTwist app, which was not only a better music player than the one built into the phone but which also has the option ($4.99) to allow wireless synchronization. It works fine via USB.
Version 2 of KIES is a lot different and it now imports iTunes playlists and folders and has an all-new interface. We'll see if it's any better.  
Speaking of media, I've really grown to love the Bluetooth streaming you can do with the Galaxy S and I use it all the time. The capability is showing up on plenty of cars these days, and I also have the optional Bluetooth adapter for my Bose SoundDock 10 – a doohickey that replaces the iPod dock on the Bose's front panel.
Streaming via Bluetooth doesn't just work with the music player, either. I have the SIRIUS Satellite radio app and a couple of terrestrial radio station apps and they all stream beautifully – which means I can get SIRIUS Satellite and the other radio stations for which I have apps even if I'm out in a car as long as the vehicle has Bluetooth audio capability. And I have a data plan.
It's a wonderful feature and the sound quality is excellent.
Of course you don't have to have a Samsung Galaxy to do this.
I like the little notification bar at the top of the screen. You can drag it open and from there turn on or off the Bluetooth, Wi-Fi, GPS, vibrate and silent modes, and when you're using the media player you can access it from this area even if the phone's locked. You can also use it to find updates for apps, and more.
The Swype gesture-based keyboard interface is pretty cool, too, once you get used to it. You drag a finger across the keyboard instead of having to Mickey Mouse type. I think it works better and have now left it as my phone's default.
I have noticed some strange crashes on my Vibrant (the Captivate has been fine) – sometimes I have to pry off the back panel and remove the battery to do a hard reboot when the phone abruptly freezes. Fortunately, this is not particularly common and it's a pretty easy fix.
Samsung's Galaxy S – in either Vibrant or Captivate livery – is a fine phone, and an excellent tool. And depending on the carrier and the contract, you should be able to get into it for a pretty reasonable price.
Copyright 2011 Jim Bray
TechnoFile.com