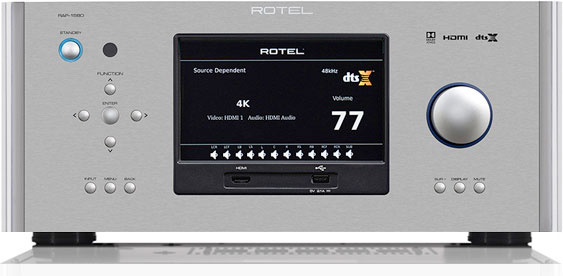 Rotel's new nearly-all-in-one audio component sounds very sweet
By Jim Bray
August 10, 2017
Perhaps you could call it an "unreceiver." Or maybe a "deceiver."
However you refer to it, Rotel's RAP-1580 is a one box solution to most current audio needs. The only mainstream feature it doesn't have on it is a radio tuner, which would make it a "receiver." And as popular as receivers are, I can't see why many folks would care about that in 2017, since the RAP has Bluetooth capability by which you can stream your favourite radio stations from around the world via a smart device and the Internet.
The RAP-1580 is more a traditional "integrated amp" - a beast that combines preamp/processor and amplifier into a single box. Purists prefer these components to be separate, and there are good reasons for this, but in my time using the Rotel in my home theatre so far its exquisite sound quality has pleased me mightily.
I didn't think it would. I've been running separates for years - mostly from Rotel because I'm a fan of their performance/price quotient - and the least power I've had on tap is 200 watts per channel (and usually it was 500 watts). My angst came from this new Rotel only being rated at what I assumed would be a nice but inadequate for my room 100 watts per channel (into 8 ohms).
Once the RAP-1580's substantial heft (it's just over 50 pounds) was in place and hooked up I fired it up - nervous that I'd have to crank it all the way to 11 (hat tip to Spinal Tap) in order to get the volume I want. I like it LOUD, to reproduce not only the sound quality but the volume of the original recordings as well. I can only do it when my wife is out, unfortunately.
I needn't have worried. When driving my JBL ES series speakers, after the system was calibrated to the best of my ability using a sound pressure level meter and a tape measure - with a friend to hold one end of the tape - I never had to exceed the volume setting I use usually with Rotel equipment. Indeed, the 100 Class A/B watts per channel (which morphs to 150 watts for stereo only) is not only more than adequate, it is superb. I pumped all different types of music through it - well, no hip hop - as well as a wide variety of video sources (from DVD to UHD) and have fallen completely under the spell of this wonderful piece of equipment.
Naturally, it isn't perfect. In fact, I've read some online comments from people who are really disappointed in it for one reason or another - most of which have to do with its lack of automatic room correction (a handy method by which the component balances itself and your speakers on its own), or the fact that it "only" has seven channels of amplification built in, or that it has handshaking issues over HDMI.
The Rotel does include 10 channel Parametric Equalization to help you in optimizing your room's acoustics but the adjustments can be quite tedious and intimidating, especially if you don't really know what you're doing. This is undoubtedly why many people would rather just set up a microphone and press a button and let the equipment do the job itself. I can see that; maybe Rotel will include that next time.
Once the initial balancing was set up I didn't find the need to tweak the PE in my listening room anyway, so that particular issue didn't bother me a lot.
I had some other issues, though, including some major handshaking delays - of several seconds, sometimes - when switching HDMI sources. These delays could be issues if I used HDMI for audio more than I do, but in my setup I'm more interested in the Rotel amp than its processor and the company has built the RAP-1580 to take care of my needs very well.
That's because, other than testing the various input/switching/processing features offered by the RAP (and there are plenty of them) I generally feed the Rotel's analogue inputs directly from the analogue outputs of the source unit, which in this case is OPPO Digital's UDP-205 universal player (whose review is coming in a couple of weeks). Connecting the components that way uses the source device's processing and basically passes the analogue signal right through the RAP's preamp section, bypassing everything but the volume control, and to the amplifiers (where they belong!).
Not everyone can do this - you need a player with analogue outputs and internal processing that's at least as good as the pre/pro's - but if you can swing it, it is, in my never humble opinion, the best way to listen.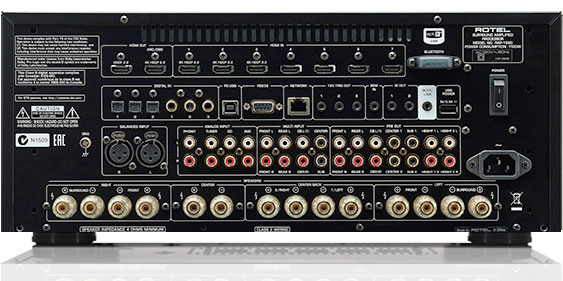 On the other hand, it isn't as if the RAP-1580's processor doesn't have the state-of-the-art features built in. Heck, it's more up to date than I am! I haven't even progressed from 5.1 to 7.1, let alone adding ceiling and other speakers. I probably won't, too, unless the Lotto Gods smile on me and I build a new home theatre from scratch. It's just not worth the hassle.
But if you have the capability the Rotel will reward you with Dolby Atmos and DTS:X processing - though you'll need to add extra amplification to get all of the "7.1.4" channels.
Obviously, I can't comment about the RAP-1580's performance other than in 5.1, but I have a feeling that puts me smack in the mainstream of home theatre enthusiasts who love good quality audio but don't have the room, the budget, or the inclination to add all the extra channels.
The RAP-1580 boasts a total of eight HDMI inputs, with 4K pass-through (you don't even need the RAP turned on to watch something hooked into it via HDMI). Three of the HDMI inputs and both HDMI outputs support HDCP 2.2 (yet another darn copy protection scheme) as well.
I'm no authority on copy protection stuff, but I believe it's behind the handshaking problems - where one component has issues connecting with another - that I first noticed with HDMI. It made me wonder if the new 2.2 standard is behind the seemingly interminable pauses between switching sources and actually getting sound.
One more reason to run analogue…
Besides the multi-channel analogue inputs, Rotel also includes inputs for a CD player, balanced XLR cables, a tuner, and there's an AUX analog input as well. It also offers PC-USB input supporting 24-bit 192kHz audio, Bluetooth aptX and there's even an input for a moving magnet-equipped turntable. You even get rack mount ears.
If you can't run analogue, the Rotel comes with six Wolfson premium 24-bit/192kHz Digital to Analog Converters to do the job for you. And they do it fine.
The RAP's front panel is dominated by a seven-inch LCD on the front panel, and its type is large enough that I can read the volume, source and other info from across the listening room, without having to put on my glasses (a first!). The screen should have allowed me to tweak the RAP's audio and video stuff without having to turn on the television to which it's connected, except that the configuration menus' text is still too small for me to read from afar. Fortunately, you can also access the menus via the television, though the text itself looking like it was ripped off from an old DOS computer.
A bigger deal for me was the error message "Invalid format" that I got when I tried to access the menus via my 1080p Plasma TV. As it turned out, however, it was the aging TV that proved invalid and once I swapped it out for my Panasonic 4K TV that  particular problem went away. Whew!
But then another one reared its ugly head: while the Rotel does, indeed, pass 4K signals, it wouldn't pass HDR, so I had to patch the OPPO directly into the Panasonic instead of routing it through the RAP-1580. Rotel said the RAP does do HDR, so I think this, too, may have been an issue with the TV itself. The same thing happens with my Roku Ultra, even when it's patched into the TV directly.
In other words, it's always something.
Sweet sounds…
To be completely honest, I'm more interested in the Rotel for its pure audio performance than any kind of video gymnastics anyway; in my setup, the OPPO handles as many sources as possible (including the Roku's) so nearly everything I could want to play goes to the Rotel via its analogue audio connections. And as luck or good design would have it, the RAP-1580 performs superbly in this task.
I auditioned SACDs, DVD-A's, Blu-rays, 4K UHD discs, CD's, digital files - you name it, and the RAP-1580 did an excellent job with any good signal. The sound is sweet and pure - and as loud as you want it - whether you're running stereo audio or the latest surround movies (with the caveat that I didn't try anything beyond 5.1).
For stereo testing, I like to use Opus 3's CD "Test Record 3: Dynamics," which includes meticulously analogue recording ranging from the solo human voice to a jazz combo to a church organ, the latter of which is a really good way to test a system's mettle. The Rotel ate it up and spat it back through the JBL's beautifully, with no distortion or colouration I could discern. Oh, the neighbours weren't happy, but that's a feature, not a bug.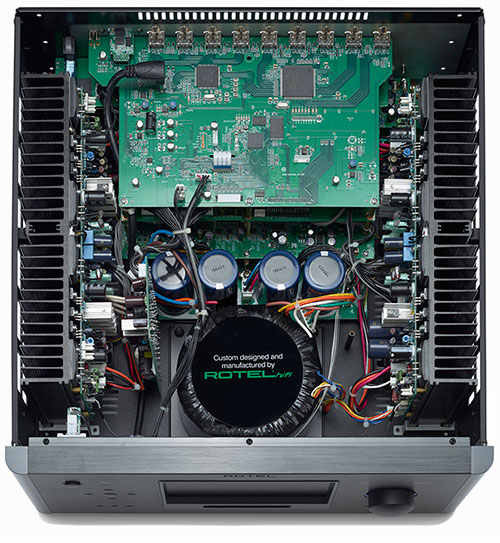 That wasn't the only stereo source, of course. The Who's Magic Bus from the remastered Live at Leeds is another great test of a system - the pure power of the recording comes through beautifully even though it was made live back in 1971. I played other classic rock, as well as classical, big band, show tunes, you name it, and I loved the sound that came from the two speakers.  
Then I went to surround. If you're of a certain age and musical bent, you haven't lived until you hear the DVD-A of "Brain Salad Surgery" on a system like this. As happens with newer and better equipment, I heard nuances in there that I'd never heard before, despite having owned various versions of the album since it first escaped the recording studio.
I also love Dire Straits' Brothers in Arms, especially in the 5.1 of its DVD-A version. It was recorded digitally, though the original vinyl and CD versions sounded kind of thin. The DVD-A is anything but thin, however, so if you want to learn if your system is up to snuff I'd suggest you try playing "The Man's Too Strong" as loud as you can take it. It sounded great via the RAP-1580.
A bunch of concerts with high quality sound were also on tap, including the Cream Reunion and Ray Charles at Montreux. These are available in stereo or surround but I loved the room-filling 5.1 versions the most because they put you right in the audience. Not surprisingly, the Rotel facilitated this very nicely. Channel separation is excellent and the soundstage, even in stereo, is wide and deep.
Digital files included the Technics Tracks version of The Who's Quadrophenia, the best digital version of "Townshend's Last Masterpiece" I've heard to date. Want Keith Moon's drums to thunder like they did on the original vinyl version? This is the one for you - and the Rotel was right there egging Mooney and the lads on.  
I enjoy listening to this component so much that even after using it a couple of months I'm still finding excuses to spend more quality time in the home theatre than I should, considering all the review cars I'm supposed to be driving.
It's been a long time since I've been this excited about a "mere" 100 watts, but I should have remembered that Rotel, if anything, is conservative about its specifications. Speaking of which, here are a few other specs I ripped off from Rotel's website:
Total Harmonic Distortion (THD)
(20Hz–20kHz) <0.03%
Frequency Response
Phono Input: 20Hz - 20kHz ±1dB
Analog Bypass: 10Hz - 100kHz ±1dB
Digital Inputs: 20Hz - 20kHz ±0.5dB
S/N Ratio (IHF "A" Weighted)
Analog Bypass: 100dB
Digital Inputs: 96dB
I did have one other issue: Twice, the Rotel's front panel LCD came up all white when I fired it up. It was quite disconcerting, and required a hard reboot (shutting it down via the rear panel switch, then restarting) to fix. The reboot worked fine both times.
Despite my misplaced angst over the power output, the RAP-1580's sound quality won me over completely - not that I'm surprised, considering my experience with Rotel stuff over the years. I hope they can address the issues I and others have found (firmware updates, perhaps?), and I assume they will.
If you check out online owners' groups and places like that, you'll notice some people opining that the $3800USD RAP-1580 is overpriced for a unit that doesn't come with room correction and other stuff many people think is important in 2017. They may have a point, at least when it comes to the features that Rotel - a smaller company that has to balance wishes with possibilities - has chosen to leave out of this unit.
On the other hand, in my never humble opinion, the RAP it's priced fairly. Heck, I've paid more than the RAP's retail price for amplifiers alone, and the RAP-1580's sound quality is at least as good as they were, and its power is all I could want in that room, with those speakers. So whether or not the RAP is overpriced is a matter of perspective.
So if you're looking for exquisite sound quality and can't afford or don't want separates, you should definitely take a look - nay, a listen - at this Rotel "deceiver."
If only they'd pry it apart and make it available as separates!
Copyright 2017 Jim Bray
TechnoFile.com