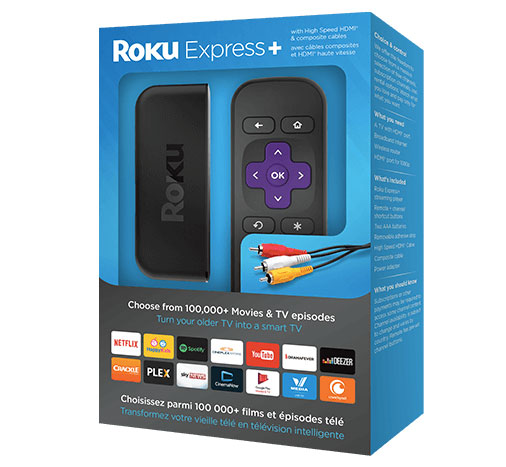 Meet Roku's new entry level unit - and a high tech backpack that can charge your phone
By Jim Bray
December 15, 2017
Cord cutter wannabes, also known as folks who want to pull the plug on conventional television delivery systems such as cable and satellite, have a new low cost reason to make that move thanks to Roku's new entry level Express.
This $40 CAD unit is the latest in the Roku line of streaming devices that all offer similar programming but with different capabilities - from "entry level" HD to 4K with HDR.
And if you're using your cord cutting experience as a way to get out into the supposedly great outdoors, Lifepack has created a backpack that not only carries your stuff, it helps keep your tunes close and charges your electronics at the same time.
But let's talk about the Roku first, because I need to screw up my courage to actually go outdoors to use the Lifepack before I can write about  it.
Express streaming…
According to Chas Smith, general manager of Roku TV's and players, "the Roku Express is one of our most popular streaming players, and is a great starting point for first time streamers or for people looking to extend the Roku experience to other TV's." He's right, too. Someone like my Dad, if he would ever stoop to getting Internet service, would love a Roku Express. It can put him in touch with oodles of old movies, TV shows, music and the like and he'd have a ball. And the Express would be more than adequate for his 720p television.
I just need to convince him he needs the Internet…
Roku says the new Express is five times more powerful than its predecessor and since I received my review sample I've been using it nearly every day to stream various video and audio sources - as well as news and sports and even cat videos. Sure, you don't get 4K from the Express but you do get excellent 1080p performance and that's probably more important right now to most people.
The picture quality - remembering the GIGO syndrome (Garbage in, garbage out) - of the Express is great. We've been watching The Crown via the Roku's built-in Netflix app, and I've mentioned more than once to my wife how great the show looks and sounds. At the other end of the GIGO spectrum, I also watched some old TV Christmas specials that looked as if  they were sub-VHS quality.
The Express comes with everything you need to get it up and running, as long as you have Wi-Fi and Internet access and, of course, a TV with HDMI. It even comes with a high speed HDMI cable! A quick start guide is also in the box, along with the Roku remote, USB power, batteries and an adhesive strip with which you can stick the Roku to your TV, shelf or whatever. I just sat the thing on the TV stand, below the TV (a 1080p plasma) and it worked fine.
You have to either sign up for or log into your existing Roku account once the Express is hooked up and if it's a new account you'll have to put in your credit card info. This rubs me the wrong way, but I must admit I've never been charged for anything since I first started using a Roku about a year and a half ago.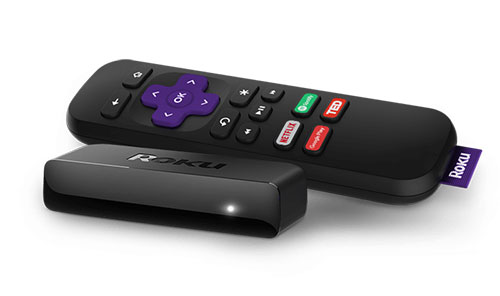 The advantage of putting in your credit card into is you can access paid content without hassle. And there are quite a few paid services on offer. Cheap bastard that I am, I've never tried such a service other than the Netflix account I've had since before Roku and a couple of "free previews" that I never continued with once the free period was done, but there are also enough free apps to keep you going for years. You can partake of anything from all-audio services to classic rock, comedy and TV video channels, news "services" and the like. New apps come on stream all the time, too.
One with which I've been messing is a Christmas channel and last night my dear wife and I were watching a terrific Christmas concert from some small symphony orchestra of which we'd never heard. Great stuff - and if not for the Roku (and the app) we'd never have known it existed. And it's free!
Remember that in many cases you get what you pay for, so some of the free apps (many, actually) are of dubious worth to me - but since there's such a broad variety on offer there's undoubtedly several interesting channels regardless of your interests, from cars to aviation, lifestyle, you name it. I've managed to find several I enjoy streaming - and another nice thing about Roku is that if you've added apps to one device they'll show up on all of them.
Also, if you add an app that turns out to suck out loud, you can delete it whenever you want and it'll disappear from your "channel scroll" as if it were never there. I do this all the time: add a service that looks interesting, but when it turns out to be much ado about nothing (gee, someone should write a play with that theme…) it's gone in seconds.
And because you can use multiple Rokus on multiple TV's (or other devices; I have a Roku Ultra plugged into the rear HDMI port of my Oppo UDP-205 universal UHD disc player, for example, where it gives me 4K video with HDR) you can partake of the same programming in multiple locations. You can even, in the case of such apps as Netflix, start a program in one room and continue it in another - so if you want to continue your evening's entertainment in bed, for example, you can.
The Express, like all Roku devices, use the Roku Operating System and its simple home screen is really easy to navigate. The company says Canadian consumers can access more than 4,000 streaming channels, and they estimate some 150,000 movies and TV episodes are available there. I hope the person they hired to count all that stuff got paid well.
There's also a free Roku app for iOS and Android mobile devices that lets you use those things as your remote or to facilitate streaming media to the TV from such devices. It also has a virtual keyboard and offers such stuff as voice search and private listening. It works fine, but I prefer using the Roku remote and rarely stream from my smart devices.
Considering what you can access for your $40, the Roku seems like a bargain. Besides the GIGO syndrome, you should also keep Sturgeon's Law in mind ("90 per cent of anything is crap) when it comes to the free programming available.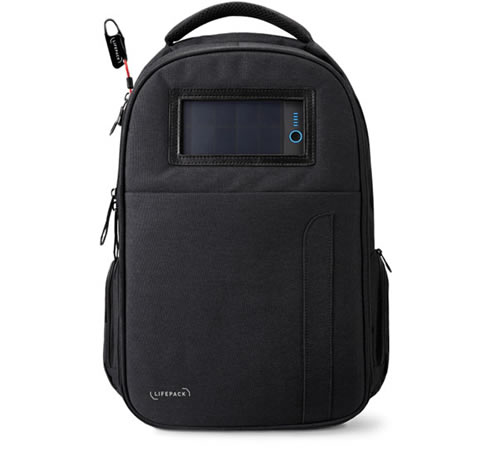 Bag Man on Campus...
Meanwhile, the Lifepack Solar Powered & Anti-Theft Backpack is kind of like the Swiss army knife of backpacks. It not only carries your stuff, it's also built to keep your devices charged while annoying those around you with its Bluetooth speaker.
It even has some stealthy pockets in which you can store stuff you really don't want stolen - such as your passport or Nexus card or even tiny bits of contraband. Two nearly invisible pockets are sewn into the straps, where they'd be really handy if you're actually packing the backpack on your back. Of course that doesn't help if the backpack gets stolen, but the folks behind the Lifepack think they have that figured out, too.
That's because the thing comes with its own combination lock, one that extends out from inside on a cord that's long enough to be useful. And even more interesting for those taking the Lifepack to the beach, or wherever, there's also a bottle opener! Alas, I couldn't find a corkscrew amongst the zillion other features of this nifty product.
Among the innovations of the Lifepack are the Solarbank, which is the USB charger and portable speaker. It isn't a really great portable speaker as far as sound quality is concerned, but I think it will probably be just fine for folks who aren't audio snobs and just want some tunes at the picnic table or in the hotel room. It even includes an auxiliary in jack for direct connection to your tunes, if you don't have or don't want to use Bluetooth.
And to be honest, the closest audiophile Bluetooth speaker (in size) that I've heard is the Bose SoundLink Mini, which currently lists on Bose' Canadian website for $229.99 CAD. It sounds plenty better than the Lifepack's, but considering that the entire Lifepack lists for 179.00 USD right now (on sale from $269.00 USD), it's really an apples-to-oranges audio comparison.
Besides, there's so much else to like about the Lifepack. It's designed with a two compartment configuration, one called "workzone" to put your mobile office stuff in while the "lifezone" side is meant for the clothes you want to take with you. Its capacity for clothes is a lot less than in my carryon luggage but for a quick overnight trip or such thing (or a trip to the beach, carrying your swim suit and towel, perhaps) it might be perfect.
The Workzone is designed to hold up to a 15 inch Laptop (and some 17 inchers, depending on their overall size).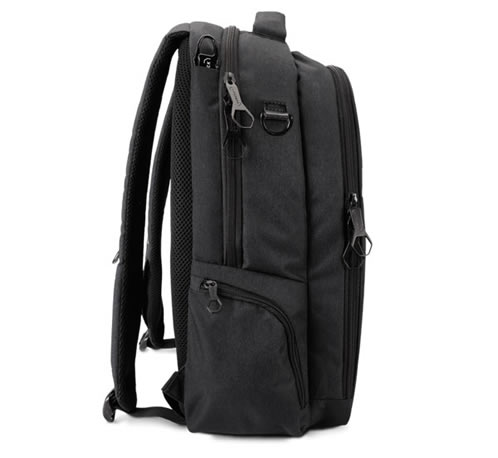 The zippers' sliders are lockable, thanks to big eye holes on them, and with a bit of futzing you can get all four of them into the Lifepack's locking mechanism.
And if those pockets hidden in the straps aren't enough stealth for you, there's another pair hidden on the back of the backpack.  There are also small pockets on each side, one of which has a USB port (the Solbarbank power supply has its own ports as well).
The Solarbank speaker/power centre fits into a pocket on the upper area of the front section and it works well there. I wish it were lower but, that said, the unit perches on its own bum very well and the presence of the speaker doesn't make it want to fall over. I do wish, however, that the space where the Solarbank sits could be used as another little pocket if you took out the speaker, but it just leaves a big hole there through which other stuff inside can be reached.
Which means you should leave the speaker where it's meant to be whether you like it or not.
The backpack is nice and light and appears to be built very well. It's as comfortable as a backpack can be when worn by a fat old oaf and I love how you can organize life vs. work. I wish it had a couple more small pockets with zippers inside, however, proving yet again that you can never please some people.
One of the Lifepack's aces in the hole is its solar charging aspect. Leave the Lifepack where it can see the sun and the Solarbank will charge itself, leaving you plenty of music or charging time. You need to charge it conventionally first, via USB, but this isn't a big deal. After that, the owner's manual says, two hours of good sunlight a day should top up a 50 per cent depleted smart phone, giving endless power - hey, there is such a thing as perpetual motion!
Solar charging a smart phone from zip to full is claimed to take four hours. And thanks to the Solarbank's two USB ports, you can charge a pair of devices at a time.
The manual also says a full charge of the Solarbank from depleted will take about 30 hours of "ideal sunlight," so if you want to do this you'd best be in a orbit around the earth that has the sun in view perpetually.
Or you can just use USB and get it done quickly and efficiently. That's what I did, since I'm afraid that taking the Solarbank outside to a sunlit location might cause me to burst into flames.
I'll probably never use the Lifepack's solar features, but despite that it's still a terrific product as far as being an efficient and comfortable backpack that can hold my stuff while bringing my tunes along for the ride.
Copyright 2017 Jim Bray
TechnoFile.com