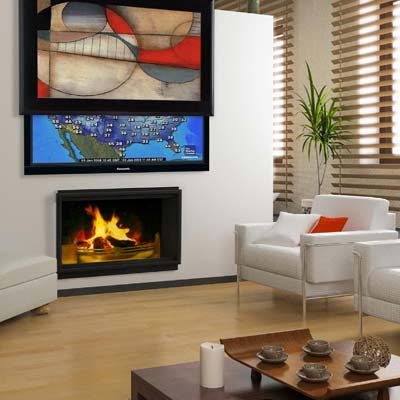 Turning Flat Screens into Art - and Remembering Passwords Remotely
By Jim Bray
February 10, 2010
For the person who has everything: a way to hide your flat screen TV when you aren't using it! And for the person who can't keep track of all the passwords you use, an online solution that remembers them for you.
Flat screen TV's definitely take up a lot less floor and/or wall space than old fashioned tube-type TV's, but they still take up space and can be a flat and rectangular eyesore in the room of the particularly particular.
That's the rationale behind Media Decor, a Fort Lauderdale, Florida, company offering an elegant solution for getting that eyesore out of your face via its "Moving Art", "Mirage Mirror" or "Eclipse Art" products. They ain't cheap, but if they turn your crank they appear to be a pretty cool way of spicing up your room.
"As TV screens increase in size, the most popular location for placement tends to be a wall—but when the TV is turned off, it becomes a large, black glass object that's difficult to hide," says the company's press release.
To get around that perceived problem, Media Decor offers more than 500 frame styles ranging from "traditional" to "contemporary", augmenting the frames with more than 2500 works of art you can peruse on the company's website at www.mediadecor.com. You can also choose the artwork yourself as well, assuming of course that you have a legal right to use it. And, as a free service to installers, architects, and designers, the company also offers AutoCAD drawings along with detailed instructions.
Hopefully, that means they also have detailed instructions for USING AutoCAD!
As for me, I'm delighted when people come in, look at my plasma and say "Nice TV!" But I digress…
The company's Elite Moving Art series features more than 2000 works of art. The company's self proclaimed "most elegant" solution, it consists of framed art that, at the touch of a button, disappears quietly when you want to watch the TV behind it.
I haven't seen this stuff in action, but from the company's website it looks like you mount the artwork in front of the TV, which also gives your black bordered screen a more artsy look. The company says Moving Art frames require no special cabinetwork and use a magnetic furling system to ensure smooth and quiet operation. The artwork scrolls up and down like retracting screen and can handle screens of up to 80 inches.
Prices of the Moving Art frames range from $7250 to $12,350, depending on their size. Naturally, the TV is extra – and something you supply yourself.
Who'd have thought the TV would probably be the cheapest part of the equation?
There's also the Illusion series, for screens ranging in size from 43 to 120 inches. Illusion models are priced from $4,610 to $16,490; if that's a little dear for you but you still want art for art's sake, the Ecco series starts at a mere $1,495.
Then there's the Eclipse Art Lift, which the company says is "the ideal solution for homeowners who desire to showcase personal artwork or photographs." The Eclipse Art Lift moves the entire artwork, including the frame, out of the way as opposed to the Moving Art products in which the frame remains in front of the TV with only the art itself moving.
The Eclipse Art Lift can be configured to move the artwork up, down or to either side. The Dual Eclipse splits the artwork in the middle (so hopefully it won't be one you care about too much!)  and moves it off to the left and right of the screen.
If covering your TV isn't your cup of tea, you could use a Lift to cover up an in-wall safe or a wine rack, the latter of which choice may give you enough time to have second thoughts about whether or not you really need that extra bottle of vino.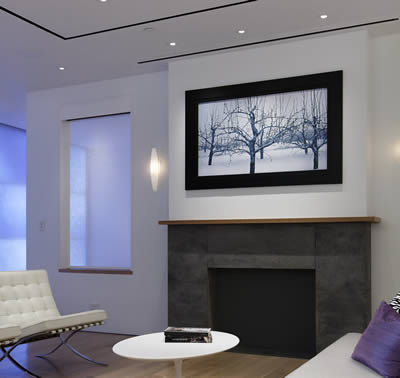 Art Lift pricing starts at $5450 and ranges up to $5750 depending on the size of the screen.
Art Lifts and Moving Art units come with an infrared remote control to operate them, leaving you with one more remote to sort out.
If you'd rather not get arty, you can opt for a unit that turns into a mirror when you aren't watching TV through it. Mirage Mirror is designed to hide a flatscreen display in rooms with subdued lighting.
Media Decor's patented design includes a curtain that drops down between the front of the TV and the back of the unit's Beam Splitter, increasing the mirror's apparent reflectivity. A beam splitter is a mirror or prism that divides a beam of light into two parts by reflecting part of it; they're used in through the lens camera view finders as well as the Mirage Mirror.
Pricing begins at $5,200 and there are 40 choices of frames in that price range. If you want something different still, they offer more than 200 optional frames at an additional cost about which I was afraid to ask.
The company describes the product's performance thus: "When turned off, the TV is simply a framed mirror; when the TV is turned on, the mirror is transformed into a TV."
Hey, maybe it'll help you reflect on what you've just watched!
On a totally unrelated topic, I've been trying out RoboForm Online for the past while and thought you should hear about it. RoboForm is a software program that remembers passwords for you, giving you an easy, one click way to access all the websites you visit that require you to log in securely.
Anyone who's had to remember multiple passwords will appreciate the concept: point and click simplicity that surfs to the site and then logs you in – with one click!
I've been using RoboForm for a few years and find it extremely handy. The only downside to it was that you'd have to put separate installations onto your various computers, and then keep track of which passwords are current for which computer.
You can do this via a USB key or other such portable device, but RoboForm Online makes it even easier by keeping all your passwords in one central location that – hopefully – is hack proof. The company says the passwords can't be compromised and I have no reason to doubt them – but I've also heard of something called Murphy's Law.
What you do is load RoboForm onto your various computers, as well as the GoodSync application that kind of cross references them. Once you've done that all you have to do is tell the product to analyze and/or sync your passwords and it does the rest, automatically. It's quite slick.
I had always forgotten to synchronize my various RoboForm installations in the past, but with RoboForm Online I do it all the time because it's right there on my taskbar, reminding me of its presence. I like that. It also comes in handy when I change operating systems or otherwise modify one of my computers enough that I have to basically start up from scratch again – as I did a week or so when I picked up some spyware and had to reinstall Windows 7 from scratch, losing a lot of my old information. RoboForm Online looked at my remote profile and restored it to my desktop PC easily.
In this age of paranoia about identify theft and similar "cyber problems", a product like this can give you peace of mind. And if you're anything like me, it's great not having to keep track of the many passwords I use every day in my surfing.
It makes for one less thing to worry about!
Copyright 2010 Jim Bray
TechnoFile.com